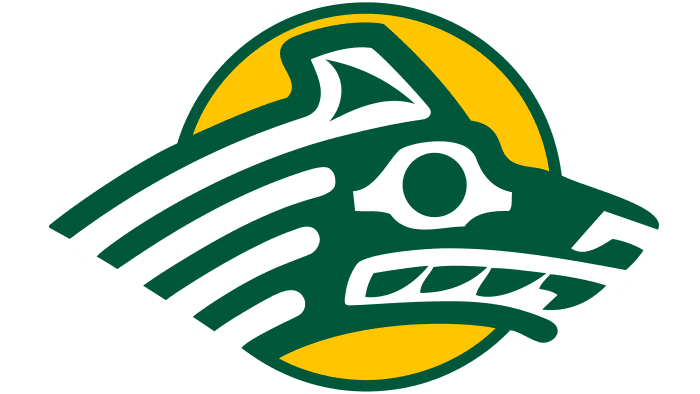 Alaska Anchorage Seawolves Logo PNG
The teams from the Alaska Anchorage Seawolves branch have a logo made in a special style – Tlingit. It is borrowed from the mythology of an Indian tribe living in the southeastern zone of Alaska. The symbiosis of the sea and the animal helped to get a powerful symbol that terrifies rivals. Each line in the emblem, each dot, is a strategy for moving toward victory based on the origins of the past.
Alaska Anchorage Seawolves: Brand overview
| | |
| --- | --- |
| Founded: | 1973 |
| Headquarters: | Anchorage, Alaska, U.S. |
| Website: | goseawolves.com |
Alaska Anchorage Seawolves – sports department of the University of Alaska Anchorage (year of foundation – 1954). The university is located in Anchorage, Alaska. The sports department consists of 13 teams (6 men's and seven women's), including basketball, hockey, athletics, gymnastics, and others. Greg Myford heads the department. Athletes are members of several large organizations: Great Northwest Athletic Conference, Western Collegiate Hockey Association, Mountain Pacific Sports Federation, and Rocky Mountain Intercollegiate Ski Association. The teams are members of Division II and Division I of the NCAA.
Meaning and History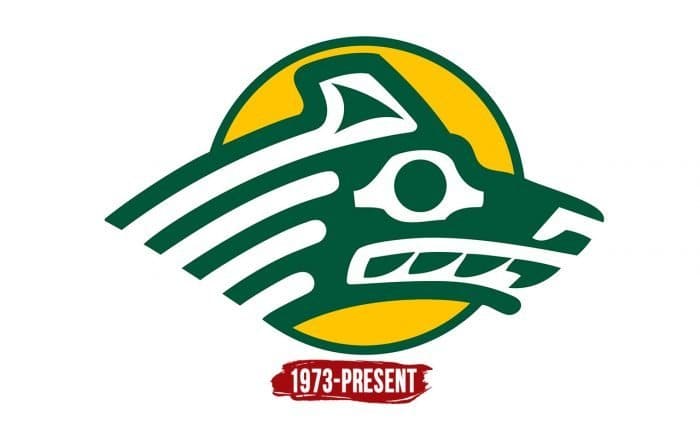 The official emblem of the sports department is inspired by the style of the Tlingkits, a people living in southeastern Alaska. The primary graphic symbol is the so-called Seawolf (sea wolf). This image is taken from the mythology of the Indian tribe and is a water creature inhabiting deep abysses. It appeared on the logo in 1973 and remains relevant.
The logo is graphic – there are no words in it. There is only a characteristic drawing. But since the artist at first did not know what a mythical animal looks like, he depicted something between a wolf and a lizard. Lee Picard, former deputy head of UAA, said he liked the idea very much. Since then, the brand name of the team has been a fiery half-wolf in various variations.
What is Alaska Anchorage Seawolves?

Alaska Anchorage Seawolves consists of 13 teams from the athletic department associated with the University of Alaska Anchorage. They are located in Anchorage and play in two NCAA divisions – Division I (women's gymnastics, men's hockey) and Division II (other participants). The program's representatives are part of the Great Northwest Athletic Conference.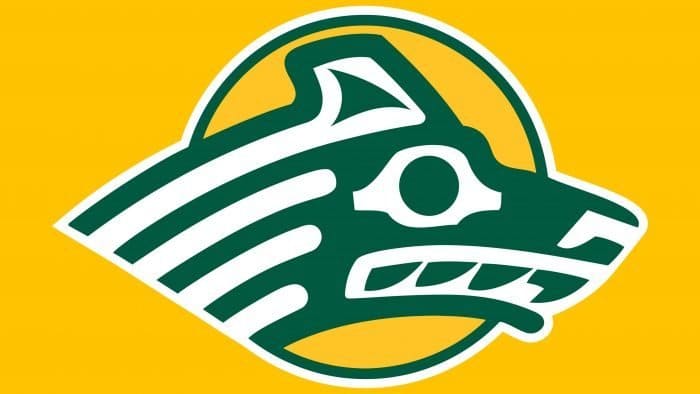 The current logo appeared in 1985 and represented an update of the old symbol. It was executed by Clark Mishler Associates from Anchorage, asking for work 7 thousand dollars. In the revised version, a folk creature looks more like a wolf than before. The animal is located on a small yellow circle and looks to the right. The connection to the sea wave is made in white curly stripes. The roll call with the Tlingkit style has been preserved.
Font and Colors
Alaska Anchorage Seawolves color codes
Gotham Green

Hex color:
#00583d
RGB:
0 88 61
CMYK:
100 0 31 65
Pantone:
PMS 7727 C
Mikado Yellow

Hex color:
#ffc425
RGB:
255 196 37
CMYK:
0 23 85 0
Pantone:
PMS 7549 C