Alaska Nanooks Logo PNG
Sport is the main force in all corners of the globe. This is the emblem's concept, as the Alaska Nanooks logo consists of the strongest animal above the Arctic Circle. The polar bear is indestructible and formidable, which can perfectly scare off the rivals of the university sports department.
Alaska Nanooks: Brand overview
| | |
| --- | --- |
| Founded: | 1917 |
| Headquarters: | Fairbanks, Alaska, U.S. |
| Website: | alaskananooks.com |
Alaska Nanooks is a sports department belonging to the University of Alaska Fairbanks, which was founded in 1917. The year of formation of the department is 1925. The head of the department is Keith Champagne. The department is located in Fairbanks, Alaska. The number of teams in the sports department is 10, five of which are women, four are men, and one is mixed. The teams are part of NCAA Division II, and I and are members of several conferences and associations: Great Northwest Athletic, Patriot Rifle, Rocky Mountain Intercollegiate Ski, and Western Collegiate Hockey.
Meaning and History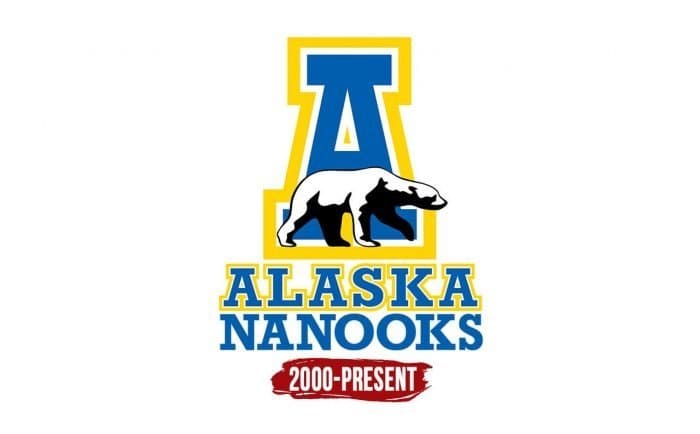 The original Alaska Nanooks logo is presented in the 1960s. Its author is a student inspired by one of Fred Machetanz's artistic works. It was a black and white image of a polar bear made in ink. Next to the walking animal were the letters "UA." They were an acronym for the University of Alaska.
In 1975, when the university was renamed into UAF, the logo was added "F" (Fairbanks), and the bear's shape was slightly changed. The 1985 version was dominated by the word combination "University of Alaska Fairbanks" with three features at the bottom and a small bear on the right. The 1995-1996 logo shows the mascot of the university, the stylized northern lights, mountain ranges, and the ocean. The current version contains an image of a polar bear against the background of a large letter "A," circled by a wide yellow stripe.
What is Alaska Nanooks?

Alaska Nanooks is an athletic program representing the University of Alaska Fairbanks in NCAA Division I and Division II. Most of the teams (of which there are 10) are also part of the GNAC. The department is named after the polar bear from the Inupiaq word "nanuq." Its home stadium is the Carlson Center.
Alaska Nanooks Hockey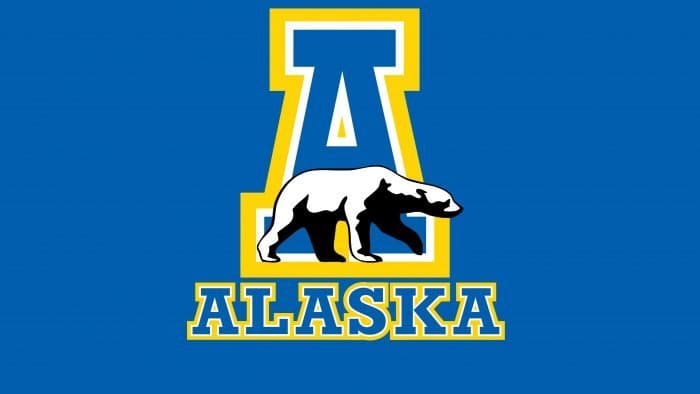 The men's hockey team appeared at the university in the academic season 1925-1926. In the 60s, it played. Then in 1985-1986, she returned to the first division. One of the most impressive achievements of the athletes dates back to the 2010s when they played at the NCAA.
Alaska Nanooks Basketball
The University of Alaska Fairbanks supports two basketball teams – men's and women's. They play home games at Patty Center stadium.
Font and Colors
Alaska Nanooks color codes
Medium Teal Blue

Hex color:
#1e59ae
RGB:
30 89 174
CMYK:
83 49 0 32
Pantone:
PMS 2935 C
Yellow

Hex color:
#fcd006
RGB:
255 208 6
CMYK:
0 17 98 1
Pantone:
PMS 109 C
Black

Hex color:
#000000
RGB:
0 0 0
CMYK:
0 0 0 100
Pantone:
PMS Process Black C