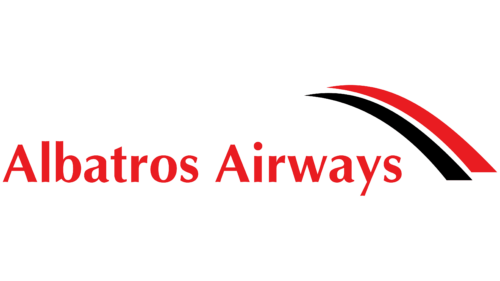 Albatros Airways Logo PNG
Albatros Airways logo beautifully encapsulates the airline's vibrant essence and commitment to dynamic service.
Dynamic Streaks: The dual bands of red and black integrated into the design aren't merely decorative choices. They emulate a stylized trail left behind by a soaring aircraft, giving an impression of motion and speed. This portrayal resonates with the company's energy, signifying a relentless commitment to timely and energetic service.
Bold Name: While the name of this budget Albanian carrier is styled in a strikingly vivid shade of red, it sticks to a standard design. The bold and straightforward font indicates the airline's approach to uncomplicated, clear, and direct communication with its passengers. There's an undeniable emphasis on clarity and visibility, given the airline's primary customer base of budget travelers who value straightforwardness.
Familiar Typography: The sans-serif typeface employed is reminiscent of many analogs. Notable parallels include Ophian Bold by FontSite Inc., Vera Humana 95 Bold by BX Fonts, and Columbia Serial Xbold by SoftMaker. This choice suggests that the brand wants to maintain a degree of familiarity and accessibility in its visual representation, making it easy for viewers to recognize and relate to the brand.
Strategic Color Choice: The red hue in the logo isn't just eye-catching; it's often associated with passion, energy, and action. The airline subtly conveys its passion for aviation and dedication to providing energetic services by opting for this color.
Albatros Airways: Brand overview
| | |
| --- | --- |
| Founded: | 2004 – 2006 |
| Headquarters: | Tirana, Albania |
From 2004 to 2006, Albatros Airways marked a significant chapter in Albania's aviation industry as the country's inaugural low-cost airline. Based at Tirana International Airport, the airline's primary routes were in Italy, offering service to cities like Rome, Milan, Pisa, and Bologna using its fleet of three Fokker 100 aircraft.
However, the airline's journey ended abruptly in 2006 when the aviation authorities grounded it due to unpaid fees, which stirred political controversy. At its pinnacle, Albatros Airways employed about 200 staff members. The abrupt closure of operations left hundreds of travelers stranded and bereft of affordable travel options.
Albatros Airways argued that the government's decision to ground it constituted a market interference. The incident left a void in the country's low-cost carrier sector. It was not until several years later that Belle Air emerged to fill the space left by Albatros Airways, becoming the next affordable airline option for Albanian passengers.
Meaning and History