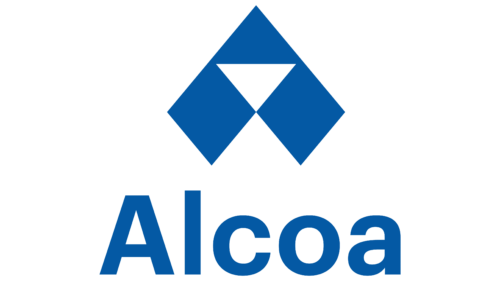 Alcoa Logo PNG
The Alcoa logo, created by American designer Saul Bass, evolved from an older emblem of two multicolored triangles. The modern version features two diamonds and a triangle, symbols of unconventional thinking. The geometric shapes are colored in Alcoa Blue, a hue specifically developed by Pantone for this metallurgical product manufacturer. The brand's name is situated alongside, derived from, the phrase "ALuminum COmpany of America." The balanced sans-serif font bears a resemblance to Ultimate Serial Bold.
This design represents a blend of the company's rich history and its commitment to forward-thinking innovation. The two diamonds and the triangle are more than just geometric shapes; they symbolize the company's ability to think outside the box and willingness to challenge the status quo. This aligns with the manufacturer's legacy of leading the industry with technological advancements and innovative solutions.
Alcoa Blue plays a significant role in establishing the brand identity as a distinct color. The choice of this shade, tailored specifically for the company, speaks volumes about its attention to detail and its dedication to quality. This color symbolizes the brand's reliability, consistency, and high standards, attributes associated with blue.
The name of the company, originating from "ALuminum COmpany of America," conveys its core business focus. Placed next to the unique geometric symbol, it constantly reminds us of the brand's roots and domain of expertise.
Using a balanced, sans-serif typeface for the company's name underscores its straightforward, uncomplicated approach to its operations. The typography's resemblance to Ultimate Serial Bold is a testament to the brand's commitment to boldness, strength, and solidity.
| | |
| --- | --- |
| Founded: | 1888 |
| Founder: | Charles Martin Hall |
| Headquarters: | Pittsburgh, Pennsylvania, U.S. |
| Website: | alcoa.com |
Alcoa, originally known as the Aluminum Company of America, is pivotal in the American corporate sector. Since its inception in 1888 by Charles Martin Hall and Alfred E. Hunt, this Pittsburgh-based enterprise has been a cornerstone of the worldwide aluminum industry with its production and associated products.
Alcoa's industrial-scale production of aluminum marked a revolution in the industry. Recognizing the potential of aluminum, the company tapped into various sectors, including construction, transportation, and packaging, which significantly contributed to its expansion.
The dawn of the 20th century saw Alcoa attain an unparalleled standing in the aluminum industry. Strategic acquisitions of bauxite mining operations and patents on aluminum manufacturing processes granted the company an almost monopolistic grip on the market.
During the 1940s, the U.S. government challenged Alcoa's monopoly, leading to a drawn-out antitrust lawsuit. Eventually, the company had to relinquish its monopolistic control, making way for other market participants.
Post-lawsuit, Alcoa forged ahead, diversifying its ventures and extending its product range. The company boldly ventured into new markets, such as aerospace and defense, expanding its aluminum product offerings.
In 2016, Alcoa underwent a significant restructuring, splitting into two independent entities: Alcoa Corporation and Arconic Inc. Alcoa Corporation now focuses on mining and refining aluminum for various uses. Arconic Inc. supplies materials to manufacturers across different sectors.
Currently operating in over 30 countries with a workforce of 13,000, Alcoa is a prominent figure in the global aluminum industry. The company's products span several sectors, from aerospace to construction, automotive to packaging, playing a significant role in shaping our modern world.
In 1888, Charles Martin Hall and Alfred E. Hunt established the Pittsburgh Reduction Company, a venture that would soon become an industrial game-changer.
In 1895 the Aluminum Company of America (Alcoa) was formed, marking a shift in the industrial landscape.
In 1910, Alcoa set up a thriving company town in Tennessee, appropriately named Alcoa.
In 1945, the U.S. government intervened to break Alcoa's long-held monopoly in the aluminum industry.
In 1959, Alcoa embarked on a project to build a bauxite mine in Jamaica, leading to economic growth for the island nation.
In 1960, Alcoa established an aluminum smelter in Massena, New York, changing how the metal was produced and utilized.
In 2016, Alcoa transformed, dividing into Alcoa Corporation and Arconic Inc.
By 2023, Alcoa had cemented its role as a leader in the global aluminum industry, emerging as a significant market player and a catalyst for innovation.
Meaning and History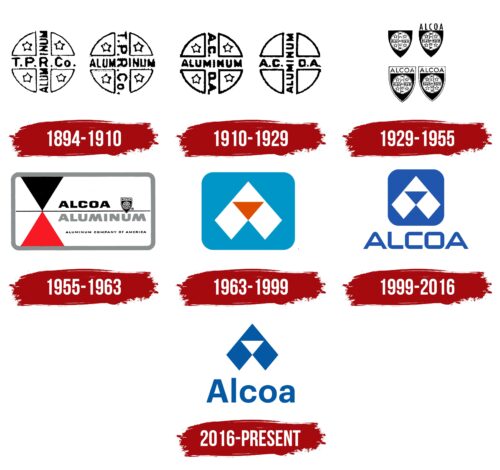 What is Alcoa?

Since Charles Martin Hall was established in 1888, Alcoa Corporation, originally known as the Aluminum Company of America, has been a powerhouse in the industry. As time passed, Alcoa has evolved into a leading figure in the global aluminum sector, currently the world's 8th largest producer. In a notable move in 2016, Alcoa was divided into two distinct entities: Alcoa Corporation, maintaining a focus on aluminum mining and raw material production, and Arconic Inc., which handles the processing of aluminum and other metals.
1894 – 1910

1910 – 1929

1929 – 1955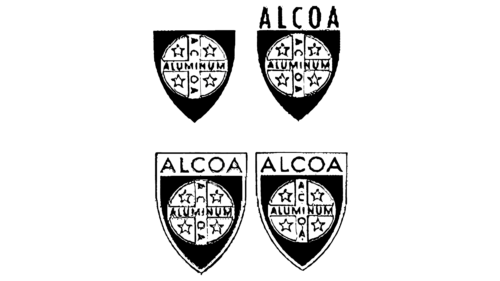 1955 – 1963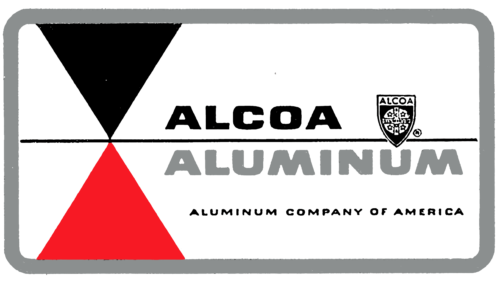 1963 – 1999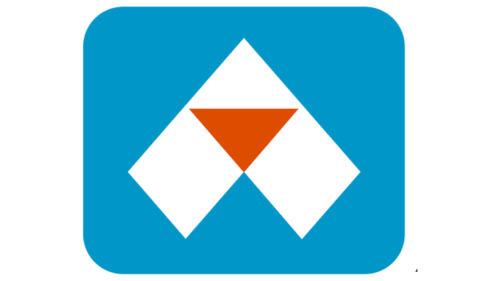 1999 – 2016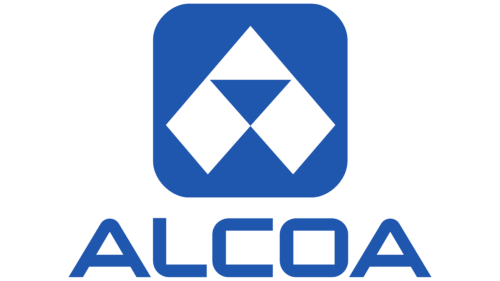 2016 – today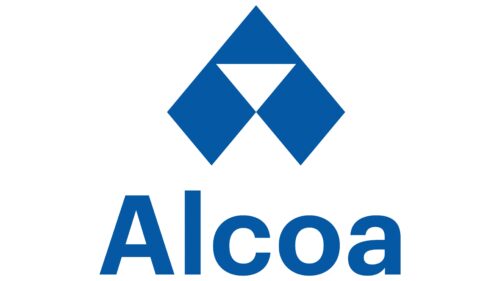 Alcoa color codes
Medium Sapphire

Hex color:
#0459a4
RGB:
4 89 164
CMYK:
98 46 0 36
Pantone:
PMS 2945 C