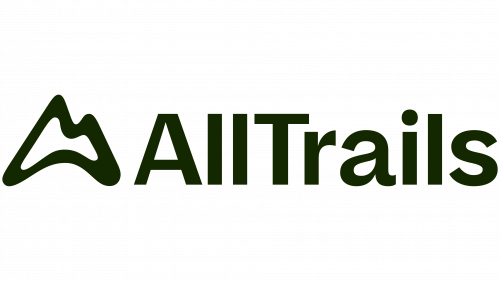 AllTrails has long been a beacon for outdoor enthusiasts worldwide. Its expansive library, featuring curated trail maps, images, reviews, and insights from an international community across 150 countries, has solidified its place as the ultimate outdoor companion. With its enviable position in the top-5 Health and Fitness apps and a staggering 55 million downloads, AllTrails has etched its name in the hearts of explorers everywhere.
In a bold move, AllTrails recently embarked on a rebranding journey. Its erstwhile logo, a straightforward depiction of a mountain with a discernible trail, while basic, captured the brand's essence. The reimagined logo is more nuanced. Retaining the iconic mountain, it integrates an inventive looped design that could signify a mapped trail or, perhaps, an artistic take on the letter "A." Paired with its wordmark in Sharp Type's Beatrice Standard, the logo now sports a distinctive charisma. The choice of a sleek, monochromatic black palette further differentiates AllTrails from the predictable nature-themed motifs.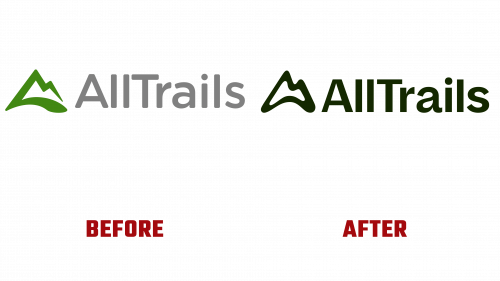 But every journey has its bumps, and AllTrails' rebranding is no exception. The revamped logo might have garnered applause, but other brand facets appear disjointed. The spot illustrations, although captivating, lack cohesion, evoking memories of Derwent Valley's aspirational yet somewhat fragmented designs. Though fitting, the newly adopted color scheme is overshadowed by rough textures that eerily mirror familiar camouflage motifs.
Drawings designed to meld with photos and illustrations struggle in their execution, muddling the brand's story. A casual flair is evident in a t-shirt slogan that reads "alllllll trails," but it seems adrift, disconnected from the broader brand narrative. Furthermore, the branding displays a fluctuating mix of stock photos, user-generated content, and intermittent illustrations, hinting at a fragmented brand vision – a departure from AllTrails' traditionally cohesive brand messaging.
While AllTrails' logo revamps signal a promising new direction, the wider rebranding narrative is navigating uncharted territory. There's optimism, however, that, like the trails on its platform, AllTrails' branding course will soon find its beacon and confidently stride forward.