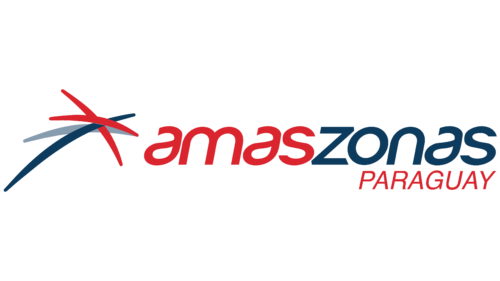 Amaszonas Paraguay Logo PNG
Amaszonas Paraguay logo is a vivid testament to the brand's intricate ties to its roots and core function.
Evocative Imagery: The chaotic lines in shades of red, gray, and blue form an image reminiscent of a palm, a plant deeply associated with the Paraguayan ethos. These lines also subtly allude to aerial routes, intertwining the nation's natural beauty with the airline's core function.
Distinguishing Typography: "amaszonas" stands out in its unique presentation. While written in lowercase, it's visually divided into two distinct segments: the red "amas" and the blue "zonas." The choice of colors subtly emphasizes the importance of both segments, with the vibrancy of red highlighting the airline's energy and the calmness of blue reflecting its reliability.
Curvaceous Lettering: An intriguing feature of the logo's typeface is the omission of certain strokes in letters like "a," "m," and "n." This results in rounded, fluid characters, lending the design a modern, sleek touch. It echoes a sense of movement, mirroring the dynamism of air travel.
Strategic Placement: The latter part of the brand name, situated to the lower right, diminished in size, but it comprises solely uppercase glyphs. This variation balances the visual weight of the logo, creating a harmonic interplay between the elements.
Italicized Sans-serif: Using an italic sans-serif typeface infuses the logo with elegance and sophistication. The slant gives an impression of forward momentum, echoing the airline's ongoing journey toward excellence.
Amaszonas Paraguay: Brand overview
| | |
| --- | --- |
| Founded: | 2015 – 2018 |
| Founder: | Air Nostrum and Amaszonas |
| Headquarters: | Asunción, Paraguay |
| Website: | paranair.com |
Amaszonas Paraguay, a domestic airline company in Paraguay, had a brief operational stint from 2015 to 2018. A collaborative venture between Air Nostrum, a Spanish carrier, and Amaszonas, a Bolivian airline, was rooted in Asunción, Paraguay's capital city. The airline mainly catered to domestic passengers, connecting various Paraguayan destinations through its scheduled services.
Amaszonas Paraguay utilized a modest fleet of ATR 42 and ATR 72 regional turboprop aircraft to facilitate its services. It connected several Paraguayan cities, such as Ciudad del Este, Encarnación, and Concepcion, from its hub in Asunción.
However, by 2018, merely three years after its establishment, the airline had to cease its operations, succumbing primarily to the intense competition in the market. The larger competitors, LATAM Airlines Paraguay and Avianca Paraguay presented significant challenges to Amaszonas Paraguay.
Despite its short lifespan, the airline transported over 140,000 passengers and maintained a workforce of approximately 150 employees, including pilots, flight attendants, mechanics, and administrative staff. After its closure, the airline's assets, including some aircraft and routes, were transferred to its sister carrier, Amaszonas Uruguay.
Meaning and History