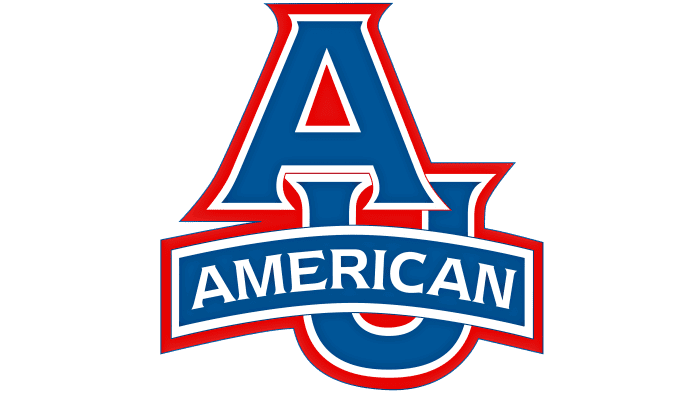 American Eagles Logo PNG
A monogram of the first two letters of the words of the name formed the American Eagles logo of the University of Washington. In this way, the athletes reflect their commitment to the team's ideals, demonstrating a commitment to defend them with dignity.
American Eagles: Brand overview
| | |
| --- | --- |
| Founded: | 1925 |
| Headquarters: | Washington, D.C., U.S. |
| Website: | aueagles.com |
American Eagles are the name Sports Department of the American University, located in Washington, DC, and was founded in 1893, almost simultaneously with the university's opening. It consists of 14 teams – 6 men's and eight women's – including basketball, football, athletics, wrestling, diving, and others. The head of the department is Billy Walker. The athletes compete in the National Collegiate Athletic Association's first division and are members of the Conference Patriot League.
Meaning and History


On the 1985 logo, there is an eagle – the main symbol of university teams. The bird's head is turned to the left and is in the center of the blue-red square. The look of the eagle is formidable, serious, which indicates its concentration and embodies athletes' purposefulness. At the bottom is the inscription "American University" and under it the nickname "Eagles." They are upper case and are written in thin, serifed letters. The lower word has a wide breakdown between the signs.
What is American Eagles?

American Eagles is an athletic program belonging to American University in Washington. It unites 14 teams, with the most successful being volleyball, wrestling, and field hockey. The department's representatives are part of the NCAA, where they compete in Division I. They also participate in the Patriot League and the Eastern Intercollegiate Wrestling Association.
1985 – 2005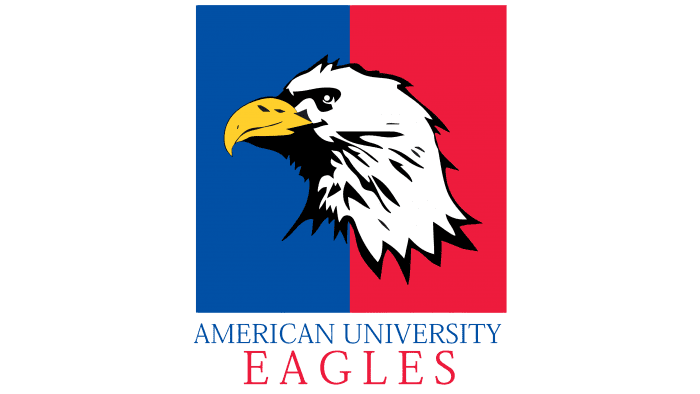 2006 – today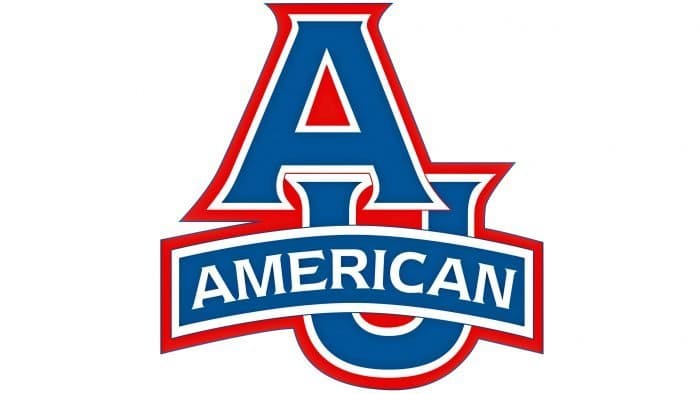 The current logo is dated 2006 and differs radically from the previous one. There is no eagle on it – only abbreviation from the university ("AU"). The symbols are located in a staircase and can be read from top to bottom. They are painted in blue and have a complex white, blue, and raspberry edging.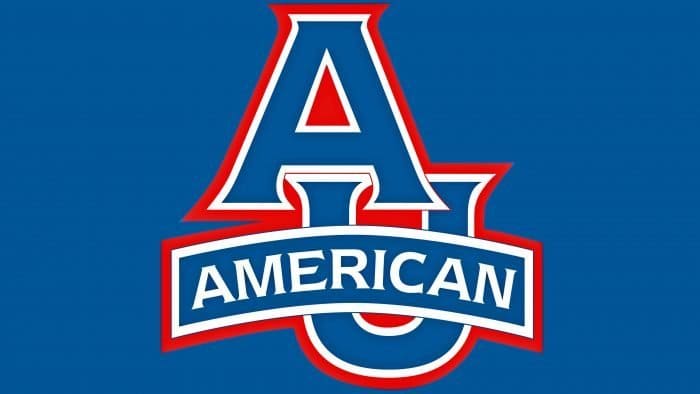 In the lower half is a wide, slightly curved line with the word "American." It fits harmoniously into the main canvas. The curved shape emphasizes the unity of the two fragments. And the strip is longer than the monogram, so it protrudes the edges. The color of the inner letters is white. The font is capital, serifed.
Font and Colors
American Eagles color codes
Dark Powder Blue

Hex color:
#143d8d
RGB:
20 61 141
CMYK:
86 57 0 45
Pantone:
PMS 287 C
Red

Hex color:
#c41230d
RGB:
196 18 48
CMYK:
0 91 76 23
Pantone:
PMS 185 C