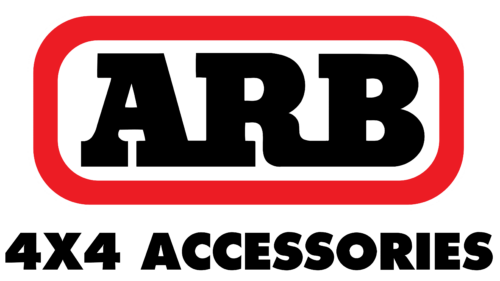 ARB Logo PNG
The ARB logo is a compelling combination of typography and geometric design. Large black letters, representing the company's name but also the initials of its founder, Anthony Ronald Brown, form a central feature. The rectangular serifs from these letters connect them, creating a unified and robust visual impression.
This monogram is encapsulated within a red rectangular frame with rounded corners, further enhancing the logo's boldness. The use of red signifies energy, strength, and passion, attributes that align well with the brand's nature. The stark contrast between the black lettering and red background makes the logo stand out, ensuring high visibility and recall.
Beneath the monogram, the phrase "4×4 ACCESSORIES" is written, indicating the brand's field of operation. A bold sans serif typeface is employed for this phrase, bearing a resemblance to the likes of Limerick Serial Heavy by SoftMaker or Raiderfont Regular by Sharkshock. The choice of a bold typeface adds to the overall visual strength of the logo, emphasizing the brand's dedication to providing robust and high-quality products.
The ARB logo conveys the founder's personal touch, the company's area of specialty, and its commitment to quality and strength, all within a simple and memorable design.
| | |
| --- | --- |
| Founded: | 1975 |
| Founder: | Tony Brown |
| Headquarters: | Australia |
| Website: | arb.com.au |
In 1975, a genuine off-road enthusiast, Tony Brown, established ARB – an acronym for his name, Anthony Ronald Brown. ARB, an Australian company, has supplied off-road aficionados with top-tier 4×4 accessories and equipment for over four decades. The company's products have gained a global audience, making ARB a preferred choice for 4×4 adventurers worldwide.
The market's lack of quality 4×4 accessories led Tony Brown to establish ARB. The company's initial offering, a bull bar for Land Rovers, rapidly gained traction for its unmatched quality and performance. As a result, 4×4 enthusiasts across Australia began equipping their vehicles with ARB's products.
Over the years, ARB's product line has expanded to encompass a wide range of 4×4 accessories, including roof racks, suspension kits, and winches. This diversification and the company's foray into international markets highlight ARB's success.
ARB is a global frontrunner in 4×4 accessories, with operations across Australia, the United States, and Europe. 4×4 enthusiasts across the globe rely on ARB's products to elevate their off-road adventures. ARB remains the choice for 4×4 enthusiasts everywhere, whether in the outback or the desert.
In 1975, Tony Brown's establishment of ARB set off a trajectory of growth and success that endures today.
In the 1970s, ARB's introduction of the first bull bar for Land Rovers revolutionized the off-roading world. This pioneering product set the industry standard and paved the way for future products.
The 1980s saw ARB reshape the 4×4 industry by extending its product line to encompass a broad selection of 4×4 accessories.
The 1990s marked ARB's endeavor to take its products to a global audience, with exports to countries worldwide.
During the 2000s, ARB reinforced its industry leadership by further expanding its product line and operations.
In the 2010s, ARB secured its position at the pinnacle of the 4×4 accessories industry, earning recognition for its quality and innovation.
Meaning and History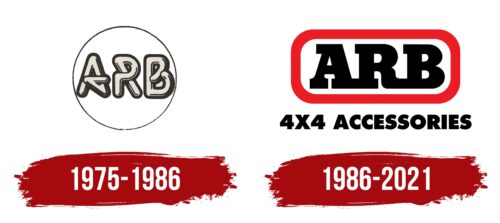 What is ARB?

ARB, established by Tony Brown in 1975, originated in Australia's challenging Top End region, aiming to equip 4×4 enthusiasts with the most reliable gear for off-road exploits. Since its inception, ARB has expanded and gained trust within the 4WD community thanks to its products' excellent quality and robustness that withstand even the most severe terrains and harsh conditions.
1975 – 1986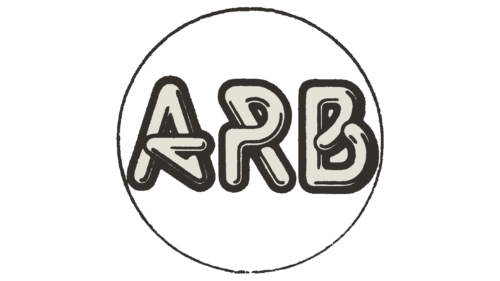 1986 – 2021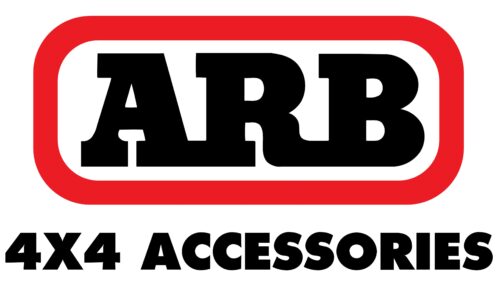 ARB color codes
Pigment Red

Hex color:
#ec1c24
RGB:
236 28 36
CMYK:
0 88 85 7
Pantone:
PMS Bright Red C
Black

Hex color:
#000000
RGB:
0 0 0
CMYK:
0 0 0 100
Pantone:
PMS Process Black C