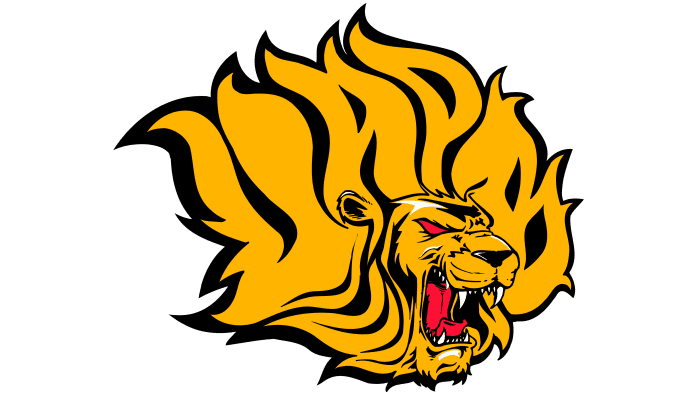 Arkansas-PB Golden Lions Logo PNG
The Arkansas-PB Golden Lions logo features the head of the fierce lion, the brand mascot. It represents the association's main characteristics – fighting spirit, athletic fierceness, and constant readiness to attack.
Arkansas-PB Golden Lions: Brand overview
| | |
| --- | --- |
| Founded: | 2001 |
| Headquarters: | Pine Bluff, Arkansas, U.S. |
| Website: | uapblionsroar.com |
Arkansas-PB Golden Lions is a sports association with 14 male and female teams. They include baseball, basketball, football, athletics, tennis, volleyball and some others. The association belongs to the University of Arkansas at Pine Bluff, which was founded in 1873. It is located in Pine Bluff, Arkansas. The teams compete within the I NCAA and are members of the Southwestern Athletic Conference. The director is Lonza Hardy.
Meaning and History


Arkansas University received its status and present name in the 20th century, even though it was founded in the second half of the 19th century. The renewed logo of the university appeared in 2001. It shows a magnificent lion placed in a semi-profile.
The mouth of the animal is stretched in a formidable growl. Inside it is visible a scarlet tongue and two rows of sharp white teeth with long canines. Red eyes support the scary image. As if the beast were so angry that it was ready to tear its opponent apart. The golden mane is shattered as if the animal were waving its head.
What is Arkansas-PB Golden Lions?

Arkansas-PB Golden Lions (abbreviated UAPB) is an athletic department that is part of the University of Arkansas at Pine Bluff. It unites 16 student teams and participates in the Southwestern Athletic Conference. Its representatives also compete in the NCAA – in Division I.
2001 – 2014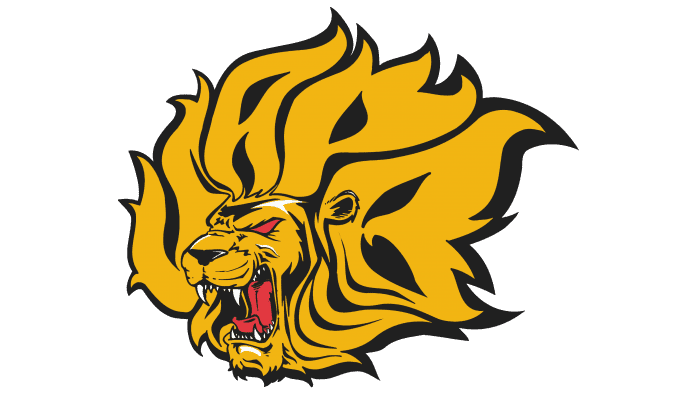 2015 – today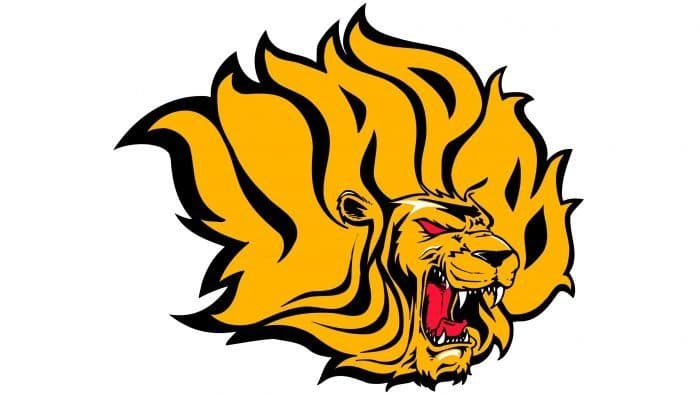 The blistering wool is depicted with black strokes that blend perfectly with yellow, forming the likeness of shadows. On the chin and forehead, there are light highlights of sharp angular shape. They highlight the lion's rage and willingness to attack – as if he was sweating from emotional tension.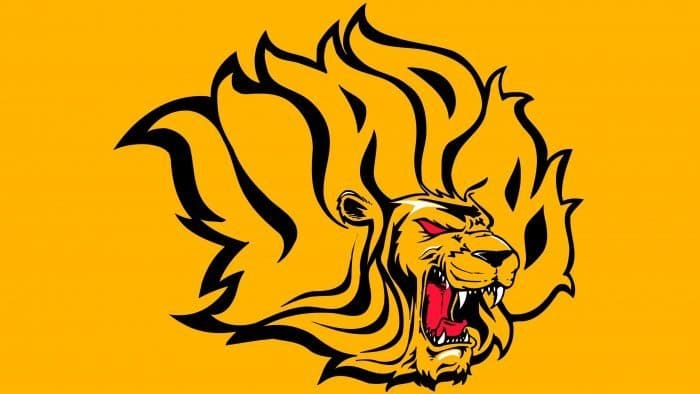 The modern version is the same as before. The changes made in 2015 are insignificant: they touched the color, which has become more intense, and the location of the head – now it is turned to the right. Shadows on the mane are also worked out: some disappeared, others appeared.
Font and Colors
Arkansas-PB Golden Lions color codes
Xanthous

Hex color:
#eeb310
RGB:
238 179 16
CMYK:
0 25 93 7
Pantone:
PMS 130 C
Alizarin Crimson

Hex color:
#e31837
RGB:
227 24 55
CMYK:
0 89 76 11
Pantone:
PMS 185 C
Black

Hex color:
#000000
RGB:
0 0 0
CMYK:
0 0 0 100
Pantone:
PMS Process Black C