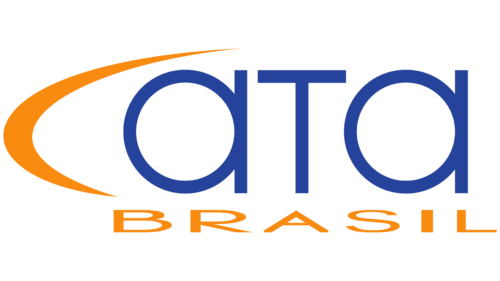 ATA Brasil Logo PNG
ATA Brasil logo is a vibrant representation of the airline's identity, combining modern design elements with national pride.
Typography and Formation: Central to the design are the blue letters "ATA," ingeniously crafted from stripes and circles. Their uniform size suggests consistency, but the play on letter case brings about a touch of uniqueness – with the "T" standing tall as a capital, flanked by two lowercase "A" characters. Blue evokes feelings of trust, dependability, and vast skies.
A Burst of Dynamics: To the left of these letters is an orange arc, infusing the emblem with a sense of motion and dynamism. Arcs are often associated with continuity and cycles, hinting at the airline's commitment to ongoing service and constant movement.
National Pride: Positioned below the letters, the word "BRASIL" shines brightly in the same striking orange hue. This color contrasts beautifully with the cool blue and embodies warmth, the sun, and optimism. The country's name in this sunny shade reinforces the airline's roots and pays homage to Brazil's vibrant culture and sunny landscapes.
Font Choice: The "BRASIL" typography is intriguing, characterized by a "flattened" font. This unique choice sets it apart, making it immediately noticeable and memorable. It provides a contemporary flair, aligning with modern design sensibilities while retaining an element of playfulness.
The dynamic arc, the sunny hues, and the innovative typography all converge to paint a picture of a forward-moving, reliable, and distinctly Brazilian airline. This logo identifies the brand and encapsulates its values, roots, and aspirations in aviation.
ATA Brasil: Brand overview
| | |
| --- | --- |
| Founded: | 2001 – 2006 |
| Headquarters: | Recife, Brazil |
From 2001 to 2006, ATA Brasil, a Brazilian low-cost airline, made its mark in the aviation sector. With its headquarters in Recife, the airline committed itself to offering economically priced domestic flights across Brazil. Its main operations center was Recife International Airport, while it maintained a significant presence at a secondary hub in Brasília.
ATA Brasil's fleet, comprised solely of Boeing 737-200 and 737-300 aircraft, was arranged in an all-economy layout to align with its low-cost business model. The airline offered its services to approximately 15 destinations throughout Brazil, including major cities like Rio de Janeiro, São Paulo, Salvador, and Curitiba.
ATA Brasil came into existence as an initiative of the Globo media conglomerate, together with other investors. They saw potential in Brazil's burgeoning low-cost travel market and hoped to capitalize on it. However, the competition proved challenging for ATA Brasil. The dominance of established airlines such as Gol and TAM Airlines in the sector presented a formidable hurdle for the new low-cost airline.
Regrettably, the rising losses and stiff competition led ATA Brasil to wind down its operations in February 2006, only five years after its establishment. During its most flourishing period, ATA Brasil managed to secure a market share of less than 5% in the Brazilian market, employing approximately 850 staff members.
From its inception, ATA Brasil grappled with a multitude of issues. High operational costs, insufficient aircraft, and intense competition from incumbent carriers were significant obstacles that impeded the airline's sustainability right from the start.
Meaning and History