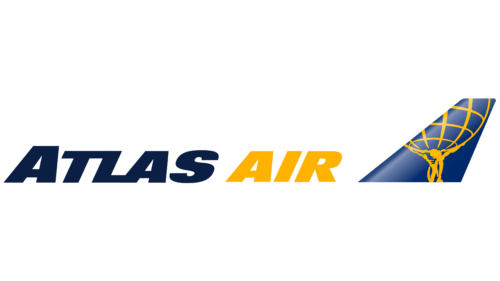 Atlas Air Logo PNG
Atlas Air: Brand overview
In 1992, Atlas Air, under the leadership of Michael Choudhry, took to the air out of Perchance, New York, with a bold vision of the future. Armed with just one airplane, the company embarked on an ambitious path, rapidly expanding its fleet and operations.
In the late 1990s, Atlas Air made significant strides by launching passenger charter flights, opening up a world of opportunities for travelers.
In 2000, Atlas Air merged with Atlas Air Worldwide Holdings. Under the leadership of Atlas Air Worldwide Holdings, the company flourished, strengthening its position as a key player in the aviation industry.
Atlas Air has achieved significant success in becoming the world's largest operator of the legendary Boeing 747 aircraft. With an impressive fleet of 54 legendary aircraft, Atlas Air has the ability to transport goods and cargo to more than 300 destinations worldwide.
Meaning and History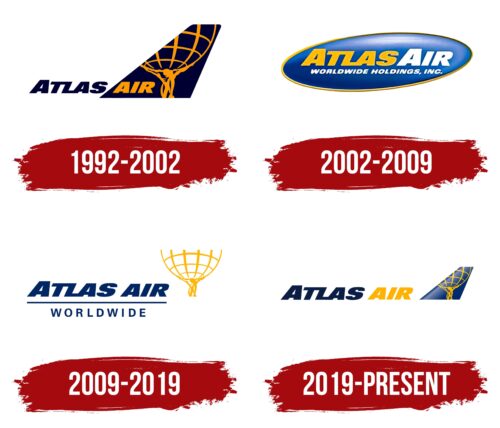 What is Atlas Air?

Based in Purchase, New York, Atlas Air has carved out a niche as America's leading cargo, passenger charter, and leasing airline. As a subsidiary of Atlas Air Worldwide Holdings, the company has emerged as a dominant force in the global airline industry with an emphasis on cargo. The company is the world's largest operator of Boeing 747 airplanes.
1992 – 2002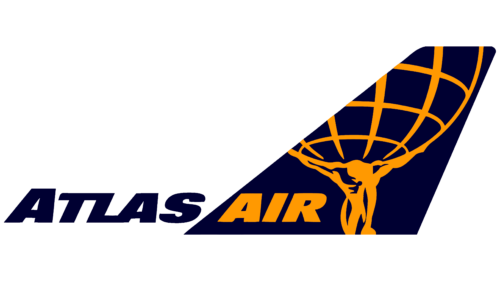 2002 – 2009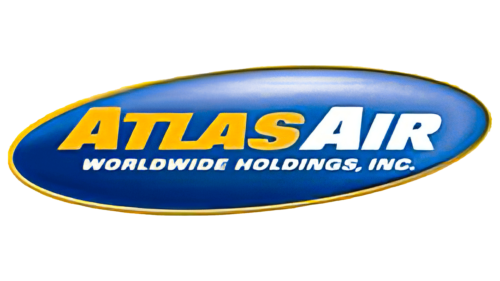 2009 – 2019
2019 – today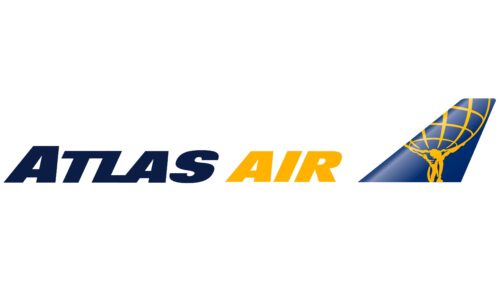 Atlas Air's logo is exactly like the design of the company's airplanes. On the side is the name of the airline: the word "ATLAS" in blue and "AIR" in yellow. The text is in bold slab-serif font with a slant to the right. The key feature is the connected letters "T," "L," and "A," which form a single shape. Next to them is the upper part of the tail of the airplane. It is painted blue with a gradient and serves as a backdrop for the design, where a yellow silhouette of a man supports a stylized grid of degrees. This is an allusion to Atlas, the titan who holds the Earth on his shoulders.
The connecting letters in the word "ATLAS" create a unique visual element and emphasize unity and strength. The gradient blue on the tail of the aircraft symbolizes sky and flight, reinforcing the aviation theme. The allusion to Atlas gives the brand a mythical dimension, conveying a sense of monumental responsibility and strength, which is in line with the company's global air transportation business.
Atlas Air color codes
Space Cadet

Hex color:
#0b1e44
RGB:
11 30 68
CMYK:
84 56 0 73
Pantone:
PMS 2768 C
Selective Yellow

Hex color:
#ffb300
RGB:
255 179 0
CMYK:
0 30 100 0
Pantone:
PMS 137 C