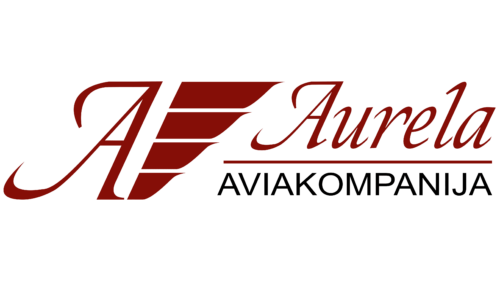 Aurela Logo PNG
The Aurela logo embodies sophistication and a deep sense of flight, reflecting the company's core aviation values with finesse.
Elegance in Typography: The centerpiece of the emblem is the word "Aurela," penned in an elegant cursive reminiscent of masterful calligraphy. With its graceful curves and extended strokes, the typography evokes feelings of luxury and meticulous attention to detail, resonating with the brand's commitment to excellence.
Symbolic Lettering and Design: To the left of the brand's name, a standalone "A" takes pride of place, sharing the same calligraphic touch. It is tastefully separated by a pattern comprising four wide bands, each diminishing in length from top to bottom. This artistic representation resembles a wing, universally recognized as an emblem of flight and freedom. Through this imagery, the brand effectively conveys its dedication to aviation and the liberating experience of soaring through the skies.
Contrast and Language: Beneath the brand name runs a horizontal stripe, anchoring the design and offering balance. Following this stripe, the word "AVIAKOMPANIJA" is inscribed, translating to "airline company" in Lithuanian. Unlike the predominant maroon elements of the emblem, this descriptor is rendered in black, introducing a contrasting element and emphasizing the company's Lithuanian roots.
Colors and Emotion: The predominant use of maroon in the emblem is no accident. Often associated with sophistication, ambition, and grandeur, this color reinforces the brand's aspiration to be at the pinnacle of the aviation industry. The contrasting black grounding of the logo serves as a stabilizer, anchoring its lofty ambitions with reliability and trustworthiness.
| | |
| --- | --- |
| Founded: | 1996 – 18 February 2013 |
| Headquarters: | Vilnius, Lithuania |
From 1996 to 2013, Aurela, a regional airline from Lithuania, was actively servicing the Baltic region. The airline was based in Vilnius, and its principal operations were conducted from Vilnius Airport. It offered both domestic and international flights, connecting various destinations within the Baltic region.
Aurela's fleet primarily comprised Saab 340 and Saab 2000 turboprop aircraft, ideally suited for short-haul flights. This enabled it to cater to various destinations, including Lithuania, Latvia, Estonia, Finland, Poland, and other Northern European points. Its major hubs were Vilnius, Kaunas, Palanga Airport, and Helsinki Airport.
Aurela operated in synergy with larger airlines through codesharing agreements, serving as a feeder airline. It experienced its busiest period when it transported over 200,000 passengers per year. However, financial challenges started to cast a shadow over Aurela's operations.
Intense competition on regional routes and escalating operational costs affected the airline's financial health. Consequently, Aurela had to halt its operations in February 2013 after a service tenure of 17 years.
A brief attempt was made to resurrect the Aurela brand in 2016. However, this revival was short-lived and lasted only two months before the airline again encountered operational difficulties.
Meaning and History