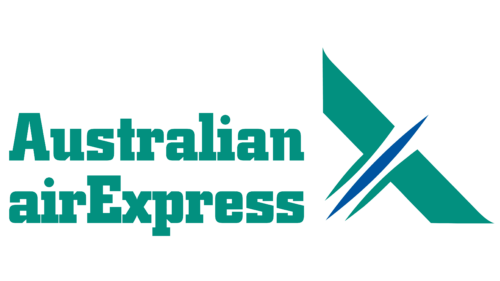 Australian Air Express Logo PNG
The Australian Air Express logo is a testament to the company's identity, seamlessly blending typography and imagery to resonate with its aviation ethos.
Bold Typography: The brand name is engraved using a distinct bold typeface characterized by its rectangular serifs. These serifs break away from the conventional diagonal cuts, opting for vertical or horizontal ends. This design choice instills a sense of stability and reliability in the brand, suggesting a grounded approach to its services.
Balancing Act: While the glyphs possess a certain angularity, the rounded dots perched above both "i" characters in the logo soften this sharpness. This meticulous attention to detail adds an aesthetic appeal and subtly conveys a harmonious blend of precision and approachability in the brand's operations.
Hierarchical Typography: The brand's choice to divide the logo into two lines presents an interesting dynamic. The spacing between adjacent words is notably narrow, fostering a sense of unity and integration. Notably, the word "air" is entirely in lowercase, creating a gentle contrast with "Australian" and "Express," where the initial letters are capitalized. This divergence in typeface hierarchy emphasizes the core of their business – air services- while highlighting the company's origin and commitment to swift deliveries.
Symbolic Imagery: Adjacently, a stylized aircraft takes flight. Bisected by a blue stripe, its turquoise wings reinforce the company's aviation domain and evoke feelings of vast skies and boundless horizons. The color choice, a calming blend of turquoise and blue, denotes trust, reliability, and the expansive nature of the skies.
Color Palette: The color selection, especially using blue hues, often embodies trust, depth, stability, and confidence. This complements the brand's aspirations and assures customers of its dependable services in the vast realm of air transportation.
Australian Air Express: Brand overview
| | |
| --- | --- |
| Founded: | 1992 – 2013 |
| Founder: | Qantas |
| Headquarters: | Melbourne, Victoria, Australia |
Established in 1992 as a subsidiary of Qantas, Australian Air Express was a cargo airline based in Australia. It specializes in domestic overnight cargo services within the country, primarily transporting freight and various packages. The airline's headquarters were in Melbourne, with additional bases in major Australian cities such as Sydney, Brisbane, Adelaide, and Perth.
Australian Air Express's fleet comprised Boeing 727 and Boeing 737 freighter aircraft, each specifically modified for efficient cargo operations. The airline's main responsibility was transporting mail, parcels, and other freight items. Australia Post was one of its major clients and several other significant customers.
At the zenith of its operations, Australian Air Express maintained up to nine freighter aircraft, transporting over 50,000 tons of cargo annually. Its all-cargo network spanned over 20 destinations across Australia. The airline was a notable employer, with around 500 staff members, including pilots, engineers, loadmasters, and administrative personnel at its headquarters.
However 2013, after 21 years of dedicated cargo operations, Australian Air Express was closed down and subsequently fully integrated into Qantas Freight. This move was part of Qantas' broader restructuring strategy, aiming to consolidate freight operations within its mainline business.
Meaning and History