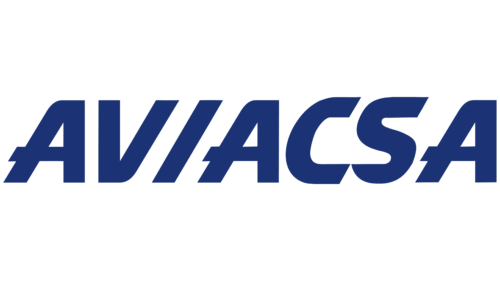 Aviacsa Logo PNG
Aviacsa logo was a testament to the spirit of an airline that once graced the skies from 1990 to 2011, representing the vibrancy and dynamism of the Mexican aviation industry.
Bold Typography: The emblem's name, "AVIACSA," was rendered in a striking dark-blue hue, ensuring it stands out and remains etched in memory. This color choice, often associated with depth, trust, and stability, spoke to the company's stature and commitment to offering secure, reliable flights.
Dynamic Angles: The blend of straight and diagonal letters in the name was a deliberate design choice. For instance, while the "A" and "V" showcased one side perfectly aligned vertically, the "I" tilted to the right. The diagonal lines in the "A" and "V" maintained the same inclination angle, suggesting a sense of forward momentum. This design conveys a sensation of movement and progression, mirroring the constant journey of flights taking off and reaching new destinations.
Symbolic Design Choices: The juxtaposition of upright and tilted letters painted a picture of an airline that honored its traditional roots while also being agile and ready to adapt to the changing demands of the aviation sector. The forward-leaning design emphasized the airline's forward-thinking approach and aspiration to soar continuously.
A Legacy in Design: Though the airline has ceased operations, the essence of its legacy is captured in its emblem. The intricate design choices reflect the company's dedication to providing an unparalleled flying experience, showcasing tradition, and innovation.
| | |
| --- | --- |
| Founded: | May 5, 1990 – May 4, 2011 |
| Founder: | Aeroexo, SA |
| Headquarters: | Mexico City International Airport, Mexico City, Mexico |
From 1990 to 2011, Aviacsa, a Mexican airline, provided domestic flight services within Mexico and offered select international routes. With headquarters in Mexico City, Aviacsa had established its central hubs at Mexico City and Monterrey airports.
The airline's fleet consisted of various Boeing aircraft, including 727s, 737s, and 757s, enabling it to connect numerous locations across Mexico. Some of the destinations the airline catered to were Mexico City, Monterrey, Cancun, Villahermosa, and Veracruz.
Aviacsa was initially established as a subsidiary of Aeroexo, a well-known Mexican aerospace company. However, the airline's operations encountered challenges due to the increasing competition from emerging low-cost airlines such as Volaris and Interjet in Mexico's aviation market.
After struggling with profitability for several years, Aviacsa finally ceased its operations permanently in May 2011. During its prime in the 2000s, Aviacsa held about 7% of the Mexican aviation market share, carrying over 3 million passengers annually.
However, operational issues, such as inefficient fleet management, escalating costs, and mounting debt, contributed to its downfall after 21 years of service.
Meaning and History