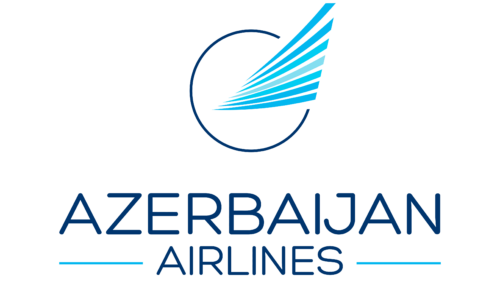 Azerbaijan Airlines Logo PNG
Azerbaijan Airlines: Brand overview
After gaining independence in 1991, Azerbaijan seized the opportunity to establish a national air carrier, Azerbaijan Airlines (AZAL), cementing its place in the global aviation industry. The establishment of AZAL in 1992 was a major milestone for the country, providing connectivity and contributing to economic growth.
AZAL quickly set out to create a powerful domestic and regional network connecting major cities in the Commonwealth of Independent States (CIS).
As Azerbaijan's economy developed, AZAL embarked on an ambitious expansion and modernization plan. The airline has invested in the latest Boeing and Airbus aircraft, improving passenger service and reinforcing its commitment to excellence. AZAL modernized its infrastructure, significantly improving Heydar Aliyev International Airport, which is the airline's most important hub.
AZAL has expanded the scope of its operations by connecting Azerbaijan with key business and tourist destinations around the world.
AZAL has entered into strategic partnerships and alliances with renowned global carriers, expanding its network and offering passengers an even wider choice of destinations and improved connectivity. Membership in the International Air Transport Association (IATA) further confirms AZAL's commitment to providing world-class service and a seamless travel experience.
Meaning and History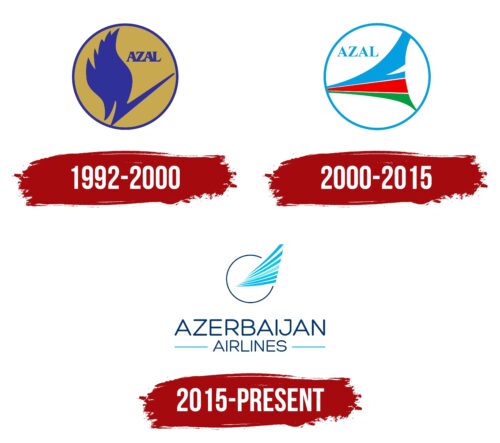 What is Azerbaijan Airlines?

Azerbaijan Airlines, known as AZAL, is the flagship carrier and the largest airline of Azerbaijan. The company was founded on April 7, 1992, and was the first national airline established after the country's independence. Based in Baku, next to the Heydar Aliyev International Airport, the airline has rapidly expanded its operations to destinations in Asia, CIS, Europe, and the USA.
1992 – 2000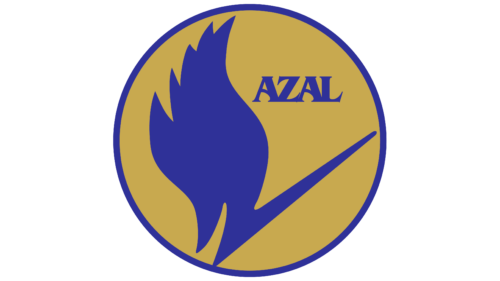 2000 – 2015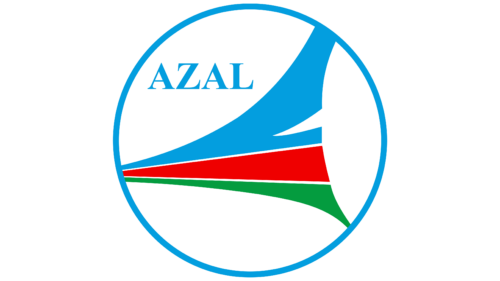 2015 – today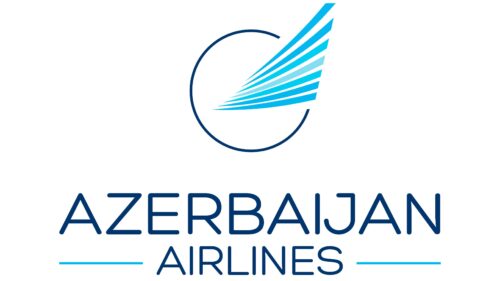 The name Azerbaijan Airlines is divided into two lines and is center-aligned at the bottom. The text is dark blue in color and typed in a straight sans-serif font. All letters are uppercase, with rounded corners. The second word is flanked by two light blue horizontal lines to its right and left. Above this text are seven lines in various shades of light blue. Their smoothly curved shape symbolizes flight. These lines are reminiscent of both the wing and the contrail left by the airplane in the sky. The lines are enclosed in an open circle.
The use of dark blue in the text denotes qualities such as trust and reliability, which are often associated with this color. The light blue horizontal lines framing the second word symbolize the calmness and serenity often associated with air travel. The different shades of light blue in the curved lines above signify diversity and inclusivity, emphasizing the airline's reach to different destinations. The open circle framing these lines creates a sense of completeness but also leaves room for expansion and new opportunities.
Azerbaijan Airlines color codes
Dark Midnight Blue

Hex color:
#00356e
RGB:
0 53 110
CMYK:
100 52 0 57
Pantone:
PMS 294 C
Deep Sky Blue

Hex color:
#02b7ef
RGB:
2 183 239
CMYK:
99 23 0 6
Pantone:
PMS 312 C
Vivid Sky Blue

Hex color:
#00cdf2
RGB:
0 205 242
CMYK:
100 15 0 5
Pantone:
PMS 3125 C
Medium Sky Blue

Hex color:
#84def0
RGB:
132 222 240
CMYK:
45 7 0 5
Pantone:
PMS 319 C