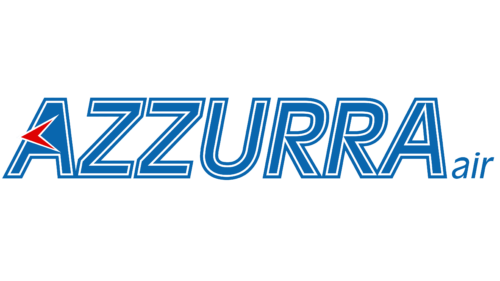 Azzurra Air Logo PNG
The Azzurra Air logo is an intricate blend of design choices that mirrors the essence and aspirations of the airline brand.
Typography Contrast: Front and center, the brand's name is presented with a striking typographical contrast. The first word, "AZZURRA," is rendered in bold uppercase letters, creating a sense of authority and prominence. Conversely, the word "Air" is designed subtly lowercase, introducing a sense of balance and approachability to the overall design. This duality in font choices ensures that while the brand maintains a dominant presence, it remains approachable and user-friendly.
Dual Contours and Colors: A captivating feature in the typography of "AZZURRA" is its dual contours. The letters are outlined with alternating blue and white stripes, colors often linked with the sky and clouds, seamlessly aligning with the brand's aviation roots. This design choice gives depth to the text and reinforces the brand's association with air travel.
Arrowhead and Aircraft Fusion: Nestled within the first "A" is a brilliantly conceived emblem. The red figure, shaped like an arrowhead, consists of triangles combined innovatively. This design, while reminiscent of an arrow pointing upwards, also embodies the silhouette of a stylized airplane. The upward arrow suggests an onward and upward trajectory, hinting at progress and forward momentum. The airplane design, a clear nod to aviation, confirms the brand's dedication to air travel.
Red Element Significance: Red evokes feelings of passion, energy, and action. Its placement within the design adds a splash of vibrancy and signifies the airline's drive, enthusiasm, and commitment to excellence in aviation.
Logo Azzurra Air communicates the brand's dedication to providing top-tier aviation services while striving for excellence and growth.
Azzurra Air: Brand overview
| | |
| --- | --- |
| Founded: | December 1995 – March 2004 |
| Founder: | Air Malta and Air International Services |
| Headquarters: | Milan, Italy |
Azzurra Air was an airline based in Italy that provided service from 1995 to 2004. This venture primarily offered charter and budget-friendly scheduled flights, mainly in Europe. The birth of Azzurra Air was a collaborative effort between Air Malta and the Italian firm Air International Services.
The airline established its headquarters in Milan and used Milan-Malpensa Airport as its primary operational base. The aircraft of choice for Azzurra Air was the Airbus A320, which they utilized in a single-class configuration, catering to the economy segment.
The airline flew travelers to popular European vacation spots, such as Greece, Spain, Egypt, Croatia, Turkey, and Tunisia. During the early 2000s, the airline attempted to transition to a low-cost scheduled model due to escalating competition.
Unfortunately, a culmination of increasing losses forced Azzurra Air to declare bankruptcy and halt operations in March 2004. At the height of its operations, the airline boasted a fleet of six Airbus A320s, serving 25 destinations across Europe and North Africa.
However, the sustainability of Azzurra Air was compromised due to high operating costs, limited demand, and the presence of competitive budget airlines in the market.
Meaning and History