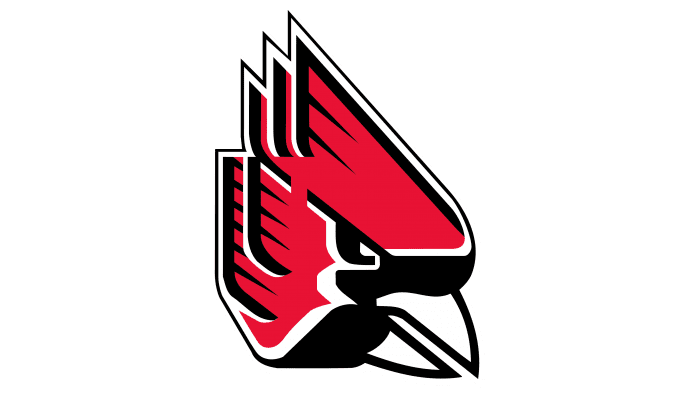 Ball State Cardinals Logo PNG
The Cardinal bird forms the Ball State University Cardinals logo as a symbol of the Ball State University athletic department. Its position and graphic design symbolize fearlessness. The aggressive color scheme demonstrates the peculiarities of the organization's tactics and basic philosophy.
Ball State Cardinals: Brand overview
| | |
| --- | --- |
| Founded: | 1927 |
| Headquarters: | Muncie, Indiana, U.S. |
| Website: | ballstatesports.com |
Ball State Cardinals is a sports association that belongs to Ball State University, founded in 1918. The branch is located in Mansi, Indiana, and is led by Beth Goetz. It is part of the Mid-American Conference (a division of West). Performs at Division I NCAA (FBS). It has 18 male and female teams in football, basketball, baseball, golf, tennis, gymnastics, volleyball, and other disciplines.
Meaning and History


The updated logo of the 1990s presents the mascot of the sports department – Charlie Cardinal. The symbol of the university is the bird of Cardinal, which is located in profile. She seems to fly from top to bottom, fearlessly attacking opponents. Three quick strokes testify to the rapid movement.
The emblem is developed based on the nickname received by the university teams in the 1927th year. For the proposal of Paul Williams, the former head of the sports organization, the majority of students voted. Until then, all representatives of the department were called Hoosieroons.
In 2015, the logo was slightly transformed: the three upper strokes were removed from it, and the bird's head was enlarged. The remaining details were left unchanged, as the color scheme consisted of white, red, black.
What is Ball State Cardinals?

Ball State Cardinals comprises 18 men's and women's teams formed from Ball State University students. The athletic department is located in Muncie, Indiana, and competes in NCAA Division I as part of the Mid-American Conference. Its original name was Hoosieroons, with the current name being adopted in 1927.
1990 – 2014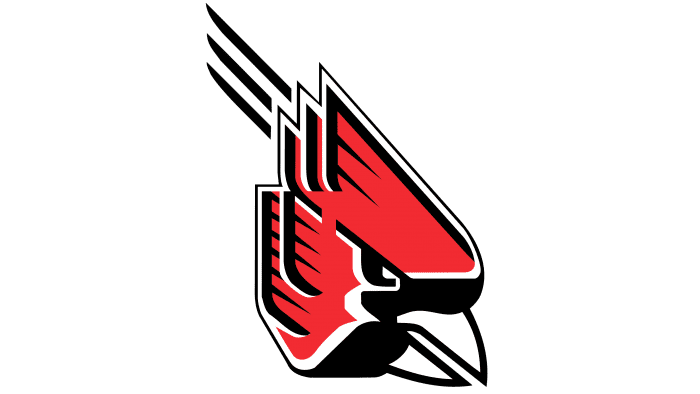 2015 – today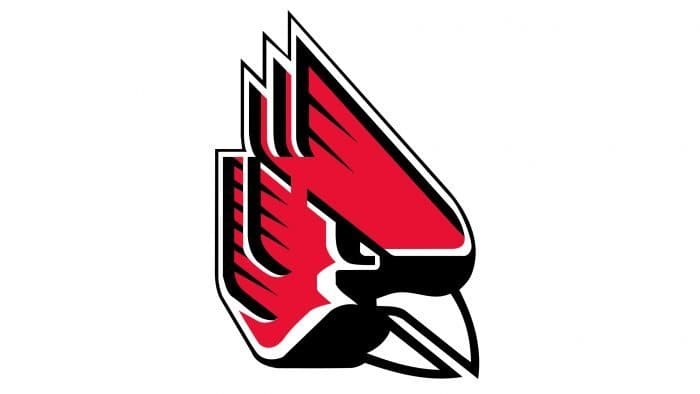 Ball State Cardinals Football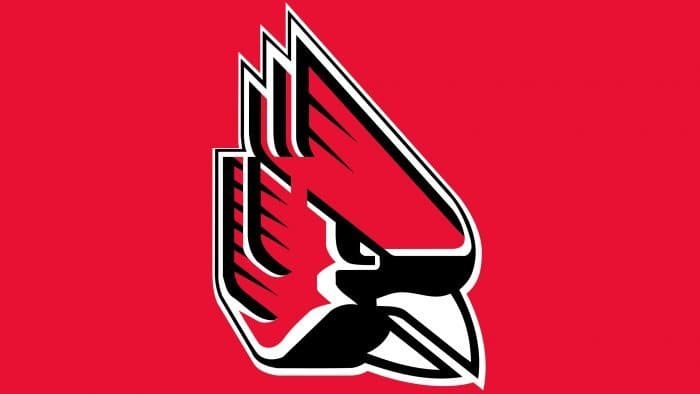 The football team plays in the first division of the" Football Bowl Subdivision" and the Mid-American Conference. Her home arena is Scheumann Stadium. The debut season dates from the 1924th year. The trainer is Mike Neu.
Ball State Cardinals Basketball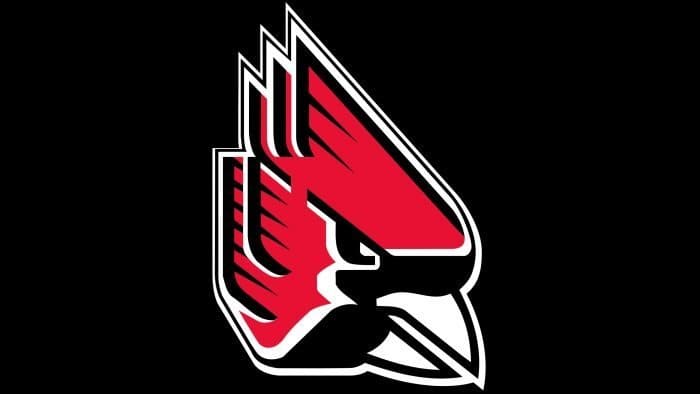 The university men's team opened its first basketball season in the 1920th year. She now speaks at the Mid-American Conference and uses the Worthen Arena for home games. In 2000, as part of the NCAA Division I, she participated in the men's Basketball Tournament. The female team won the MAC tournament in the 2009th year.
Font and Colors
Ball State Cardinals color codes
Crimson Glory

Hex color:
#ba0c2f
RGB:
186 12 47
CMYK:
0 94 75 27
Pantone:
PMS 199 C
Black

Hex color:
#000000
RGB:
0 0 0
CMYK:
0 0 0 100
Pantone:
PMS Process Black C