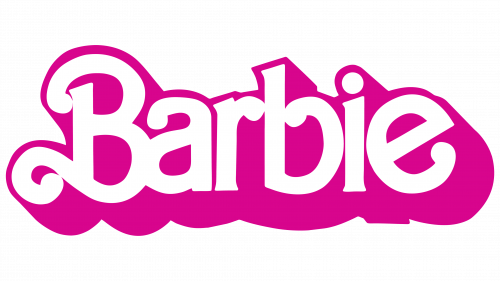 Barbie (film) Logo PNG
The Barbie logo features a modern font with short serifs, swirls, and decorative dots at the ends of the letters. The word itself is colored white but sits on a vibrant pink base. This serves as a nod to the glamorous world of Barbie and its inhabitants, who are known for their love of fashionable pink attire. The emblem's upbeat design encapsulates fun, childhood, and naivety.
The choice of a modern font with short serifs adds a layer of sophistication to the emblem. Short serifs convey modernity and elegance, aligning perfectly with the brand's association with style and trendiness. The swirls and decorative dots at the end of the letters lend a playful, youthful touch, reflecting the target audience's enthusiasm and zest for life.
Pink has long been a signature hue for the brand and is widely recognized as symbolic of femininity and glamour. White letters offer a balanced contrast, drawing attention to the name while maintaining visual harmony. The interplay between white and pink makes the logo recognizable, tying it to the broader brand identity.
Barbie's world is a glamorous and unapologetic luxury, and the color pink is a passport to this universe. In this context, pink is not merely a color but a representation of a lifestyle filled with fashion, beauty, and pursuing one's dreams. It serves as an emotional connector, linking the logo to sentiments of joy, aspiration, and youthful innocence.
The emblem perfectly embodies the brand's mission to inspire imagination and encourage self-expression. It is a visual entry point to a realm with flexible rules and limitless dreams. Far from being just a name on doll packaging or movie credits, it carries the weight of a brand that has been a part of countless childhoods and has inspired generations to envision and create their worlds.
In a marketplace filled with noise and competition, a logo has just a split second to make an impact. This emblem, with its vibrant colors and modern yet playful typography, manages to not only capture attention but also encapsulate a universe of stories, lifestyles, and dreams. It is an iconic representation of what the brand has come to signify: limitless possibilities, imagination, and the sheer joy of childhood.
Barbie (film): Brand overview
| | |
| --- | --- |
| Founded: | July 21, 2023 |
| Founder: | Greta Gerwig, Noah Baumbach |
| Headquarters: | United States |
The concept of turning Barbie into a live-action movie had been simmering for an extended period, involving various creative minds and leading actors. In 2019, a pivotal development occurred when Margot Robbie accepted the role of Barbie and got her production firm, LuckyChap Entertainment, involved in the project. The same year, the creative duo of Greta Gerwig and Noah Baumbach joined to serve as the film's writers and directors.
By early 2022, production was fully underway at Warner Bros. Studios in London. An impressive ensemble cast was assembled, featuring Ryan Gosling as Ken, along with America Ferrera, Kate McKinnon, Issa Rae, Simu Liu, Rhea Perlman, and Will Ferrell. The film intended to refresh the Barbie narrative and challenge conventional views of the iconic figure.
Come February 2023, the movie had its grand debut at the Berlin International Film Festival. The response was overwhelmingly positive, particularly lauding Robbie and Gosling's acting skills, as well as Gerwig's innovative approach to the character of Barbie. Audiences could finally see the film in theaters starting July 21, 2023, distributed by Warner Bros. Pictures.
Although not a traditional biopic, the movie emerged as one of the most buzz-worthy cinematic releases of the year, heralding a revitalized phase for the beloved toy figure in cinema.
Meaning and History