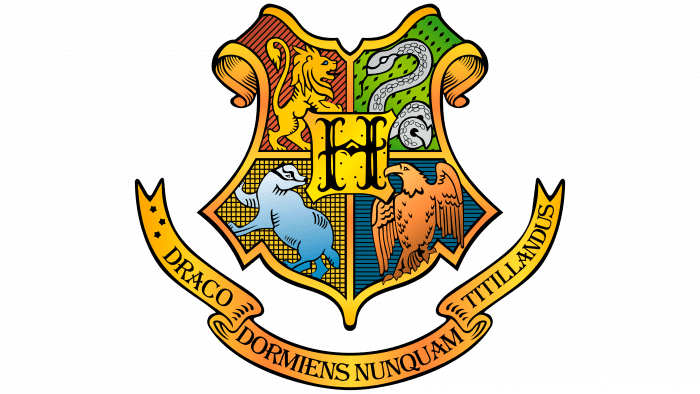 Hogwarts is a brand that emerged from the Harry Potter series by Joanne Rowling. They laid the foundation for the school's legendary symbol, within the walls of which fabulous events took place and where young magicians and sorceresses studied.
Meaning and History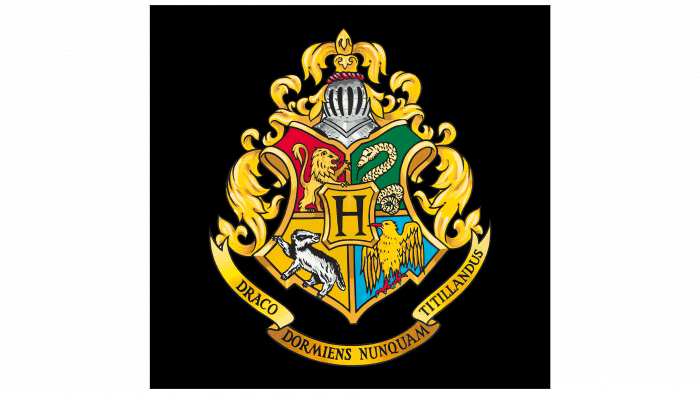 The main character was educated at the School of Witchcraft and Wizardry, located somewhere in Scotland's highlands. The educational institution's roots go back to the 10th century, so it has a very ancient logo. It resembles a medieval knight's shield with classic elements: images of animals, symbols of sorcery, a coat of arms, a capital letter from the name, stylized edging.
To decipher the meaning of the emblem, you need to delve into the history of the school. The four fragments located on it indicate the students studied and lived: Gryffindor (where Harry Potter received his magical education), Hufflepuff, Ravenclaw, and Slytherin. Each of them has its designation in the logo scheme. They are represented on the logo with their animals, colors, and graphics.
As befits serious universities of the medieval period, Hogwarts immediately received a unique motto. It was placed on a long, split-ended ribbon that sits under the shield. It reads: "Draco Dormiens Nunquam Titillandus," which means "Never tickle a sleeping dragon" in Latin. All letters are uppercase and written in simple sans serif typeface.
Font and Colors of the Emblem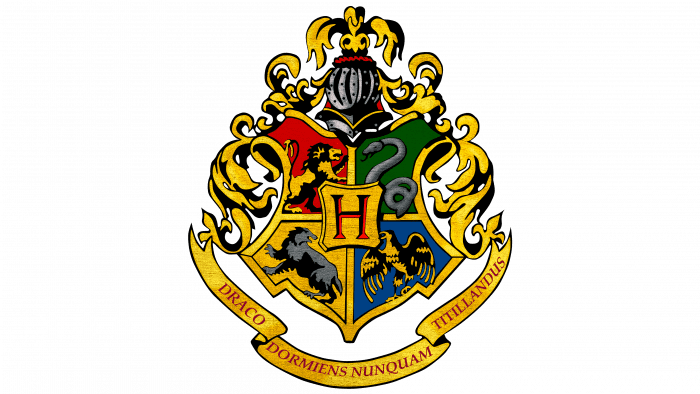 In the upper left corner of the logo, a lion is drawn – the mascot of Gryffindor. The predator is located on a deep red background with golden stripes. This is the personification of courage, courage, nobility, which are valued at the faculty.
The seat at the top right is the Slytherin badge. The emblem of this faculty is a snake on a green-silver field. The image of a cold-blooded reptile denotes ambition, determination, cunning, resourcefulness.
In the lower right corner of the sculpted shield is an eagle representing Ravenclaw. It is placed on a blue-lined background and symbolizes wisdom, creativity, intelligence, vigilance.
On the left side of the lower zone is the badger – the Hufflepuff mascot. In the background, you can see a yellow background drawn into squares. As conceived by the author, graphic composition symbolizes honesty, patience, and loyalty.
All four houses are united by the central "H" – the first letter in the school's name. It is written in a large, antique, and complex semi-curl typeface that underlines the School of Witchcraft and Wizardry's antiquity. The color scheme of the coat of arms is monochrome (black on white). Sometimes this element is used as a separate logo because this sign is smaller and accurately conveys the image of a magical institution.