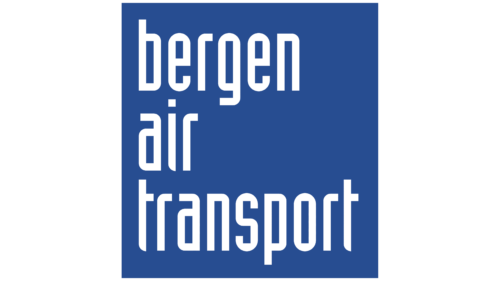 Bergen Air Transport Logo PNG
Bergen Air Transport logo is a testimony to the Norwegian airline's contemporary style and meticulous attention to design.
Visual Balance: At the heart of the emblem lies a sense of equilibrium. This visual balance conveys professionalism, seriousness, and well-thought-out brand philosophy. It sets a foundation for trustworthiness, which is paramount in the aviation industry.
Dominant Blue Rectangle: A large blue rectangle strikingly close to a square serves as a canvas for the airline's name. Blue, often associated with depth, stability, and trust, is an apt airline choice. It resonates with the vastness of the sky and the depths of the oceans, reinforcing the vast terrains the airline covers.
Geometric Typography: The three-line white inscription within the blue rectangle adheres to the left, emphasizing structure and order. Its geometric typeface embodies rectangular shapes, softened at the edges with subtle roundings. This blend of sharpness and curve mirrors the airline's commitment to precision with a touch of grace.
Lowercase letters: all three words of the brand name are presented in lowercase, adhering to the overall minimalism. This choice steers clear of ostentation, emphasizing humility and approachability. It subtly communicates that while the airline values professionalism, it remains grounded and accessible to its clientele.
Modern Minimalism: The minimalistic approach extends beyond typography. The absence of any extraneous elements or embellishments in the logo communicates clarity of purpose. It implies that the airline focuses on what truly matters: delivering exceptional service without unnecessary frills.
Conveyed Values: Through this emblem, the airline signifies modernity, reliability, and commitment. It's not just about flying from one point to another; it's about doing so with dedication, precision, and a touch of Norwegian elegance.
Bergen Air Transport: Brand overview
| | |
| --- | --- |
| Founded: | 1998 – 2017 |
| Founder: | Geir Hellsten and Håkon Lie-Nielsen |
| Headquarters: | Bergen, Norway |
| Website: | bergenair.no |
Bergen Air Transport, a regional airline based in Norway, served the aviation industry from 1998 to 2017. The company had its headquarters in Bergen and operated predominantly within the western region of Norway, connecting key cities such as Bergen, Stavanger, Kristiansand, and Haugesund.
Its fleet comprised ATR 42 and Dash 8 turboprop aircraft, ideal for servicing short regional routes. As a feeder airline for Scandinavian Airlines, Bergen Air Transport played a crucial role in linking passengers to various SAS hubs.
The airline came into existence through the vision of two Norwegian entrepreneurs who wanted to establish an independent regional carrier. Throughout its existence, the Widerøe Group held ownership of the airline during specific periods, employing up to 200 personnel.
However, the growing influence of low-cost carriers, particularly Norwegian Air Shuttle, significantly impacted Bergen Air Transport's sustainability. After 19 years of serving Norway's regional market, the airline discontinued its operations in October 2017.
At its closure, Bergen Air Transport had a fleet of 8 ATR 42 and 5 Dash 8 aircraft, marking the end of a significant player in Norway's regional aviation market.
Meaning and History