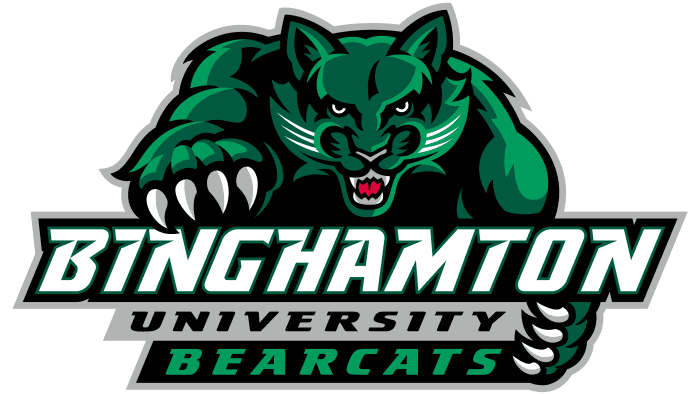 Binghamton Bearcats Logo PNG
Binghamton University teams are represented by the intimidating Binghamton Bearcats logo, whose task includes the required psychological impact on the opponent. The monster mascot in a macabre color scheme that creates an eerie atmosphere symbolizes incredible strength and determination.
Binghamton Bearcats: Brand overview
| | |
| --- | --- |
| Founded: | 2001 |
| Headquarters: | Vestal, New York, U.S. |
| Website: | bubearcats.com |
Binghamton Bearcats is the name of 21 teams owned by Binghamton University (its full name is the State University of New York at Binghamton). The most famous among them are baseball, wrestling, and two basketball (male and female). The sports department is a member of the NCAA Division I and is a member of the America East Conference. The University is located in Binghamton, NY. Patrick Elliott leads the sports department.
Meaning and History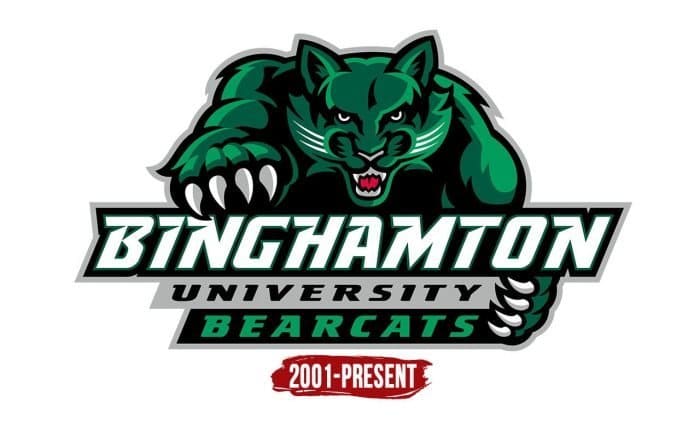 The logo of a sports organization consists of only one image – "Baxter the Bearcat," which became a university mascot in 1999. The change of logo was a reclassification when the department was included in the first division of the NCAA. The new symbolism depicts a cat-bear with a cat's head and a bear's body. The animal froze in a wait-and-see attitude and stretched forward one clawed paw, and the second grabbed the name of the University. The mouth of the beast is ajar. Sharp teeth with fangs are visible in it, indicating incredible strength, determination, and decisive mood.
Under the mascot is the text part of the logo, located in three tiers: the upper one says "Binghamton," the middle one says "Binghamton," and the lower one says "University." All letters are uppercase, with serifs. In the first word (the name of the sports department), they are more expressive and stylized as a scratch from a cat bears claws.
What is Binghamton Bearcats?

Binghamton Bearcats is an athletic department that unites 21 student teams from Binghamton University. It is based in Broome County, New York, participates in NCAA Division I, and is part of the SUNY system. Its representatives are also members of the America East Conference, Eastern Intercollegiate Wrestling Association (wrestling), Mid-American Conference (tennis), and Big Sky Conference (golf).
Binghamton Bearcats Basketball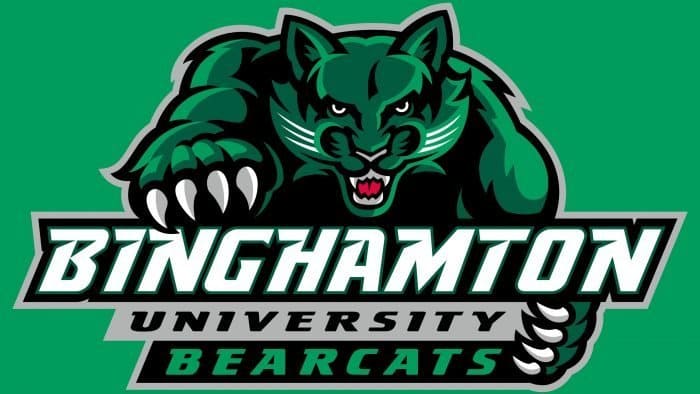 For some time, the men's basketball team of this University was involved in a scandal that greatly damaged its reputation and sports career. As it turned out, the higher education institution jeopardized educational programs and admission rules to equip the team with the best players bypassing the curriculum. As a result, the University lost several employees and athletes. Since that time, the Binghamton Bearcats team has never been able to reach deafening victory points neither in the overall standings nor in the America East Conference, which it represents.
The women's basketball team never appeared in "Division I Tournament" but participated in the games of the third and second divisions – in 1995-1998 and 1999, respectively.
Font and Colors
Binghamton Bearcats color codes
Gotham Green

Hex color:
#005a43
RGB:
0 90 67
CMYK:
100 0 26 65
Pantone:
PMS 3298 C
Shamrock Green

Hex color:
#169b62
RGB:
22 155 98
CMYK:
86 0 37 39
Pantone:
PMS 3405 C
Red

Hex color:
#bf0d3e
RGB:
191 13 62
CMYK:
0 93 68 25
Pantone:
PMS 192 C
Dark Gray

Hex color:
#b1b3b3
RGB:
177 179 179
CMYK:
1 0 0 30
Pantone:
PMS 421 C
Black

Hex color:
#000000
RGB:
0 0 0
CMYK:
0 0 0 100
Pantone:
PMS Process Black C