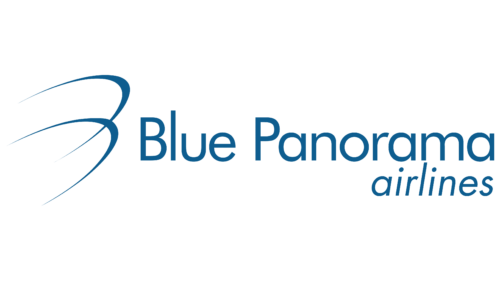 Blue Panorama Airlines S.p.A. Logo PNG
The Blue Panorama Airlines logo looked like a pair of wings, giving travelers a sense of freedom and lightness. At the very sight of it, people realized that they were about to escape from the everyday hustle and bustle and fly to some interesting or exotic place. Even though the airline no longer flies, this logo says, "Prepare for adventure without emptying your wallet."
Blue Panorama Airlines S.p.A.: Brand overview
Blue Panorama Airlines S.p.A. has been operating scheduled and charter flights to domestic and international destinations since its first flight in December 1998, headquartered in Fiumicino (Italy). In the beginning, the company had a modest fleet of Boeing 737-300 and 737-400 aircraft to meet the needs of its customers.
Blue Panorama Airlines expanded its fleet with the introduction of the Boeing 767-300ER, allowing it to fly to more distant destinations such as Madrid, Barcelona, and Paris.
In 2012, Blue Panorama Airlines entered into a strategic alliance with Italian airline Alitalia.
However, even successful flights sometimes get turbulent. In recent years, Blue Panorama Airlines has experienced financial difficulties that culminated in February 2020 with the cessation of operations and liquidation of the company.
Meaning and History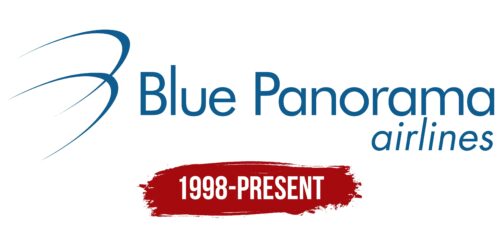 What is Blue Panorama Airlines S.p.A.?

Blue Panorama Airlines S.p.A. hails from Italy and is headquartered in Fiumicino. This Italian airline is known for its scheduled and charter flights that operate mainly to domestic and international destinations.

Founded in 1998, the airline has quickly gained popularity due to its exceptional service and diverse destinations. Despite a number of economic challenges faced by the aviation industry, the airline has remained resilient by expanding its services to include a variety of domestic and international routes, with a focus on leisure and entertainment destinations.
1998 – today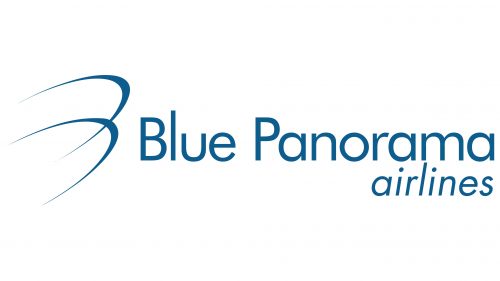 The elegant logo of Blue Panorama Airlines S.p.A. radiates lightness and airiness. It consists of two intersecting arches with thin ends and a thickened middle. These elements give the emblem dynamism, creating a sense of movement, which is very important for an airline. In the right part, there is a two-level inscription. The upper part contains the first two words of the name, the lower part – the last word. Each line has a different font: in one case, it is a flat, bold font; in the other case, it is a slanted, thin font. The logo is in blue, symbolizing flight and high achievement.
The choice of two different fonts gives the logo versatility. The flat, bold font gives solidity and stability, while the slanted, thin font gives elegance and modernity. The intersecting arches also symbolize connectivity, suggesting that the airline connects different destinations. The use of blue is consistent with the industry's association with the sky and emphasizes reliability.
Blue Panorama Airlines S.p.A. color codes
Lapis Lazuli

Hex color:
#0e5d8f
RGB:
14 93 143
CMYK:
90 35 0 44
Pantone:
PMS 7691 C