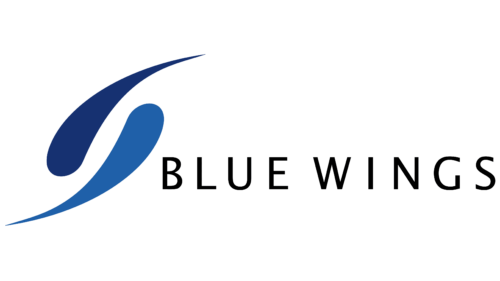 Blue Wings Logo PNG
Blue Wings logo is a refreshing take on symbolic representations, steering clear of the predictable and delving deep into abstract symbolism.
Abstract Depiction: While one might anticipate wings in the brand's visual representation, the designers chose a distinct path given its name. They embraced the form of elongated droplets, each shaded in a different hue of blue. This decision veers away from clichés, offering a fresh perspective.
Yin and Yang Symbolism: The positioning of the droplets mirrors the renowned Yin and Yang symbol, universally recognized for its associations with balance, equilibrium, and harmony. Invoking such associations is powerful for a brand, suggesting stability and a well-rounded approach to its endeavors.
Typography Choice: The brand name, penned in bold black capital letters, exudes confidence and clarity. The absence of serifs ensures that the typography remains visually light, straightforward, and accessible. For a firm in the service industry, this is a crucial element, as it communicates approachability and ease of understanding.
Hues of Blue: The gradient shades of blue align with the brand's name and suggest varying depths and dimensions. Blue, traditionally, is a color signifying trust, loyalty, and wisdom. The dual droplet design conveys versatility and a multi-dimensional approach to services.
Universal Appeal: The simplicity and abstract nature of the logo make it universally appealing. The brand can resonate with a global audience without being bound to cultural or geographical connotations, signaling its expansive reach and inclusive vision.
The Blue Wings logo is a testament to innovative thinking. It eloquently communicates the brand's commitment to balance and quality without using predictable imagery. Instead, the emblem becomes a beacon of harmony, depth, and clear-cut service, marking its unique footprint in the industry.
Blue Wings: Brand overview
| | |
| --- | --- |
| Founded: | 2002 – 31 January 2012 |
| Headquarters: | Bocholt, Germany |
In 2002, Blue Wings, a regional German airline, was established by a consortium of German investors. Bocholt served as the airline's headquarters, with operations officially kicking off in August of the same year.
Blue Wings relied on a fleet comprising Bombardier Dash 8 Q400 and Q300 turboprop aircraft, which were well-suited to cater to its short regional routes. Its primary hubs were Dortmund Airport and Cologne Bonn Airport, facilitating services to various German destinations and extending to countries like the UK, France, Italy, and Switzerland.
Positioning itself as an economical regional carrier, Blue Wings catered to business and recreational travelers. During its peak period, the airline transported more than 400,000 passengers annually and employed approximately 270 staff members.
However, Blue Wings found it challenging to navigate the economic hardships brought about by high operational costs and rigorous competition from larger carriers like Lufthansa. The mounting losses led to a financial crisis, and in 2012, Blue Wings was compelled to declare bankruptcy and halt all operations.
The airline's final passenger flight took place in January 2012, marking a short-lived journey of just nine years since its inception. Following bankruptcy, the assets of Blue Wings were liquidated, and the entire workforce was made redundant, leading to the complete dissolution of the business.
Meaning and History