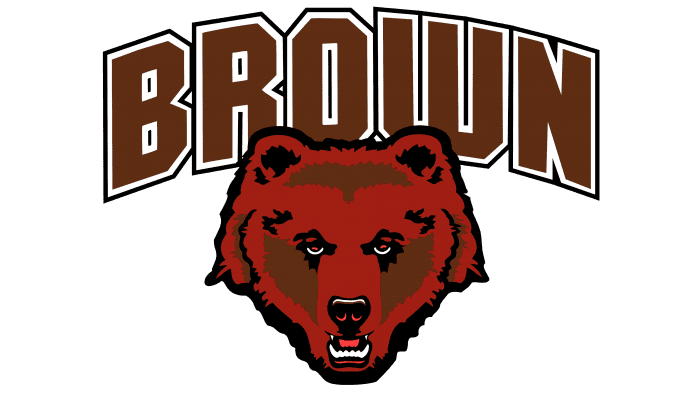 Brown Bears Logo PNG
The Brown University athletic department presents the team's symbol, the Brown Bears logo. The mascot's intimidating appearance is meant to warn opponents of the seriousness of their intentions and their desire to be sure to win. It symbolizes the power and endurance typical of athletes.
Brown Bears: Brand overview
| | |
| --- | --- |
| Founded: | 1997 |
| Headquarters: | Providence, Rhode Island, U.S. |
| Website: | brownbears.com |
Brown Bears is a sports department affiliated with Brown University, a private university founded in 1764 in Providence, Rhode Island. The department has 38 teams, making it the third-largest number of sports represented in the NCAA First Division. Basic disciplines include basketball, hockey, gymnastics, rugby, fencing, baseball, and more. But the most legendary is the football team that debuted in 1878 at Amherst College. Now the sports department is part of the Ivy League Conference, and Jack Hayes heads it.
Meaning and History


The modern era of the logo of this university organization started in 1997 when it was redesigned. The key role was given to the brown bear, the athlete's mascot. It is nicknamed because of its dark skin color, height, and a powerful head, as the wild beast of the American forests. The animal has located in full-face with its paws spread out to the sides, which embrace the word "Brown." The second part of the command name, "Bears," is located below and is in smaller font. It is preceded by a red shaped ribbon with split ends. At the bottom of the emblem, there is a bear's paw print.
What is Brown Bears?

Brown Bears is a union of student teams belonging to Brown University and representing it in NCAA Division I. They are also members of the Ivy League and Football Championship Subdivision. Overall, the athletic department has 28 teams located in Providence, Rhode Island. Among them, the most famous are basketball players, football players, rowers, and hockey players.
1997 – 2002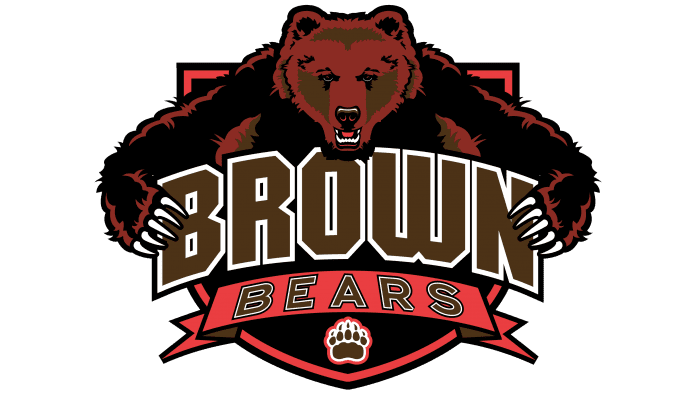 2003 – today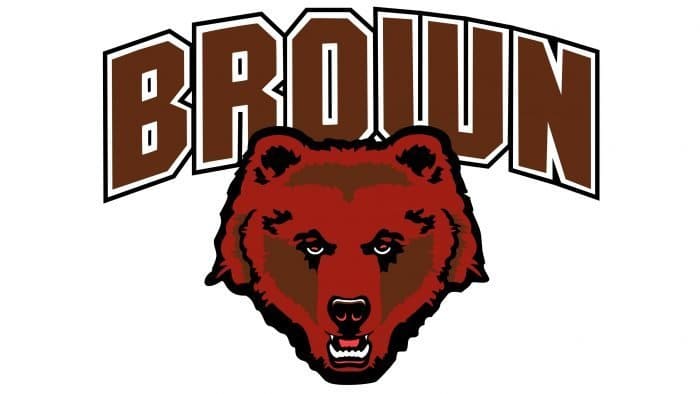 In 2003, the logo's design was radically changed: fine detailing was removed from it, leaving only two key elements. One of them is the inscription "Brown," the other is a mascot. The name of the university department was placed on top and gave it an arched shape. At the bottom was placed the head of a brown bear with an open mouth, in which powerful white teeth can be seen.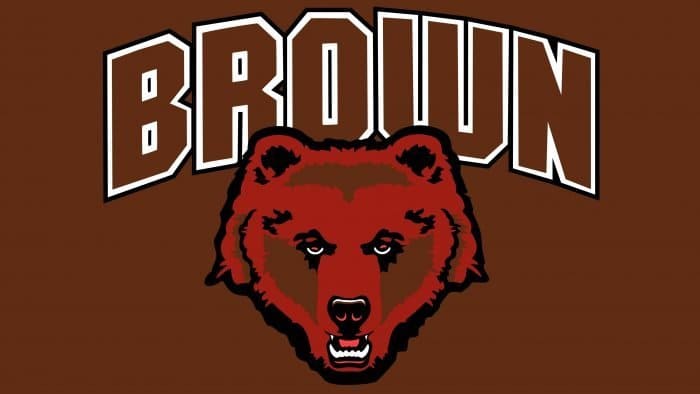 Font and Colors
Brown Bears color codes
Cafe Noir

Hex color:
#4e3629
RGB:
78 54 41
CMYK:
0 31 47 31
Pantone:
PMS 4625 C
Tuscan Red

Hex color:
#7c2529
RGB:
124 37 41
CMYK:
0 70 67 51
Pantone:
PMS 7622 C
Black

Hex color:
#000000
RGB:
0 0 0
CMYK:
0 0 0 100
Pantone:
PMS Process Black C
Medium Candy Apple Red

Hex color:
#e4002b
RGB:
228 0 43
CMYK:
0 100 81 11
Pantone:
PMS Bright Red C