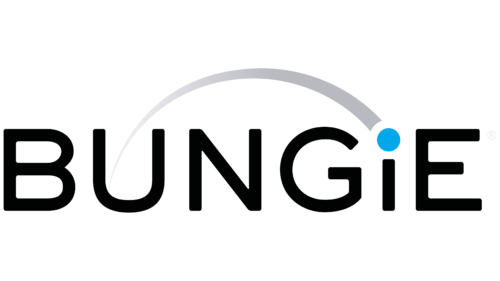 Bungie Logo PNG
The Bungie logo design adds new layers of symbolism while retaining the essence of the company's identity. It presents a more futuristic and celestial theme, aligning with the developer's focus on creating expansive, fantastical game universes.
The uppercase sans-serif typography, with the exception of the lowercase "i," communicates a sense of strength, authority, and modernity. This stylistic choice reinforces Bungie's reputation as a forward-thinking and influential player in the gaming industry.
The lowercase "i" in the logo breaks the uniformity, adding a touch of uniqueness and distinctiveness to the logo. This could represent Bungie's commitment to innovation and its drive to stand out in the industry through unique gaming experiences.
The enlarged blue dot above the "i," along with the arched grey orbit that emerges from it, introduces a celestial motif. This can be seen as a nod to the epic, interstellar worlds that Bungie often crafts in their games, particularly in franchises like Destiny. The orbit's pathway, cutting across the "U," adds dynamism to the design, suggesting forward movement and exploration, key elements in Bungie's games.
In summary, the new Bungie logo embodies the company's innovative spirit, status as a prominent force in the gaming industry, and dedication to creating immersive, otherworldly game experiences. Its design marries modernity with fantasy, a fitting representation for a company that brings futuristic, fantastical worlds to life through its games.
| | |
| --- | --- |
| Founded: | May 1991 |
| Founder: | Alex Seropian, Jason Jones |
| Headquarters: | Bellevue, Washington, U.S. |
| Website: | bungie.net |
Established in the spring of 1991 by Alex Seropian and Jason Jones, Bungie took its first steps in the dynamic world of video game development. Nestled in the heart of Bellevue, Washington, the development studio was more than a mere company; it represented a beacon of innovation and artistic expression in the rapidly evolving gaming industry.
From the beginning, the founders aimed to push the boundaries of the gaming experience. This belief stemmed from their passion for interactive storytelling, their love for creating immersive worlds, and their commitment to bringing cutting-edge technology to gamers. Their pioneering efforts gradually carved a niche for the studio in a highly competitive industry.
Their creativity and innovation resulted in groundbreaking video game series that would be etched in the annals of gaming history. The team's collaborative approach to development fostered a conducive environment for the creation of video games that offered unforgettable experiences.
The studio's journey also extended beyond its games. It fostered a community of loyal fans who came together to share their experiences, discuss theories, and celebrate their shared love for gaming. This community became an integral part of the company's ethos, highlighting the impact of its games on a global scale.
Meaning and History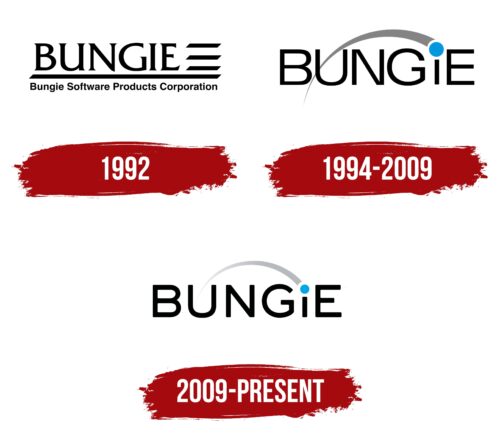 The brand identity of Bungie is deeply rooted in innovation, storytelling, and community engagement. They are known for their ability to craft compelling narratives within expansive, richly detailed game worlds alongside pioneering multiplayer elements that foster a strong sense of community.
The simple, clean lines of the logo design hint at Bungie's innovative approach to game development, while its abstract nature suggests the boundless imagination and creativity that goes into their games.
Moreover, Bungie has developed a strong reputation for its commitment to its player communities, offering extensive post-launch support, regular updates, and open communication channels. This has allowed Bungie to cultivate a dedicated and passionate fan base, further reinforcing the brand's identity as a creator of games that unite and engage players.
What is Bungie?

Bungie, Inc., established in 1991 and based in Bellevue, Washington, is an American video game developer known for creating some of the most iconic franchises in the industry. Bungie rose to global prominence with the development of the Halo series for Microsoft's Xbox platform. It later secured its reputation as an industry innovator with Destiny, a shared-world shooter that has redefined online multiplayer gaming.
1992

1994 – 2009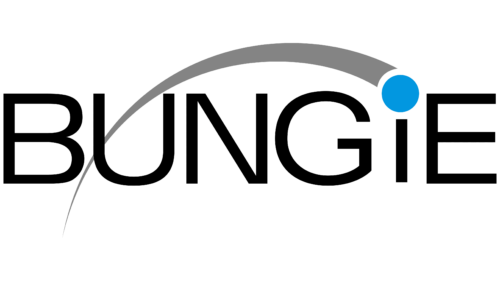 2009 – today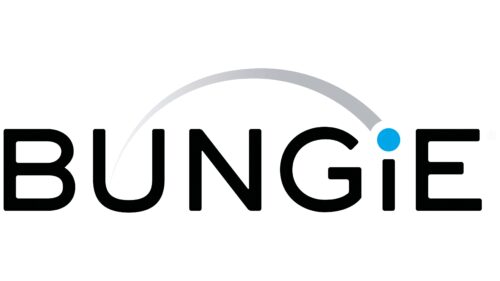 Bungie color codes
Spanish Sky Blue

Hex color:
#00a7e9
RGB:
0 167 233
CMYK:
100 28 0 9
Pantone:
PMS 801 C
Medium Gray

Hex color:
#b8bac0
RGB:
184 186 192
CMYK:
4 3 0 25
Pantone:
PMS Cool Gray 4 C
Black

Hex color:
#000302
RGB:
0 3 2
CMYK:
100 0 33 99
Pantone:
PMS Black 6 C