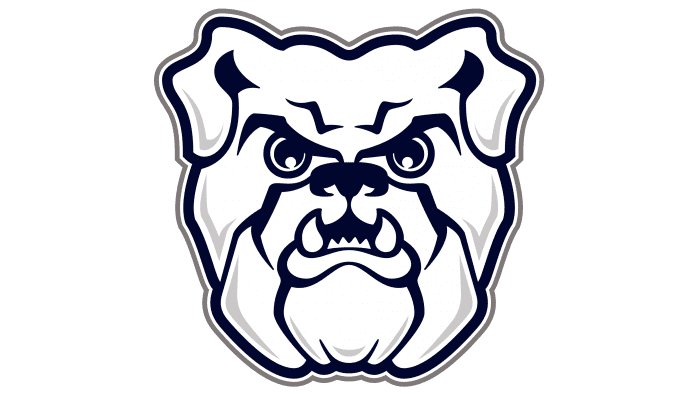 Butler Bulldogs Logo PNG
The intimidating muzzle of a bulldog forms the recognizable logo of the Butler Bulldogs, the athletes of Butler University. Its appearance was the will of chance that provided the team with a striking visual that symbolizes the strength, fearlessness, and ability to fight to the end characteristic of the animal.
Butler Bulldogs: Brand overview
| | |
| --- | --- |
| Founded: | 1990 |
| Headquarters: | Indianapolis, Indiana, U.S. |
| Website: | butlersports.com |
Butler Bulldogs sports teams represent Butler University from Indianapolis. The teams take part in NCAA Division I inter-university competitions, and since July 1, 2013, they have been part of the Big East Conference. The first part of the name Butler Bulldogs is the name of the founder of the college, Ovid Butler. The second part is dedicated to the mascot animal.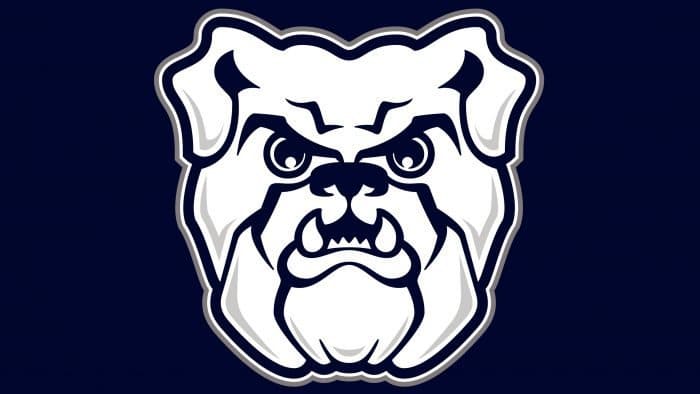 At first, the school was known as North-Western Christian University, and its sports department was called Christians. But after the renaming of the university to Butler University, everything changed. Before playing with Baptists, a bulldog came into the office by accident. After seeing it, the animator George Dickson decided to draw a dog that chewed off a piece of John The Baptist. Since then, the mascot and nickname have remained.
Meaning and History


The logo of the inter-university teams always depicted a bulldog head in full-face. From 1990 to 2014, it was in a blue circle. It was completed by a large inscription, "Butler Bulldogs" in the same color. The letters did not match in height: they were smoothly reduced from edge to middle in the form of a semicircle. The font looked unusual because of the combination of sharp and rectangular serifs.
What is Butler Bulldogs?

Butler Bulldogs is an athletic department that unites 20 student teams from Butler University. It is located in Indianapolis, Indiana, participates in NCAA Division I, and is part of the Atlantic 10 Conference (though not fully). The football players are founding members of the Pioneer League FCS. In 2013, the athletes joined the Big East.
1990 – 2014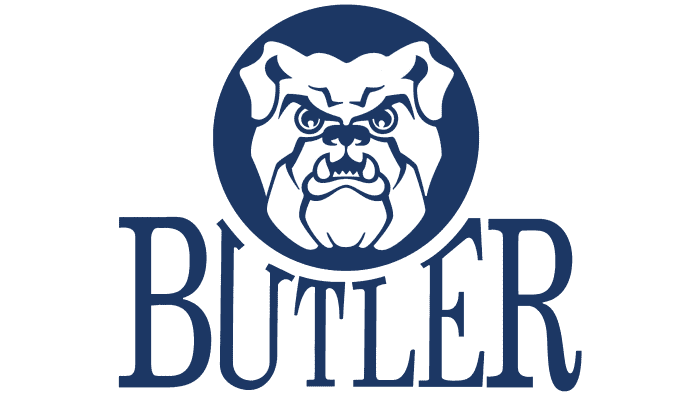 2015 – today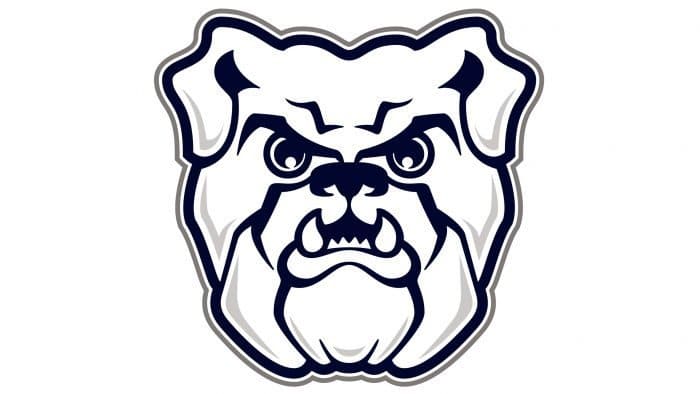 In 2015, the designers removed the circle and the name of the sports department. They focused on the bulldog as the main mascot of the players. To give it a more intimidating look, they added light gray shadows along the edges. The lines enhance the 3D effect, making the animal's emotions expressive. The head is surrounded by three contours: dark grey, white and rich blue. This version of the logo is still in use today and is associated with Butler Bulldogs.
Font and Colors
Butler Bulldogs color codes
Space Cadet

Hex color:
#13294b
RGB:
19 41 75
CMYK:
75 45 0 71
Pantone:
PMS 282 C
Neon Silver

Hex color:
#c8c7c7
RGB:
200 199 199
CMYK:
0 0 0 22
Pantone:
PMS 420 C