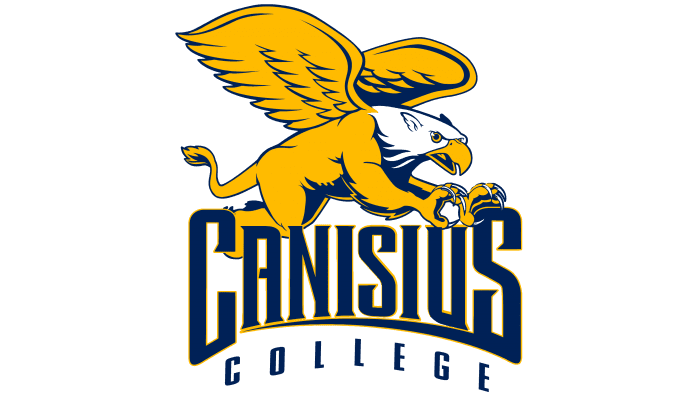 Canisius Golden Griffins Logo PNG
The Jesuit college sports teams are named after the Great Lakes sailing ship Le Griffon, which disappeared. The mythological mascot, a griffon, symbolizes Canisius Golden Griffins community athletes' intelligence, vigilance, and strength, whose logo is grotesque.
Canisius Golden Griffins: Brand overview
| | |
| --- | --- |
| Founded: | 1999 |
| Headquarters: | Buffalo, New York, U.S. |
| Website: | gogriffs.com |
Canisius Golden Griffins are sixteen sports teams that belong to the private Jesuit Canisius College. They represent the institution at intercollegiate competitions as participants in the Metro Atlantic Athletic Conference and Atlantic Hockey. They are fighting for the championship in the NCAA Division I. The name Golden Griffins is given in honor of the ship Le Griffon. This sailing ship is known for its mysterious disappearance in the Great Lakes. The mascot of the players, respectively, is the griffin – a mythological creature that symbolizes intelligence, vigilance, and strength.
Meaning and History


Following the traditions of university teams, artists placed a sports mascot on the Canisius Golden Griffins logo. A yellow griffin with a lion's body, large feathered wings, and a white bird's head with paws on forward with sharp claws. He went hunting and will not give rest to rivals until the victorious finale. Dark blue contours and shadows make the picture more expressive.
What is Canisius Golden Griffins?

Canisius Golden Griffins is an athletic department that includes 16 student teams from Canisius College. Among the most successful are baseball, basketball, hockey, and men's lacrosse. Participants in the intercollegiate program compete in NCAA Division I, MAAC, and Atlantic Hockey.
1999 – 2005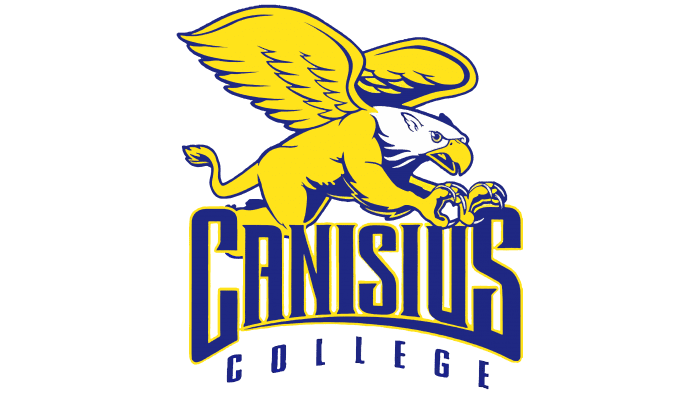 2006 – today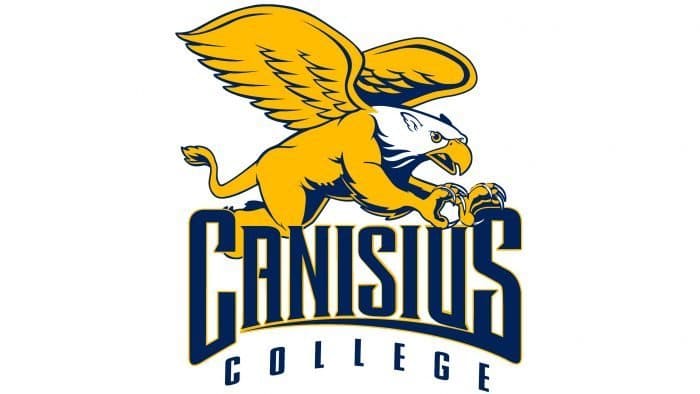 The graphic image is complemented by the inscription "Canisius College," divided into two lines. In the first word, the letters are originally stylized, decorated with serifs, and outlined with thin light lines. A long spike extends to the left from the bottom of the "S," which forms an arch and emphasizes all the symbols except the first "C." The font of the word "College" is much simpler: it is a geometric grotesque with a rectangular shape of lowercase letters. As for the color palette, it includes orange, white, and navy blue.
Font and Colors
Canisius Golden Griffins color codes
Oxford Blue

Hex color:
#0c2340
RGB:
12 35 64
CMYK:
81 45 0 75
Pantone:
PMS 282 C
Selective Yellow

Hex color:
#ffba00
RGB:
255 186 0
CMYK:
0 27 100 0
Pantone:
PMS 7549 C