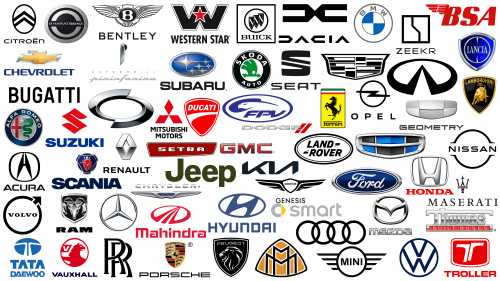 The fate of legendary car manufacturers is complex and unpredictable. In the last millennium, the United States' leading automotive manager, Lido Anthony Iacocca, predicted the disappearance of many companies that produced their own cars. These forecasts referred to the beginning of the 21st century. And the legendary ex-leader of Chrysler and Ford corporations was not mistaken: now only the most resilient players remain in the automotive market.
The fact is that at the turn of the century, independent companies began to close or merge into alliances and groups. Some of them could not withstand the competition and declared bankruptcy, while others acted aggressively, capturing everyone who could interfere with their dominance on the world stage.
Hundreds of car brands sold in different countries do not actually exist autonomously but belong to certain manufacturers. Moreover, there are just over a dozen large conglomerates. Among them are those who managed to successfully overcome the crisis, anticipate customer needs, and timely eliminate competitors from their path.
So who are they – the legendary pillars of the automotive industry? Let's try to understand the intricacies of the global market and find out who actually owns the most famous car brands.
American Automobile Concerns
With its rich history and vast influence, the American automobile industry has long been a global pioneer in transportation innovation. The story of the American automobile concerns stretches back over a century and is punctuated by names that resonate with power, ingenuity, and cultural significance. From the roaring engines of muscle cars to the silent hum of electric vehicles, American automobile concerns have been at the helm of innovation, design, and cultural transformation. Their legacy is a testament to American ingenuity, ambition, and resilience.
General Motors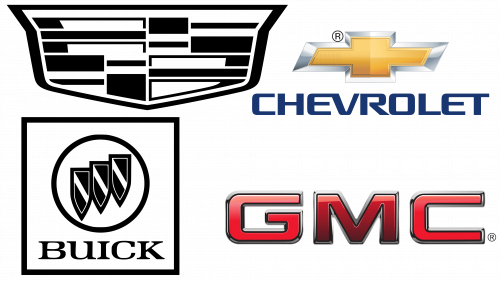 General Motors Company, also known as GM, held the lead in the global automotive market for many years but ceded first place to the Japanese Toyota Motor Corporation in 2008. It should be noted that the current company was legally created only in 2009 after a large-scale reorganization. Its predecessor officially appeared in 1908. At that time, it bought its first brand – Buick. Now it is one of the four largest divisions of GM, along with Cadillac, GMC, and Chevrolet.
In addition, General Motors owns shares in several Chinese brands: Baojun and Wuling Motors. It also owns 60% of the American enterprise DMAX. But there were also losses. The car manufacturer lost Pontiac, Holden, Plymouth, Oldsmobile, Saturn, Hummer, Saab, and Opel.
Now GM is focused on the remaining brands:
Ford Motor Company
Ford Motor Company is one of the most successful, popular, and profitable car manufacturers in the United States. It is second only to its main competitor in the country's domestic market – General Motors. The company's history began in 1903, and for over a hundred years, it has been under the continuous control of the same family.
Ford had divisions producing cars of various price ranges – from budget to luxury. These included numerous brands, such as Aston Martin, Land Rover, Lincoln, and Jaguar. However, after incurring losses, the manufacturer sold some of them to weather the 2008 financial crisis ultimately successfully.
Ford Motor Company's brands:
Ford – the flagship brand of the namesake company. It produces passenger cars, buses, tractors, and military transport.
Lincoln – a division that manufactures luxury cars. Its products are popular not only in America but also on other continents.
Previously, this list also included the following:
FPV – an Australian car brand that existed for 12 years, from 2002 to 2014.
Troller – a Brazilian manufacturer of off-road vehicles. It closed its factory in 2021 and was liquidated.
European Automobile Concerns
European car manufacturers have a storied history of fierce competition and impressive collaboration. These brands have defined luxury, performance, and innovation and shaped global automotive standards. With their individual legacies and contributions, these European automobile giants have played pivotal roles in shaping the global automotive market. From luxury sedans cruising the streets of Paris and London to supercars roaring through the Italian and German countryside, European automobile concerns represent innovation, luxury, design, and history.
Volkswagen Auto Group (VAG)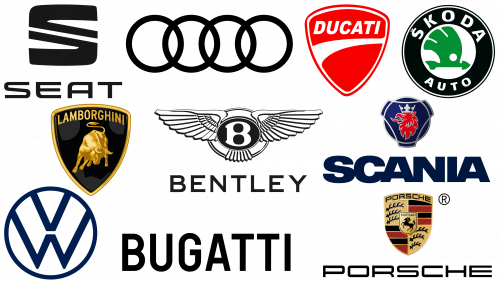 Volkswagen AG is among the leaders of the automotive market, remaining in the top 10 for many years. This German conglomerate owns the flagship Volkswagen brand and numerous others. In 1965, it acquired Auto Union, from which the Audi brand later separated. The next major acquisition took place in 1986 when the controlling stake of SEAT was targeted.
In the early 1990s, Czech company Škoda, which originated from Laurin & Klement, joined the VW Group. A few years later, the conglomerate absorbed Bentley, saving the French brand Bugatti from bankruptcy. It also acquired the popular Italian brand, Lamborghini. In 2008, Volkswagen AG acquired a significant share of bus and truck manufacturer Scania; in 2012, it bought almost 50% of Porsche's shares.
The largest German group does not stop at what has been achieved – it continues to expand the list of brands it owns and increase production volumes. Therefore, its factories operate in more than 20 countries worldwide – in Asia, America, and the African continent.
Volkswagen AG owns:
Previously, this list included MAN – one of the largest truck manufacturers in Europe. It disappeared in 2021 when it merged with Traton.
FCA Concern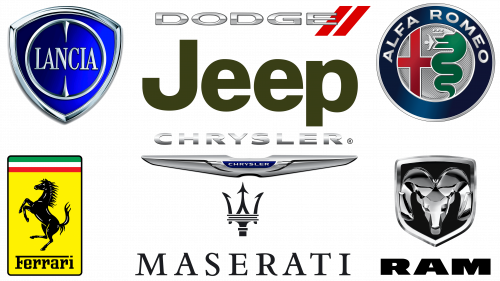 The multinational company Fiat Chrysler Automobiles N.V. existed from 2014 to 2021, after which it merged with PSA Group and formed the automaker corporation Stellantis. Before the complete merger and acquisition, the FCA group became famous in the USA and Italy, as that's where its main divisions operated.
FCA US, which became Stellantis North America in 2021, owned brands such as Ram Truck Division, Jeep, Dodge, and Chrysler. FCA Italy (known as Stellantis Italy since 2021) included passenger car brands Lancia, Fiat Professional, Fiat, Alfa Romeo, and Abarth.
So, the Fiat Chrysler Automobiles N.V. group, which turned into Stellantis N.V. in 2021, included both American and Italian brands:
Groupe PSA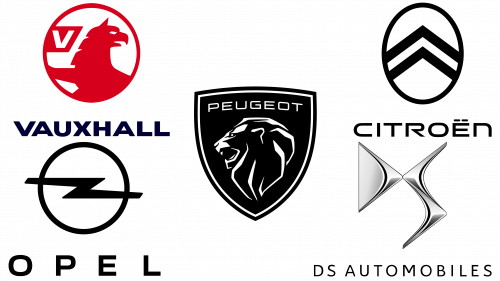 The French Groupe PSA, like the Italo-American Fiat Chrysler Automobiles, existed only until 2021. Then these two groups merged, forming the transnational corporation Stellantis. Before joining forces with FCA, PSA was considered one of the largest European automakers after Volkswagen. It owned a vast list of automotive brands because it bought companies worldwide – from the Indian Hindustan Ambassador to the British Vauxhall Motors.
The first major acquisition was the bankrupt Citroën. It was after its joining Peugeot SA in 1976 that Groupe PSA was formed. In 1978, the company paid $1 for the bankrupt Chrysler Europe and replaced it with the Talbot brand. Another important milestone in PSA's history was the creation of an alliance with General Motors in 2012.
Before the disappearance of the Groupe PSA, giving way to Stellantis, it owned:
Renault–Nissan–Mitsubishi Alliance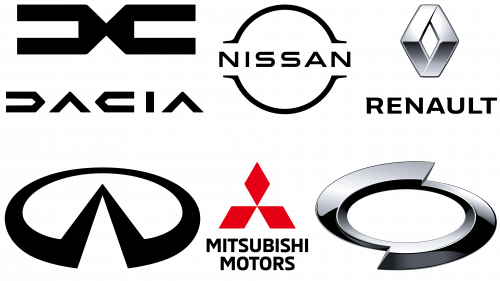 The Renault–Nissan–Mitsubishi Alliance is, in essence, not a conglomerate but an agreement between three independent automakers. As a result of their strategic partnership, no merger or acquisition took place: Renault (France), Nissan (Japan), and Mitsubishi (Japan) still exist separately and collaborate as equal partners. However, it should be noted that Nissan owns a controlling stake in Mitsubishi. The companies joined forces to lead the global market together.
The large Japanese-French alliance controls several automotive brands:
Samsung Motors – a brand that has officially been called Renault Korea Motors since August 2022. It produces various vehicles, including crossovers and electric models.
Renault – the flagship brand of Groupe Renault, known for its hatchbacks, station wagons, SUVs, pickups, minivans, and commercial vehicles.
Mitsubishi – moderately priced vehicles initially intended only for the Japanese market.
Nissan – a brand of commercial and passenger vehicles known for a wide range of models.
Infiniti – a high-quality luxury car brand originating from Japan and expanding to the global market.
Dacia – the largest automotive company in Romania, which was part of the Renault Dacia-Lada business division from 2021 to 2022.
The Lada brand, aimed at the budget segment, used to be on this list. Renault parted ways with it in 2022 following Russia's full-scale invasion of Ukraine. Lada now belongs to the Russian government.
The second brand that disappeared from the list is Datsun, which also produces budget cars. This Nissan subsidiary was closed in April 2022.
Mercedes-Benz Group (Daimler Group)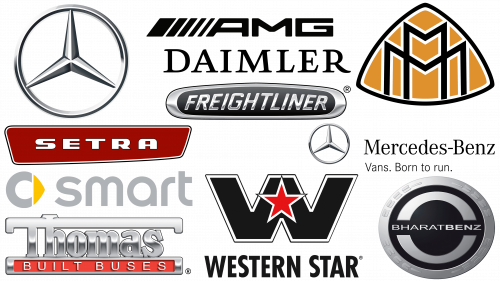 The Mercedes-Benz Group was called Daimler AG until 2022, and DaimlerChrysler AG, before that, was founded in 1926 and has been based in Germany ever since. It owns a wide range of automotive brands, from premium to budget. The company manufactures passenger, commercial, and freight vehicles in various countries worldwide. Recently, it decided to focus on electric vehicles.
The main brands of Mercedes-Benz Group:
Setra – German buses of large and extra-large classes, including tourist, intercity, urban, and suburban models.
BharatBenz – an Indian brand of trucks and buses.
Thomas Built Buses – an American bus brand specializing in school transportation but occasionally producing intercity models.
Mercedes-Benz – one of the most recognizable brands in the world. Its best samples are premium-class vehicles.
Western Star – manufacturer of heavy trucks with a payload capacity of more than 15 tons.
Smart – compact cars designed for urban environments.
Freightliner – the largest American brand of tractor units, cab-over, and conventional trucks.
M-Maybach – a sub-brand of Mercedes-Benz, under which ultra-luxury vehicles based on the S-class chassis are produced.
Mercedes-AMG – a division specializing in high-speed vehicles. It produces powerful production models with improved handling and stability.
Mercedes-Benz Vans – a supplier of a full range of campers and light-duty vehicles. Its specialty is electric vans.
Daimler Trucks – a manufacturer of trucks and buses, one of the key divisions of the Mercedes-Benz Group.
BMW Group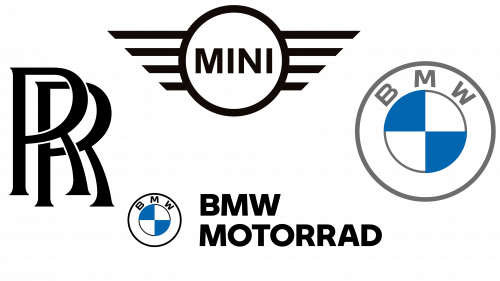 The German corporation Bayerische Motoren Werke AG, more commonly known as BMW, produces vehicles not only in Germany but also in other countries in Europe, as well as in South and North America, Asia, and Africa. Assembly plants located on five continents constantly work on manufacturing luxury-class vehicles.
The company, founded in 1916, has acquired several brands over the years. However, in 2000 it was forced to sell its Land Rover division, which it had acquired in 1994.
BMW now owns:
BMW Motorrad – a motorcycle brand for touring, sports, off-roading, and everyday use. There are also dual-purpose models.
Mini – a brand of British B-segment vehicles. Mainly these are hatchbacks, which are characterized by high practicality, but there are other body styles as well.
Rolls-Royce – an icon of luxury vehicles. The entire lineup is produced by the Rolls-Royce Motor Cars Limited division, founded in 2003, and is unrelated to the original Rolls-Royce Motors.
BMW – the flagship brand of Bayerische Motoren Werke AG.
Asian Automotive Concerns
With its rapidly evolving markets and vast manufacturing hubs, Asia has become a significant player in the global automotive scene over the past few decades. Asian car manufacturers have successfully blended innovation, affordability, and reliability. These Asian automobile giants have made their mark globally by focusing on consumer needs, technological advancements, and adapting to the evolving automotive world. From rugged SUVs designed for the Australian outback to electric sedans for urban European streets, Asian automotive concerns have showcased adaptability, innovation, and a keen understanding of global markets.
Mahindra & Mahindra Limited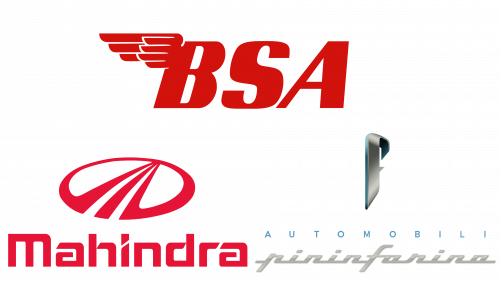 Mahindra & Mahindra Limited (M&M) forms the basis of the Mahindra Group conglomerate and leads the Indian market for tractors and trucks. In addition, this company manufactures buses, dump trucks, passenger cars, motorcycles, and other types of transport. In 2010, it established a division for electric vehicle production: Mahindra Electric Mobility Limited.
M&M owns:
Mahindra – a brand that became popular thanks to agricultural machinery and commercial vehicles.
BSA – a revived manufacturer of scooters and motorcycles, which is part of Mahindra Two Wheelers.
Automobili Pininfarina – a brand of luxury electric vehicles originating from Germany.
As for the South Korean SsangYong, which belonged to Mahindra & Mahindra until recently, it was acquired in November 2022 by the KG Mobility consortium, led by the KG Group.
Tata Motors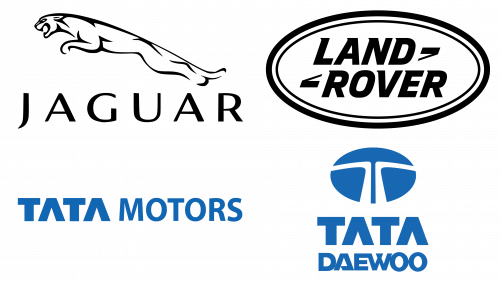 Tata Motors Limited – the automotive division of the "father of Indian industry" Tata Group. It started with the production of locomotives, then moved to commercial transport, and later released its first passenger car. In 2004, the company acquired the Daewoo Commercial Vehicles brand and turned it into Tata Daewoo. The next major acquisition was Land Rover and Jaguar Cars. They were transferred to Tata Motors in 2008.
The automaker now owns:
Tata Daewoo – a South Korean truck brand.
Tata – a car brand produced as part of a joint venture with Stellantis.
Jaguar – luxury cars from the United Kingdom. Tata Motors plans to make them all electric.
Land Rover – a brand of all-wheel drives off-road vehicles.
Honda Motor Company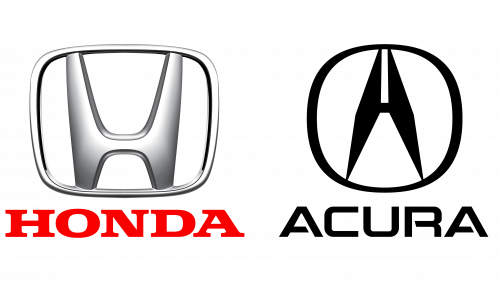 The Japanese conglomerate Honda invests a lot of money in research and development, so it produces innovative cars. In 2001, this manufacturer managed to rank second among all Japanese automotive companies, and in 2015, it took eighth place in the global market.
Honda's main products are four-wheeled and two-wheeled vehicles. But the company does not stop there. It manufactures robotics, generators, jet skis, marine engines, and garden equipment.
As for automotive brands, Honda doesn't have that many:
Acura – a division specializing in high-performance luxury-class vehicles. It was created in 1986.
Honda – the flagship brand of light trucks, SUVs, and passenger cars. Its history dates back to 1963.
Toyota Motor Corporation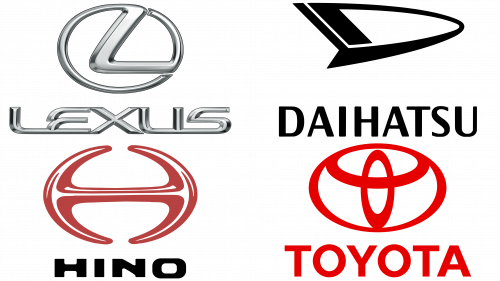 Japanese Toyota produces around 10 million cars per year, so it is considered one of the largest automakers in the world. This corporation includes many subsidiaries based in different countries: for example, there are separate divisions for South Africa, Thailand, Pakistan, Indonesia, and Australia. In addition, Toyota owns a small number of shares in Yamaha Motor Corporation, Isuzu, Suzuki, and Mazda, as well as 20% of Subaru Corporation and 25% of Denso.
As of 2022, the company fully owns only four brands:
Toyota – dozens of models of different classes, mainly passenger sedans.
Lexus – a luxury car brand created to compete with Infiniti and Acura.
Hino – a Japanese brand of trucks and buses for various purposes.
Daihatsu – a well-known Asian manufacturer of kei vans, kei trucks, and kei cars.
Mazda Motor Corporation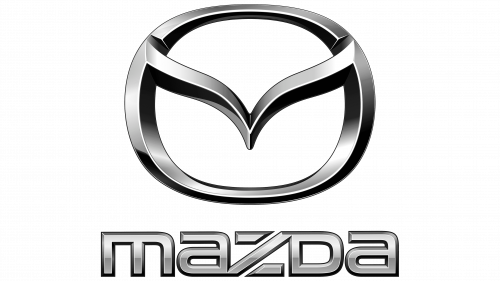 The Japanese Mazda was formerly called Toyo Cork Kogyo Co., Ltd. and produced corks for containers. It released its first car in 1931. It was a three-wheeled version of a rickshaw. In 1974, the company began collaborating with Ford. Until 2015, they had many joint projects, and then the manufacturers went their separate ways.
Now, Mazda Motor Corporation owns:
Mazda – the flagship brand of passenger cars, characterized by an advantageous price-quality ratio.
Subaru Corporation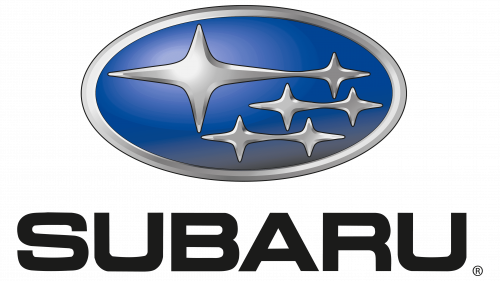 Subaru Corporation appeared in 1953 and was called Fuji Heavy Industries, Ltd. until 2017. It is a leading supplier of railway, aerospace, and military equipment in Japan. However, the main part of sales is related to passenger and commercial vehicles.
The automotive division of Subaru Corporation is currently represented by only one brand:
Subaru – reliable, safe, and dynamic cars assembled in Japan.
Suzuki Motor Corporation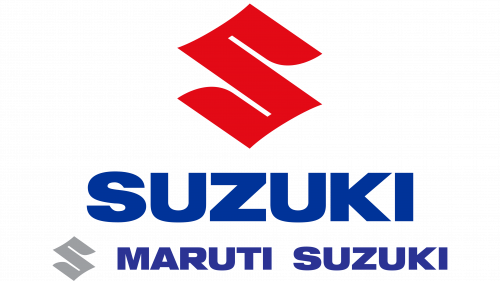 Suzuki is another major Japanese automaker. It leads in sales both domestically and in the global market because it produces economical cars that meet all safety requirements. However, the automotive division of the company did not appear until 1961. Before that, it produced only engines, bicycles, and looms.
Suzuki Motor Corporation includes:
Suzuki – the flagship brand, leading the market for affordable, high-quality cars.
Maruti – one of the largest automotive brands in India.
Hyundai Motor Group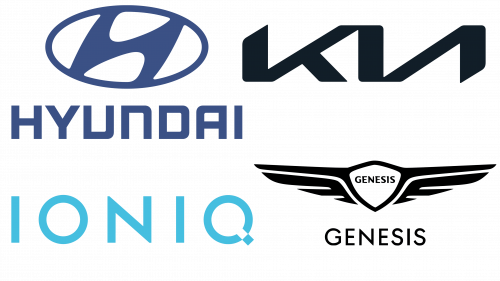 Hyundai Motor Group is a South Korean chaebol engaged in automobile manufacturing, railway transport production, mining, finance, and other business sectors. It was established in 1998 when Hyundai Motor Company acquired a controlling stake in Kia Corporation. Now, Kia is only one-third owned by Hyundai.
The conglomerate is based on the following automotive brands:
Hyundai – reliable and ergonomic transport for everyday use.
Kia – a car brand developed based on Hyundai but having its unique features.
Genesis – a luxury brand recognized as the most reliable and innovative in the North American car market.
Ioniq – a sub-brand of electric vehicles created in 2020.
Zhejiang Geely Holding Group Co., Ltd (ZGH)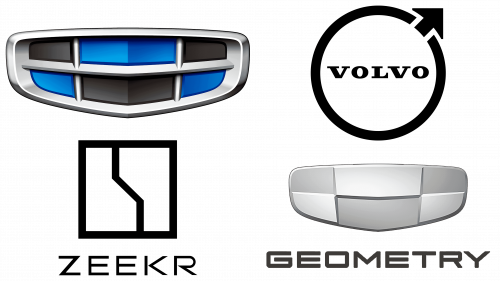 The Chinese company, known as Geely, initially produced refrigerators, then motorcycles. In 1998, it began manufacturing vans, and only in 2002 did it start producing cars. Since then, ZGH has been selling them under its own trademarks: Zeekr, Maple, Geometry, and Geely Auto.
The holding gained fame in 2010 when it acquired Swedish Volvo Cars. Seven years later, it purchased the British sports car brand Lotus (51% of shares) and Malaysian Proton (49.9% of shares).
Now, Zhejiang Geely Holding Group owns the following:
Geely Auto – the original ZGH brand. In 2014, it merged cars that had previously been released under the brands' Shanghai Maple, Gleagle, Englon, and Emgrand.
Zeekr – a premium brand of electric cars. It was founded in 2021 to compete with Tesla.
Maple – an electric car brand created based on Geely gasoline cars. It was relaunched in 2020.
Geometry – a brand of electric crossovers, sedans, and SUVs. Its Chinese name is Jihe.
Volvo – a brand that belonged to Ford Motor Company until 2010. It has announced its intention to switch to electric vehicles by 2030 fully.
Which brand belongs to whom?
The automotive industry is sensitive to everything happening in the world – from the discovery of new energy sources to economic crises. Global events affect not only small manufacturers but also large corporations, which are forced to adapt to modern realities. They actively sell and buy brands or merge together to stay afloat.
Aston Martin Lagonda: Aston Martin and Lagonda.
BMW Group: BMW, Rolls-Royce, and Mini.
Ferrari N.V.: Ferrari.
Ford Motor Company: Ford and Lincoln.
General Motors: GMC, Chevrolet, Buick, and Hummer.
Honda Motor Co.: Honda and Acura.
Isuzu Motors: Isuzu.
Groupe PSA: Peugeot, Citroen, Opel, and DS Automobiles.
Hyundai Motor Group: Hyundai, Kia, and Genesis.
Mazda Motor Corporation: Mazda.
McLaren Automotive: McLaren.
Mercedes-Benz Group: Mercedes-Benz and Smart.
NIO Inc.: NIO.
Renault-Nissan-Mitsubishi Alliance: Renault, Nissan, Mitsubishi, and Infiniti.
Rivian Automotive: Rivian.
SAIC Motor: MG, Maxus, Roewe, and Yuejin.
Stellantis: Alfa Romeo, Dodge, Chrysler, Fiat, Maserati, Jeep, Ram, Citroën, Opel, Vauxhall, Peugeot, DS Automobiles, and Abarth.
Subaru Corporation: Subaru.
Suzuki Motor Corporation: Suzuki.
Tata Motors: Jaguar and Land Rover.
Tesla Inc.: Tesla.
Toyota Motor Corporation: Toyota, Lexus, and Daihatsu.
Volkswagen Group: Volkswagen, Audi, Skoda, Seat, Bentley, Bugatti, Lamborghini, MAN, Seat, Scania, and Porsche.
Zhejiang Geely Holding Group: Volvo, Polestar, and Lotus.