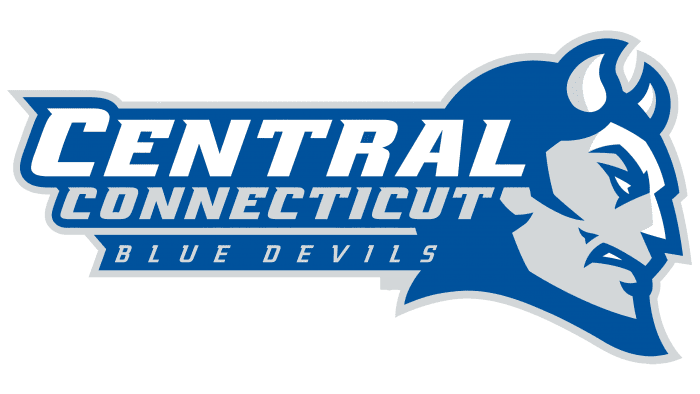 Central Connecticut Blue Devils Logo PNG
The Central Connecticut Blue Devils logo is meant to terrify opponents. But the artists turned out to be cute and slightly sinister characters. He looks like a Disney cartoon villain. Small horns, angular facial features, and a Greek nose add visual sharpness to the emblem. This is a symbol of the danger of sports teams on the battlefield and a graphic embodiment of their talisman.
Central Connecticut Blue Devils: Brand overview
| | |
| --- | --- |
| Founded: | 1994 |
| Headquarters: | New Britain, Connecticut, U.S. |
| Website: | ccsubluedevils.com |
The Central Connecticut Blue Devils women's and men's teams are part of the sports department at Central Connecticut State University, the state's oldest educational institution. The university appeared in 1849. It supports various sports, including volleyball, athletics, swimming, softball, soccer, lacrosse, golf, cross-country, basketball, diving. The players representing him take part in the Northeast Conference and compete in the NCAA at Division I. Their mascot was initially Victor E. Still, after changing the logo in 2011, he became known as Kizer. The creation of a new image was carried out by the North American company Street Characters.
Meaning and History


The 1994 emblem depicts an anthropomorphic devil with trident pitchforks, horns, and a sharp tail. This is a running athlete's parody because he wears blue shorts, a T-shirt, and gym shoes. The graphic part is supplemented by the names of the department ("Blue Devils") and the university ("Central Connecticut State University"), which are located slightly lower on a white background.
What is Central Connecticut Blue Devils?

Central Connecticut Blue Devils is an athletic department with 16 student teams affiliated with Central Connecticut State University in New Britain. Participants in the intercollegiate program are part of the Northeast Conference. Football players compete in NCAA Division I FCS.
1994 – 2010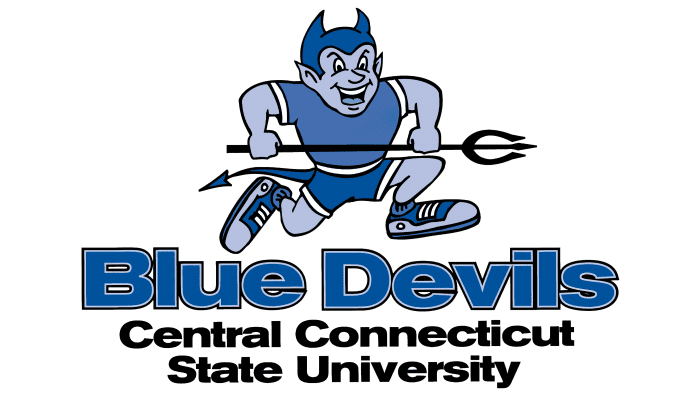 2011 – today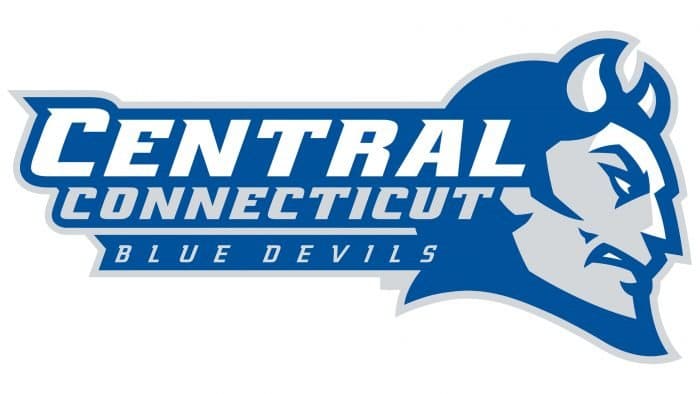 In 2011, a new era began in the life of university teams. After rebranding, they immediately appeared eleven unique logos, a new mascot, and an individual font. The main emblem was developed by the design firm Rickabaugh Graphics from Ohio. The appearance of the devil has changed: he looks more ominously, without the previous cartoonishness. His head is depicted in profile so that sharp horns and a beard are visible. The style of the inscription has also changed. Each Central Connecticut Blue Devils word has uppercase, italics, and small serifs. The predominant colors are white and blue (# 1A4784).

Font and Colors
Central Connecticut Blue Devils color codes
Medium Electric Blue

Hex color:
#00539b
RGB:
0 83 155
CMYK:
100 46 0 39
Pantone:
PMS 2945 C
Light Gray

Hex color:
#cfd4d8
RGB:
207 212 216
CMYK:
4 2 0 15
Pantone:
PMS 427 C