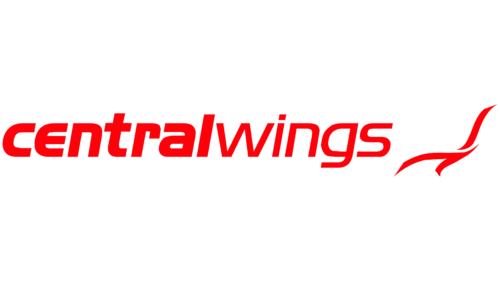 Centralwings Logo PNG
Centralwings logo embodies the essence of the Polish airline company, presenting a series of design elements that together reflect the core values, mission, and branding strategy.
Soaring Bird Silhouette:
Metaphorical Representation: The silhouette of a flying bird serves as a metaphorical illustration of an airplane, emphasizing the natural grace of flight. Like an airplane, the bird also has two wings, a feature that perfectly aligns with the aviation industry.
Wavy Lines Composition: Comprised of several wavy lines, the bird creates an impression of lightness and fluidity. This design accentuates the sense of motion and freedom, qualities essential to the concept of flight.
Typography and Dual Fonts:
Bold and Thin Cursive: The company's name, "Centralwings," is creatively split into two distinct parts, each represented by different font weights. The word "central" is rendered in bold cursive, while "wings" is in thin cursive. This typographic distinction adds visual interest and helps delineate the two components of the name.
Sans-serif Style: The absence of serifs in the cursive font conveys a modern and clean appearance, reflecting a forward-thinking approach.
Brand Alignment: The choice of typography corresponds with the name itself, with "central" being highlighted as robust and significant and "wings" being portrayed as elegant and delicate.
Red Color Scheme:
Bold and Provocative: The red color of the emblem is both bold and provocative, symbolizing the brand's energy, passion, and determination. It attracts attention and resonates with the dynamic nature of the airline industry.
Cultural Connection: In many cultures, red symbolizes strength, vitality, and excitement. By employing this color, the logo communicates a strong visual message about the brand's character and intentions.
Unity of Elements:
Harmonious Design: All logo elements, from the bird silhouette to the typography and color, work cohesively to present a unified brand image. This harmony illustrates a well-thought-out brand philosophy, where every detail has been considered.
Global and Local Appeal:
International Recognition: Though representing a Polish airline, the design's simplicity, and universal symbols allow it to be easily recognized and appreciated across different cultures and markets.
National Identity: The logo still connects to its local roots, especially through the specific choice of the bird's silhouette, resonating with the national pride and identity.
Overall Impression and Messaging:
Aspiration and Innovation: The overall design conveys a message of aspiration, innovation, and ambition. It depicts a brand that strives for excellence, seeks to explore new horizons, and is unafraid to stand out.
Centralwings: Brand overview
| | |
| --- | --- |
| Founded: | 2004 – 26 March 2009 |
| Founder: | LOT Polish Airlines |
| Headquarters: | Warsaw, Poland |
Launched in 2004, Centralwings was a Warsaw-based airline set up as a subsidiary of LOT Polish Airlines. It marked LOT's ambitious foray into the low-cost airline market, designed to compete with European budget-friendly airlines.
Operating a fleet of Boeing 737 aircraft, Centralwings offered flights from Poland to over 25 destinations spread across Europe. The main operational hubs for the airline were Warsaw's Frederic Chopin Airport, complemented by airports in Krakow, Gdansk, and Katowice.
Both leisure and business travelers were the target customer base for Centralwings. The airline's discounted fares and routes connecting to popular tourist spots were designed to attract a broad range of passengers. The strategy seemed successful initially, with the airline transporting approximately 1.4 million passengers within its inaugural year in 2004.
However, Centralwings was not immune to economic pressures despite its rapid growth. Rising fuel costs and increasingly fierce competition led to sustained losses. Even after concerted efforts to restructure its operations, the airline ceased functioning in March 2009, five years after its establishment.
Centralwings was home to a fleet of seven Boeing 737s and about 450 employees at the height of its operations. Despite its initial promise, the airline's closure underscored traditional, full-service airlines' challenges when competing against budget carriers in a rapidly evolving aviation market.
Meaning and History