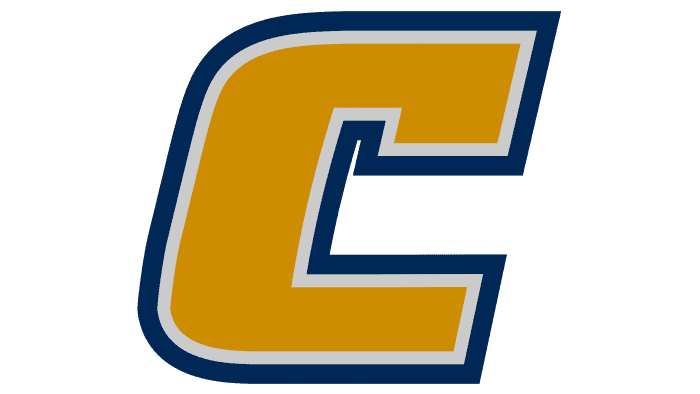 Chattanooga Mocs Logo PNG
The NCAA Division I FCS Southern Conference representatives from the University of Tennessee use the Chattanooga Mocs logo, the second word being an acronym for Moccasins. The emblem, a tribute to the brand's historical past, has taken on the Power C. name because of its brevity.
Chattanooga Mocs: Brand overview
| | |
| --- | --- |
| Founded: | 2001 |
| Headquarters: | Chattanooga, Tennessee, U.S. |
| Website: | gomocs.com |
Chattanooga Mocs are sports teams that make up the Southern Conference, participate in the NCAA Division I FCS and represent the University of Tennessee at Chattanooga in intercollegiate competitions. They used to be called Moccasins after the shoes of the Native American population. But then this word was shortened to Mocs when politically incorrect images of the Indians began to be harshly criticized.
With the old nickname Moccasins, various elements of visual identification were used: a snake (in the 1920s), moccasins (in the 1980s), and an Indian (until 1996). Now they have been replaced by a mockingbird named Scrappy, named after the legendary trainer A. C. "Scrappy" Moore.
Meaning and History


In 1997, the UTC Athletics Department finally abandoned the emblems depicting Native Americans and switched to neutral symbols. In 2001, a logo was adopted that emphasized the university's connection with the city's railway heritage. Artists painted a racing train, puffs of smoke, and a mockingbird in a driver's cap. This is the Scrappy mascot, a tribute to the Tennessee state bird. As you know, mockingbirds courageously defend their nests and attack even predators. Management believes that these qualities reflect the purposeful character of UTC students.
What is Chattanooga Mocs?

Chattanooga Mocs is a sports department comprising 16 collegiate teams participating in the intercollegiate program. They belong to the University of Tennessee at Chattanooga and are members of the Southern Conference. The football team competes in the NCAA (FCS) at the Division I level. The name is derived from the nickname "moccasins" (shortened) and the state of Tennessee's native bird, the northern mockingbird.
2001 – 2007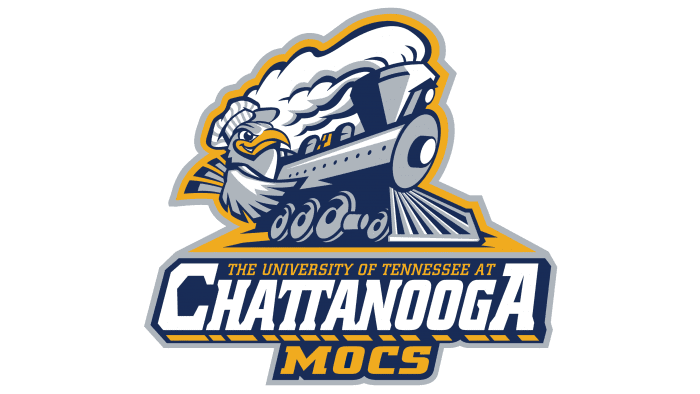 2008 – today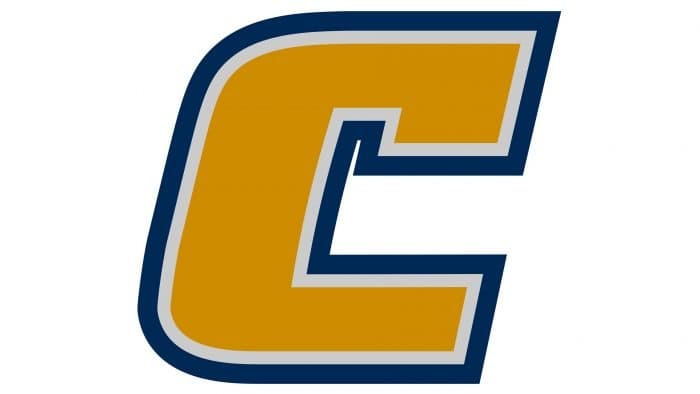 On the emblem of 2001, the full name of the educational institution and the sports department was indicated. The phrase "The University of Tennessee at" was at the top, the word "Chattanooga" was in the center, and the nickname "Mocs" was at the very bottom. But after the redesign, the inscriptions disappeared. In August 2007, the logo appeared, called Power C. It shows only one letter "C" – all that remains of "Chattanooga." At the same time, the teams remained faithful to their color palette, which includes dark blue and a noble shade of aged gold.
Font and Colors
Chattanooga Mocs color codes
Dark Midnight Blue

Hex color:
#00386b
RGB:
0 56 107
CMYK:
100 48 0 58
Pantone:
PMS 654 C
Mustard Yellow

Hex color:
#e0aa0f
RGB:
224 170 15
CMYK:
0 24 93 12
Pantone:
PMS 130 C
Dark Gray

Hex color:
#adafaa
RGB:
173 175 170
CMYK:
1 0 3 31
Pantone:
PMS 421 C