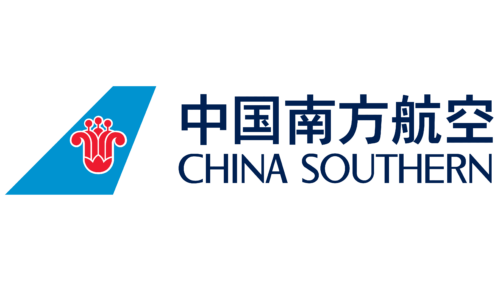 China Southern Logo PNG
The China Southern logo is a brand symbol that conveys a deep direction and reflects its values. It is a two-tiered logo consisting of Chinese lettering at the top and the text "CHINA SOUTHERN" at the bottom.
The inscription in Chinese is made in blue – a color that symbolizes wisdom, stability, and reliability. The lower part of the logo is made in the same blue color, which complements the overall concept of the logo.
Before the logo is an image of an airplane wing, symbolizing the desire for development, progress, and dynamism. The wing is made of blue, which is associated with the sky and freedom. A red flower is depicted in the wing's center, which means beauty, strength, and energy.
The China Southern Emblem conveys powerful emotional signals that the company is focused on growth, advancement, and forward movement. Its values include reliability, safety, comfort, and quality of service.
The China Southern brand is committed to making customers feel comfortable and confident during their flights. They offer high-quality services and flight safety, considering the latest technological advances. The company is actively developing and innovating in its work to improve the quality of service and satisfaction of its customers.
China Southern: Brand overview
| | |
| --- | --- |
| Founded: | 1 July 1988 |
| Founder: | China Southern Air Holding |
| Headquarters: | Guangzhou, Guangdong, South China |
| Website: | csair.com |
China Southern Airlines stands out as a major player in China and across the Asian aviation industry. Based in Guangzhou, its primary operational hubs are located at Guangzhou Baiyun International Airport and Beijing Capital International Airport.
Holding the title as the largest airline in China and Asia, China Southern surpasses others in fleet size, passenger volume, and revenue, with a fleet exceeding 850 aircraft. The airline offers a comprehensive domestic flight network within China alongside regional and long-haul international routes. Its international service extends to over 40 countries, with prominent routes from China to Australia, New Zealand, Europe, North America, and Southeast Asia.
By 2022, China Southern's service map encompassed over 220 destinations worldwide, with international routes making up more than half of its total passenger movement. The airline is a member of the SkyTeam alliance, and its primary stakeholders include the Chinese government and American Airlines.
Established in 1988, the airline has remained headquartered in Guangzhou ever since. Its workforce consists of over 100,000 employees. Known for its profitability, China Southern Airlines has garnered various accolades over the years. The airline's service quality and international standing have improved considerably in recent years.
Meaning and History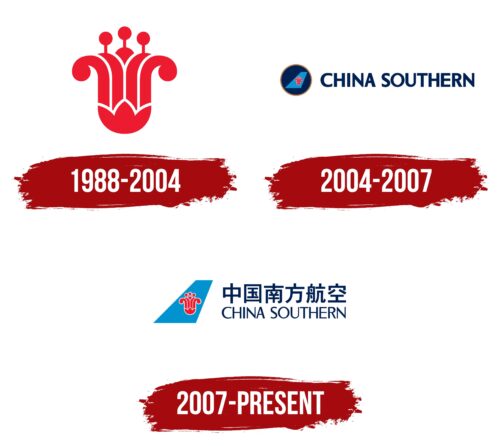 1988 – 2004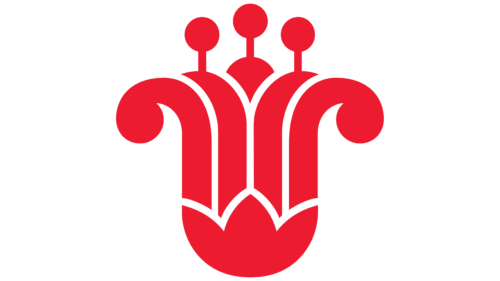 2004 – 2007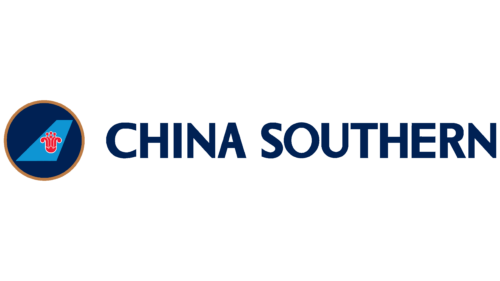 2007 – today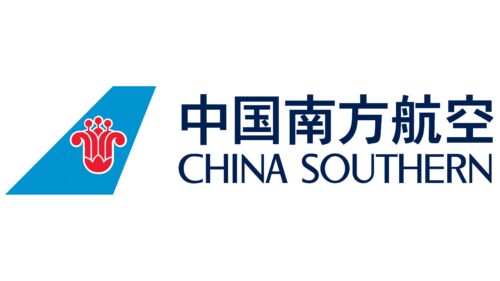 China Southern color codes
Royal Blue

Hex color:
#002052
RGB:
0 32 82
CMYK:
100 61 0 68
Pantone:
PMS 655 C
Rich Electric Blue

Hex color:
#0093d0
RGB:
0 147 208
CMYK:
100 29 0 18
Pantone:
PMS 2925 C
Imperial Red

Hex color:
#ed1b2f
RGB:
237 27 47
CMYK:
0 89 80 7
Pantone:
PMS 1788 C