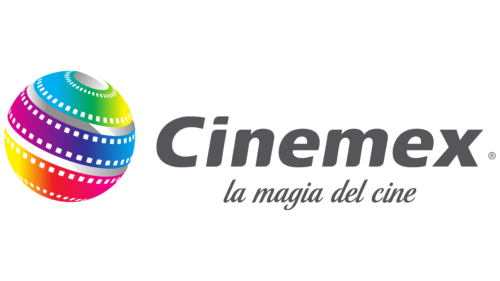 Cinemex Logo PNG
The Cinemex logo is an enticing visual manifestation of the brand's commitment to delivering an immersive and magical cinematic experience.
The silver-gray sphere, originally wrapped in celluloid and boasting a rainbow palette, symbolizes the global nature of cinema and the transformative power of film. Although it has transitioned from a three-dimensional to a flat gradient design in the recent logo, the sphere maintains its significance, reflecting Cinemex's continuous dedication to the art and spectacle of filmmaking.
The sphere's new, flat gradient look enhances its contemporary appeal, signaling the brand's adaptation to modern aesthetics and its commitment to staying relevant in an evolving industry.
The logotype from 2009, which features slightly italicized, light gray, sans-serif lettering, exudes a sense of elegance and friendliness. It's soft lines, and rounded angles create a welcoming ambiance, mirroring Cinemex's aim to make cinema a universally accessible and enjoyable experience.
The tagline "La Magia Del Cine," meaning "The Magic of Cinema," further solidifies the brand's identity. Rendered in a cursive typeface and placed beneath the main inscription, it adds a touch of whimsy and wonder, encapsulating the transformative, enchanting power of cinema that Cinemex seeks to provide to its audiences.
The Cinemex emblem communicates the brand's core values of inclusivity, magic, and continuous evolution, symbolizing its commitment to celebrating the wonder of cinema and providing an unparalleled movie-watching experience.
| | |
| --- | --- |
| Founded: | 1993 |
| Founder: | Miguel Ángel Dávila, Adolfo Fastlicht, Matthew Heyman |
| Headquarters: | Mexico City, Mexico |
| Website: | cinemex.com |
In the tumultuous 1995, the curtain went up in the theater of Mexican cinema. A trio – Adolfo Fastlicht, Matthew Heyman, and Miguel Angel Davila – nurtured a shared dream to reinvent the cinematic experience. The result of this dream was Cinemex, a cinema chain set to become a beloved destination for moviegoers.
Cinemex's story began within the hallowed halls of Stanford Graduate School of Business. The founders, Fastlicht, Heyman, and Davila, put together a business plan that would win the hearts of their professors and the school's annual business plan competition. They returned to Mexico armed with this plan and a spark of ambition.
Once back home, they breathed life into Cinemex, initially opening their first multiplex in Mexico City. The focus was not merely on screening films but on providing a comprehensive cinematic experience. Comfortable seating, state-of-the-art screens, high-quality sound systems, and a wide array of concession options became hallmarks of the Cinemex experience.
As Cinemex grew, it embraced innovation, always striving to deliver a superior movie-going experience. It introduced new concepts to its audience, such as the Cinemex Platino, their version of a luxury cinema, featuring reclining seats and gourmet dining options, thus adding a touch of luxury to the regular cinema outing.
Yet, the brand was not just about innovation and luxury; it was about the magic of cinema, the joy of shared experiences, and a commitment to its audience. Cinemex's goal was to make every visit memorable, to make each movie-goer feel special, and to ensure that the magic of the movies could be enjoyed by everyone.
In its journey, Cinemex navigated through the changing landscapes of cinema and entertainment. With each turn, it demonstrated its resilience and adaptability, continually enhancing its services and expanding its reach. By September 2021, Cinemex had grown from a single multiplex to one of the largest cinema chains in Mexico, a testament to its vision, passion, and dedication to the cinematic experience.
The tale of Cinemex is one of dreams, determination, and a deep love for cinema. It's the story of a brand that has become synonymous with movie-going in Mexico, a brand that continues to bring the magic of cinema to life, one frame at a time.
Meaning and History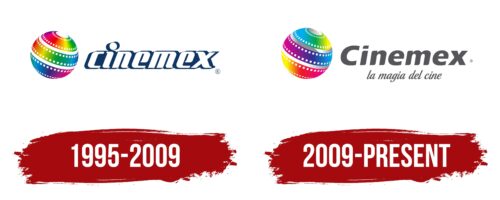 The brand identity of Cinemex revolves around its commitment to providing top-quality movie experiences, innovation, and customer satisfaction. Cinemex strives to create a welcoming and immersive environment where movie lovers can enjoy the latest films in state-of-the-art theaters.
Cinemex's logo embodies its brand identity. It typically features the company's name in bold, capitalized lettering, often accompanied by an eye-catching icon or emblem. The logo's sleek and contemporary design reflects Cinemex's commitment to staying current with industry trends and offering a modern cinematic experience to its patrons.
The brand identity of Cinemex is also exemplified through its focus on customer service and technological advancements. The company constantly explores new technologies, such as online ticketing systems and mobile apps, to enhance the convenience and accessibility of its services. This emphasis on innovation and customer-centric approaches sets Cinemex apart in the industry.
Cinemex's brand identity is further enhanced by its commitment to supporting Mexican cinema and fostering a sense of national pride. The company actively promotes and screens various Mexican films, celebrating the country's rich cinematic heritage. This dedication to local content contributes to Cinemex's unique identity and strengthens its connection with the Mexican audience.
Cinemex stands as a brand that is synonymous with high-quality movie experiences, innovation, and a commitment to Mexican cinema. Its brand identity is reflected in its sleek logo, focus on customer service and technology, and support for local films. Cinemex continues to be a beloved destination for movie enthusiasts, offering an exceptional cinematic journey for audiences throughout Mexico.
What is Cinemex?

Cinemex is a prominent Mexican chain of cinemas offering a premier movie-going experience to audiences across the country. With a rich history dating back to 1995, Cinemex has established itself as a leading brand in the Mexican entertainment industry.
1995 – 2009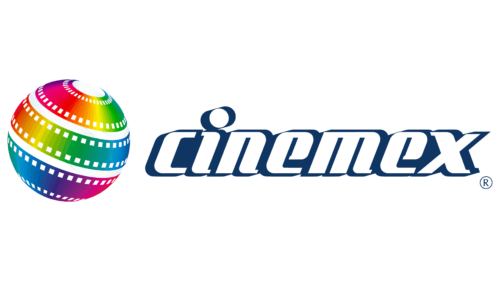 2009 – today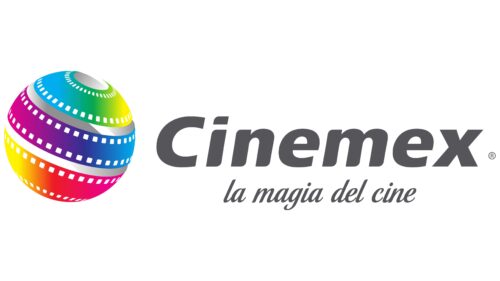 Cinemex color codes
Davy's Gray

Hex color:
#55555a
RGB:
85 85 90
CMYK:
6 6 0 65
Pantone:
PMS Cool Gray 11 C