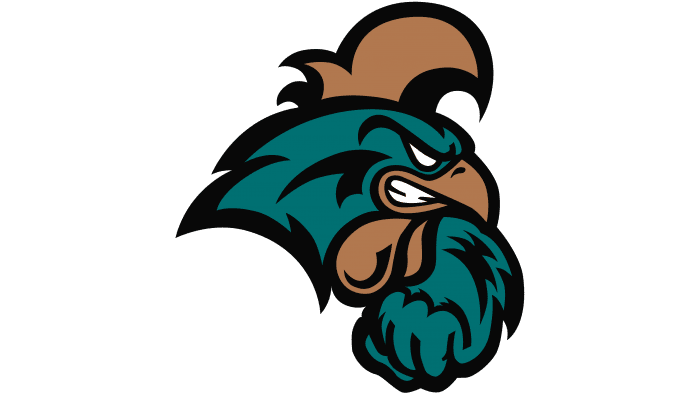 Coastal Carolina Chanticleers Logo PNG
Founded in 1995, Carolina University's athletic department today features the Chaucer mascot. Coastal Carolina Chanticleers logo symbolizes wit and resourcefulness and reflects his commitment to his history and confidence in victory.
Coastal Carolina Chanticleers: Brand overview
| | |
| --- | --- |
| Founded: | 1995 |
| Headquarters: | Conway, South Carolina, U.S. |
| Website: | goccusports.com |
The Coastal Carolina Chanticleers Sports Division is funded by Coastal Carolina University's national marine training institution. Nineteen teams represent it – as many as the sports provided for in the NCAA Division I. Almost all of them are members of the Sun Belt Conference, except for the women's lacrosse and beach volleyball teams that are members of the Atlantic Sun Conference.
Until the 1960s, Chanticleers were called Trojans. When they teamed up with South Carolina University, it was decided to change the nickname to a more appropriate university mascot (Gamecock). The Chanticleers option was chosen because of its symbolism: that was the name of the witty and resourceful rooster from the poetry of The Nun's Priest's Tale by the English poet Geoffrey Chaucer.
Meaning and History


The image of a rooster is the connecting link of all the logos of this sports department. In 1995-2001 he was not depicted in every detail. It consisted of several colored elements separated by white contours. He had a blue-green head, a black comb, a bronze beak in color combined with three feathers in the tail. At the same time, the initial letter of the word "Chants" (an abridged version of the name Coastal Carolina Chanticleers) merged with the cock's head, and a long bird's paw stretched down from the junction of the letters "nt."
What is Coastal Carolina Chanticleers?

Coastal Carolina Chanticleers is a sports department that is part of Coastal Carolina University and competes in the NCAA at the Division I level in almost all sports. It represents the Sun Belt Conference, but the women's lacrosse team belongs to the ASUN Conference.
1995 – 2001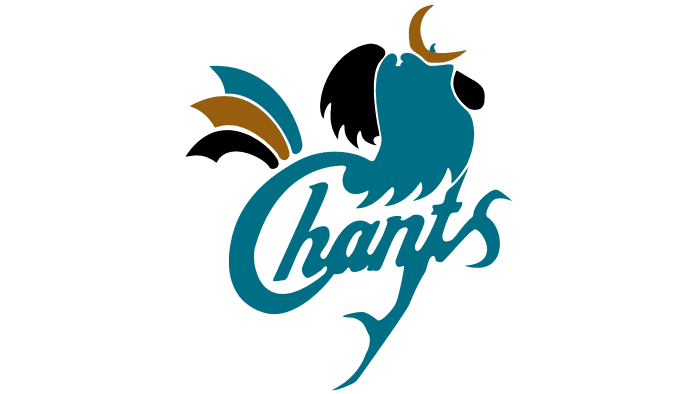 2002 – 2015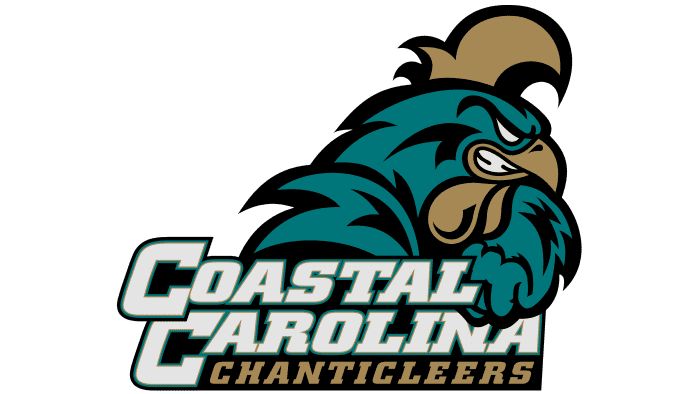 2016 – today
Then, the designers changed the concept and portrayed a fighting rooster, judging by the wings' location, confidently marching. The feathers are not detailed, but it is clear that they are: sharp angles, and black lines indicate this. The bird looks quite menacing. Her eyes glow white, and the comb is tilted forward. Another important detail is the teeth. Artists had to add them so that the mascot had the most formidable look. From 2002 to 2015, the picture was supplemented by the inscription "Coastal Carolina Chanticleers," divided into three lines and made in italic font with serifs. In 2016, it was removed, leaving only the graphic part of the logo.
Font and Colors
Coastal Carolina Chanticleerss color codes
Caribbean Current

Hex color:
#006f71
RGB:
0 111 113
CMYK:
100 2 0 56
Pantone:
PMS 7718 C
Chamoisee

Hex color:
#a27752
RGB:
162 119 82
CMYK:
0 27 49 36
Pantone:
PMS 4645 C
Black

Hex color:
#000000
RGB:
0 0 0
CMYK:
0 0 0 100
Pantone:
PMS Process Black C