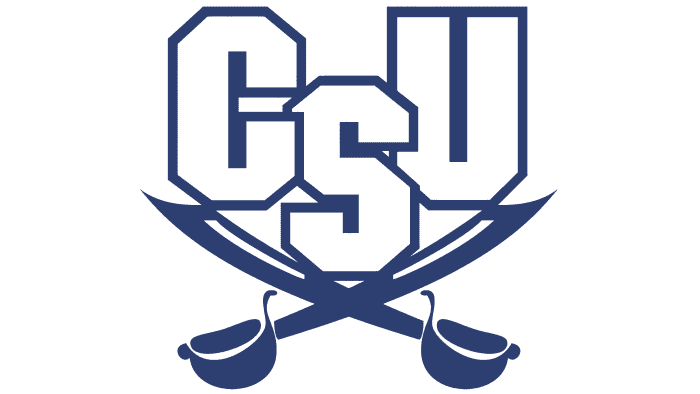 CSU Buccaneers Logo PNG
The sabers and abbreviation of the name demonstrate the sports department's connection to its mascots and commitment to its history. In this way, the CSU Buccaneers visualization, the logo, symbolizes team spirit, militancy, and perseverance.
CSU Buccaneers: Brand overview
| | |
| --- | --- |
| Founded: | 1964 |
| Headquarters: | North Charleston, South Carolina, U.S. |
| Website: | csusports.com |
From Charleston Southern University, sixteen teams called CSU Buccaneers compete in the NCAA Division I. They all participate in the Big South Conference, except for the players who are part of the Football Championship Subdivision. The mascot of the players is the Bucky pirate. A bold and formidable character reflects a victorious mood and a passionate sporting spirit.
Meaning and History


The first Charleston Southern Buccaneers emblem is in a black and white palette. It depicts a corsair – the main symbol of the sports department. The warlike navigator stands at full height, legs wide apart, and hands folded on his chest. His occupation is indicated by the attributes traditional for the pirates: a saber with a slightly curved blade, a cocked hat, and a black bandage covering his eyes. Artists tried to draw all the details to achieve maximum realism.
What is CSU Buccaneers?

CSU Buccaneers (or Charleston Southern Buccaneers) is a sports department comprising 16 collegiate teams from Charleston Southern University participating in the intercollegiate program. They compete in NCAA Division I, representing the Big South Conference since 1983-1984. The football team plays at the I-AA (FCS) level.
1964 – 2003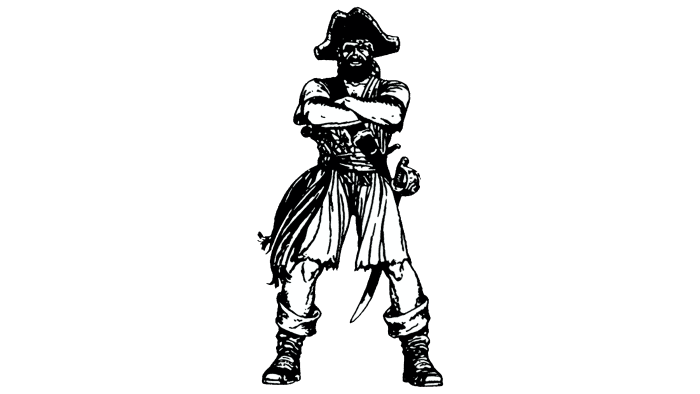 2004 – today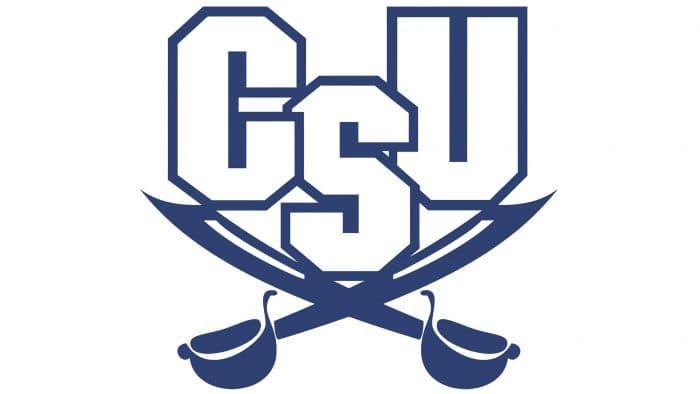 In 2004, the sea-robber was replaced by a new logo – this time more abstract. The pirate theme is reminiscent of crossed boarding sabers used when attacking enemy ships in close combat. At the top are the letters "CSU," an abbreviation derived from the name Charleston Southern University. They are written in angular type and are very closely spaced: "C" partially overlaps "S" and "S" overlays on "U." This version of the logo has been improved several times. The changes concerned mainly the color palette.
Font and Colors
CSU Buccaneers color codes
Sand

Hex color:
#a8996e
RGB:
168 153 110
CMYK:
0 9 35 34
Pantone:
PMS 7503 C
Prussian Blue

Hex color:
#002855
RGB:
0 40 85
CMYK:
100 53 0 67
Pantone:
PMS 655 C