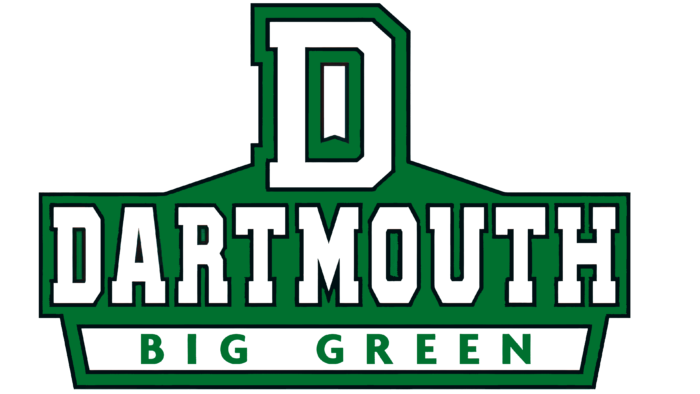 Dartmouth Big Green Logo PNG
Dartmouth Big Green: Brand overview
| | |
| --- | --- |
| Founded: | 1945 |
| Headquarters: | Hanover, New Hampshire, U.S. |
| Website: | dartmouthsports.com |
| Logo downloads: | |
Almost 75% of Dartmouth College students go in for some form of sports. Therefore, the institution has several dozen university and club teams that represent it in the NCAA Division I. Almost all teams participate in the Ivy League. Still, there are exceptions: hockey players compete at the ECAC Hockey conference.
The Dartmouth Big Green sports department is named after a color official at the university, approved back in 1866. The previous pseudonym was Indian, but it was considered inappropriate. In 1971, a local Native American community asked the college administration to abandon their traditional symbols. At the same time, the educational institution removed the Indian logo from its outfit and uniform.
Meaning and History


Conservative students and alumni tried to return the old emblem, despite the scandal that flared around it. But they failed to do so – the university management approved the new graphic symbol. To please everyone, the students chose a neutral option: a large green letter "D." There are no rounded elements in the polygonal font. Even intra-letter lumen is not oval, as usual, but rectangular.
In 2007, the logo was redesigned. The artists erected the "D" on an improvised pedestal, and the full name of the sports department was placed below it. "Dartmouth" is inside a green quadrangle, "Big Green" – against the background of a white upside-down trapeze. The fonts have changed a bit: the inside letters "D" now looks like a flag, and the nickname is written in a rounded grotesque.
1945 – 2006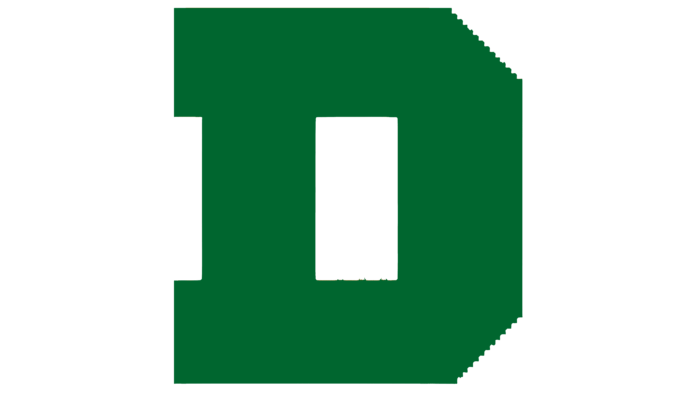 2007 – today

Dartmouth Big Green Baseball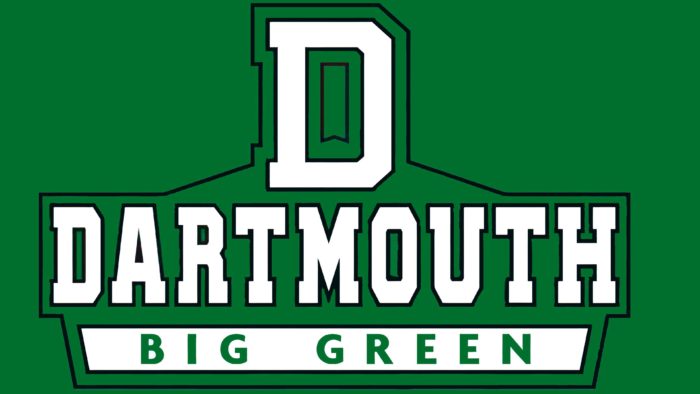 The Dartmouth College baseball team appeared in 1866. At first, the team participated in the Eastern Intercollegiate Baseball League, but then joined the Ivy League and began competing for the championship in the NCAA Division I. And quite successfully: baseball players managed to win twice in the Ivy League Baseball Championship Series, having played only eleven games. The athletes won the championship titles in 2009 and 2010.
Dartmouth Big Green Soccer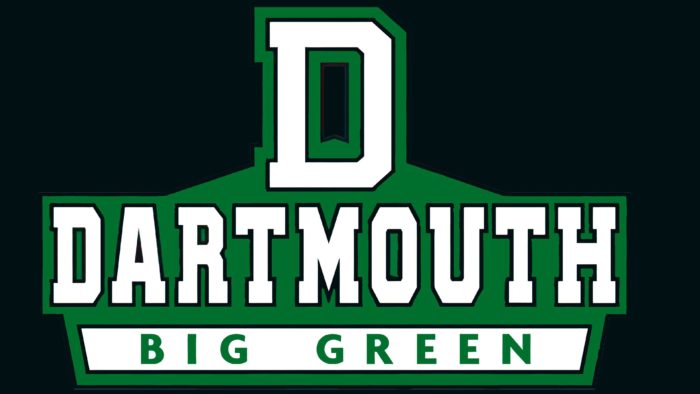 Footballers of the educational institution have won many titles of Ivy League. The men's team – ten, and the women's team – six.
Font and Colors of the Emblem
Dartmouth Big Green color codes
Cadmium Green

Hex color:
#046a38
RGB:
4 106 56
CMYK:
96 0 47 58
Pantone:
PMS 7726 C
Black

Hex color:
#000000
RGB:
0 0 0
CMYK:
0 0 0 100
Pantone:
PMS Process Black C