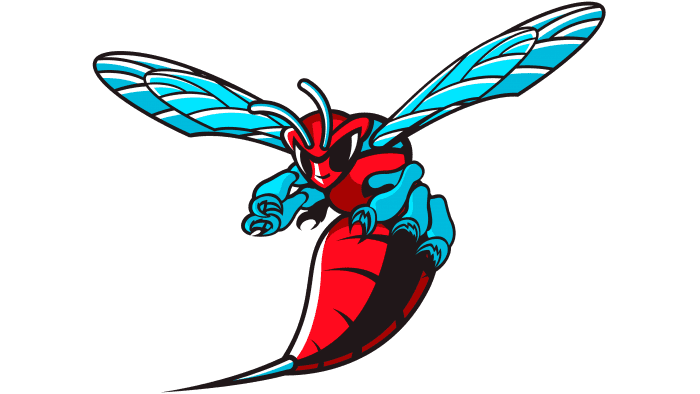 Delaware State Hornets Logo PNG
The Delaware State Hornets' readiness to fend off attacks and strive always to come out victorious is symbolized by the Delaware State Hornets battle hornet, whose logo is bright and dynamic. The identity is recognizable among a large number of similar representations.
Delaware State Hornets: Brand overview
| | |
| --- | --- |
| Founded: | 2004 |
| Headquarters: | Dover, Delaware, U.S. |
| Website: | dsuhornets.com |
Delaware State University sponsors a variety of sports, including baseball, volleyball, softball, bowling, athletics, tennis, cross-country, and basketball. Sixteen teams of the institution are part of the Delaware State Hornets department and represent the university in the NCAA Division I. Moreover, almost all of them have been participating in the Mid-Eastern Athletic Conference since 1970. Only a few teams are members of the Atlantic Sun Conference, Eastern Collegiate Athletic Conference, and National Collegiate Equestrian Association.
Meaning and History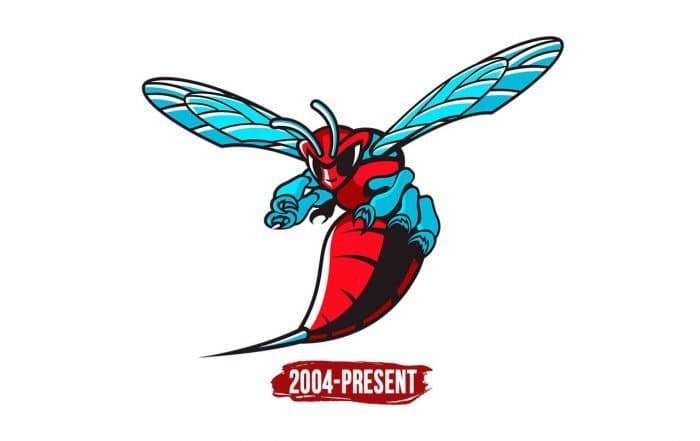 The Delaware State Hornets logo has no inscriptions, hidden characters, or abstract elements. It depicts only a stylized hornet – the mascot of the sports department. He directed the sting forward, taking a waiting position, and is preparing to attack the enemy. Artists paid attention to details: the membranes on the wings, tenacious paws, short mustaches, a striped abdomen, and drop-shaped eyes were drawn.
Just as responsible, the developers approached the choice of the palette. They used several blue shades for the wings of the insect for the body – red and black. Colors are successfully combined and seem to pass one into another. At the same time, dark contours and bright highlights help create a three-dimensional effect.
What is Delaware State Hornets?

Delaware State Hornets is a sports department belonging to Delaware State University in Dover. It is formed from students and comprises 18 teams, the most successful of which are baseball, football, basketball, and hockey teams. Almost all intercollegiate program participants are members of the MEAC and compete at the Division I level in the NCAA, with a few exceptions among the women's teams.
Delaware State Hornets Basketball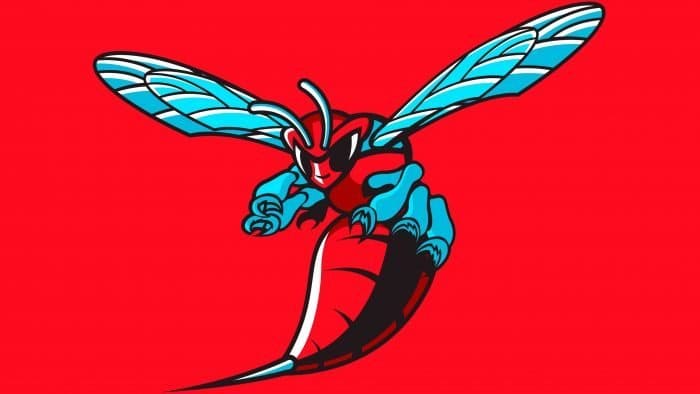 The Delaware State Hornets basketball teams have proven their worth. Women's got a place in the 2006 NCAA tournament and then won the MEAC Championship. Men took part in the 2005 NCAA tournament and became the MEAC champion in the same year.
Delaware State Hornets Football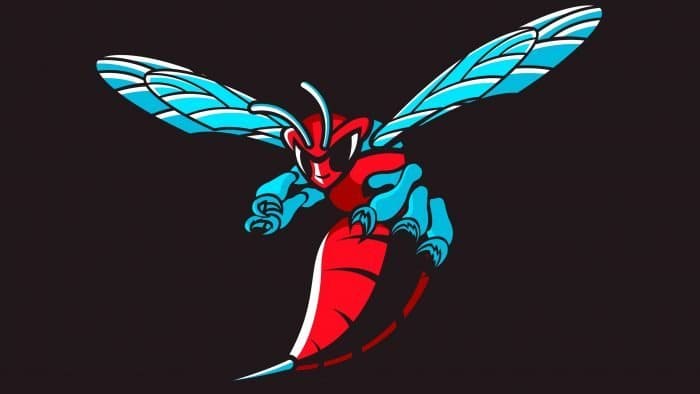 The Delaware State University football team beat Norfolk State University in 2007 during the MEAC. Now she plays in the home stadium Alumni Stadium. From 1970 to the present, he has been competing in the Mid-Eastern Athletic Conference.
Font and Colors
Delaware State Hornets color codes
Marvel Red

Hex color:
#ee3124
RGB:
238 49 36
CMYK:
0 79 85 7
Pantone:
PMS Bright Red C
Baby Blue

Hex color:
#72cdf4
RGB:
114 205 244
CMYK:
53 16 0 4
Pantone:
PMS 311 C
Carolina Blue

Hex color:
#009ddc
RGB:
0 157 220
CMYK:
100 29 0 14
Pantone:
PMS 801 C
Black

Hex color:
#000000
RGB:
0 0 0
CMYK:
0 0 0 100
Pantone:
PMS Process Black C