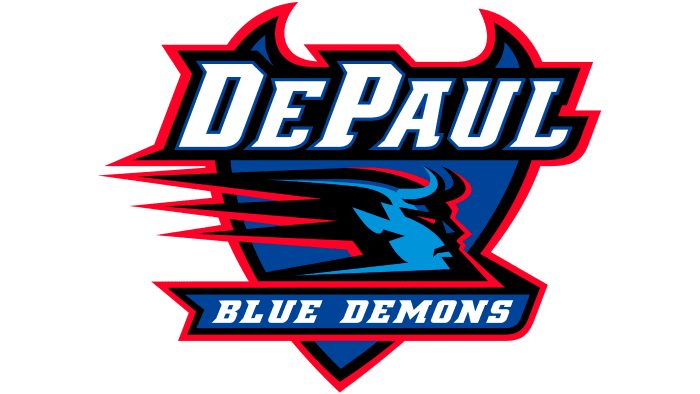 DePaul Blue Demons Logo PNG
The Roman Catholic University athletes' use of the name and symbolism of a devilish organization is symbolic. The DePaul Blue Demons logo distinguishes fifteen teams. A random play on words created a mascot whose cunning and strength became a characteristic of the players.
DePaul Blue Demons: Brand overview
| | |
| --- | --- |
| Founded: | 1978 |
| Headquarters: | Chicago, Illinois, U.S. |
| Website: | depaulbluedemons.com |
The private Roman Catholic DePaul University owns DePaul Blue Demons. These are fifteen teams that compete in the NCAA Division I and, since 2013, have been founding members of the Big East Conference. The name of the sports department arose entirely by accident. In 1907, its participants wore a uniform with the letter "D," for which they received the nickname "D-men." Over time, it turned into "Demons." The prefix "Blue" means that the letter was blue. This is an important refinement since DePaul Academy athletes had an identical form, but with a red "D." From here come the official colors of Demons: royal blue and scarlet.
Meaning and History


The logo, which was used until 1979, contains the traditional letter "D." The sign is simple and unremarkable. Designers chose a rectangular font without rounded details and made the background white. Then a little blue devil appeared on the emblem with a tail, beard, and horns. This is one of the graphic versions of the mascot Demon In a Blue Suit, better known as DIBS. She was a distinctive symbol of the sports department from 1979 to 1998.
In 1999, artists modernized the logo. In the background, they depicted a blue-horned heraldic shield. On the front is the inscription "DePaul," tape with the name of the teams ("Blue Demons"), and a stylized devil head turned in profile. Also, the developers beat the font of the first word, adding sharp serifs in the form of horns.
What is DePaul Blue Demons?

DePaul Blue Demons is an intercollegiate program participant, a union of 15 collegiate teams from DePaul University, located in Chicago, Illinois. The sports department is a member of the Big East Conference and competes in NCAA Division I.
1978

1979 – 1998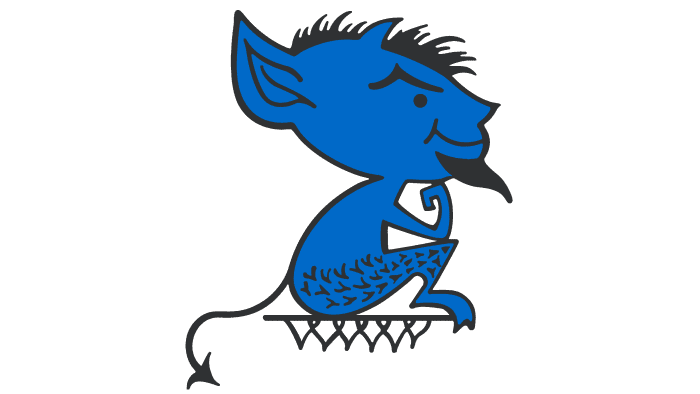 1999 – today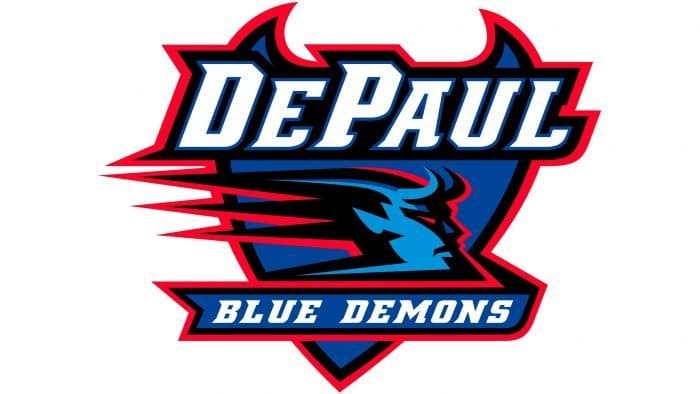 DePaul Blue Demons Basketball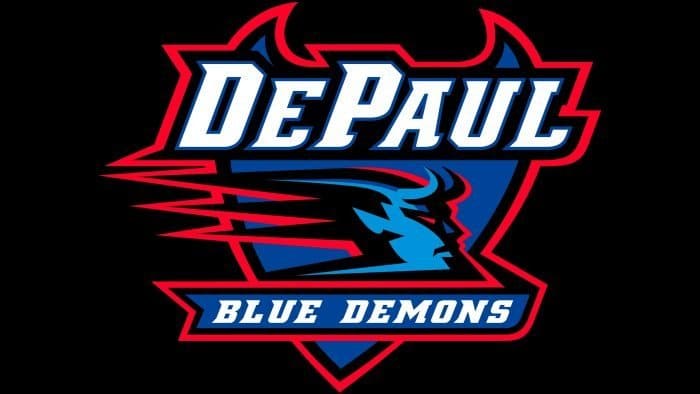 DePaul University's basketball players have been playing under the guidance of coach Dave Leitao since 2015. But fame came to them much earlier when Ray Meyer ruled everything. In that era, the team reached the final tournaments of the NCAA Division I several times, although they lost to competitors who played in the four. Until 2017, the stadium of athletes was the Allstate Arena. Home games are now being played at the Wintrust Arena.
DePaul Blue Demons Softball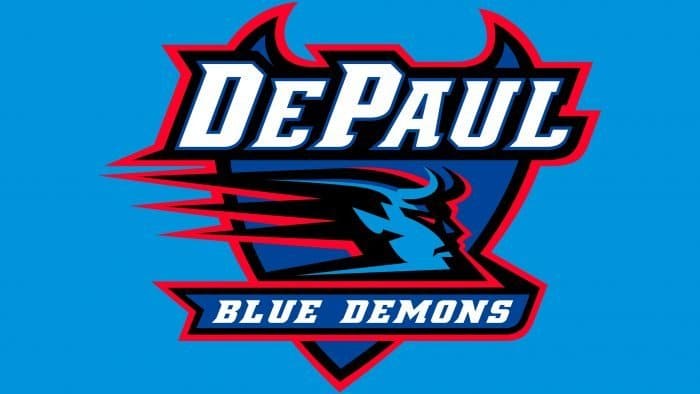 Women's softball team Demons competed four times in the Women's College World Series. After the completion of the season 2006-2007, she was ranked sixth on the USA Today / NFCA list, which topped the survey.
Font and Colors
DePaul Blue Demons color codes
Polynesian Blue

Hex color:
#054696
RGB:
5 70 150
CMYK:
97 53 0 41
Pantone:
PMS 7687 C
Rich Electric Blue

Hex color:
#0093d7
RGB:
0 147 215
CMYK:
100 32 0 16
Pantone:
PMS Process Blue C
Red

Hex color:
#e4002b
RGB:
228 0 43
CMYK:
0 100 81 11
Pantone:
PMS Bright Red C
Black

Hex color:
#000000
RGB:
0 0 0
CMYK:
0 0 0 100
Pantone:
PMS Process Black C