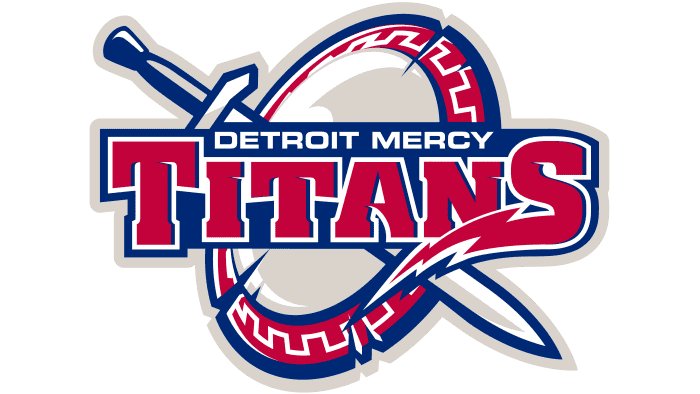 Detroit Titans Logo PNG
The commitment to ancient Greek heroes, their strength, courage, and fortitude are symbolized by the logo of the Detroit Titans, athletes of the University of Detroit. The depiction of ancient military paraphernalia is an effort to demonstrate a commonality of spirit and fighting spirit with ancient Greek warriors.
Detroit Titans: Brand overview
| | |
| --- | --- |
| Founded: | 1991 |
| Headquarters: | Detroit, Michigan, U.S. |
| Website: | detroittitans.com |
The University of Detroit Mercy provides funding for the development of sports programs. At the same time, he is one of four universities of the NCAA Division I, which does not sponsor baseball and volleyball. Nineteen teams represent the educational institution at the inter-university competitions. Previously, they were called Tigers, but in 1919 (according to another version – in 1924) were called Titans. Most Detroit Mercy Titans teams take part in the Horizon League. Only one sport, lacrosse, applies to MAAC and SoCon. For 2021, the planned transition of the female composition from the Southern Conference to the Mid-American Conference.
Meaning and History


In 1991, the sports department adopted a logo with the inscription "UDM Titans." The abbreviation is on top, and the team nickname is on the bottom, in a blue rectangle with a red frame. In the letter "D" lies the helmet of the ancient Greek warriors, decorated in the middle with a large crest. The shape of the head is also traced.
In 2008, artists depicted other military attributes on the emblem: a sword and a shield. They are located in the background. The inscription "Detroit Titans" is pushed forward. The second word looks bright thanks to the red color and the unusual font. A zigzag of lightning stretches to the left from the bottom of the letter "S."
The next logo change took place in 2016. Designers expanded the inscription by adding the word "Mercy" to "Detroit." Also, designers darkened shades of red and blue to match the school's official palette.
What is Detroit Titans?

Detroit Titans (new name – Detroit Mercy Titans) is a sports department associated with the University of Detroit Mercy in Michigan. In total, it comprises 17 collegiate teams that compete in NCAA Division I. Athletes also participate in the Horizon League, ASUN Conference, and the Mid-American Conference (joined in 2021).
1991 – 2007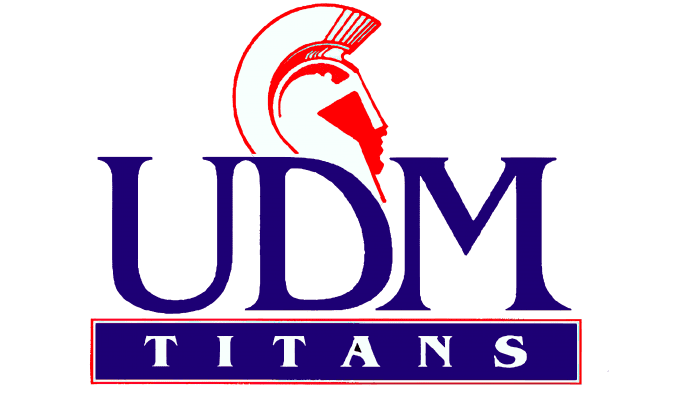 2008 – 2015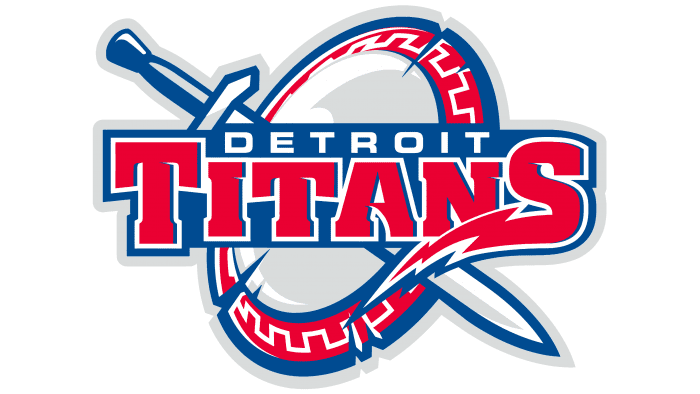 2016 – today
Detroit Titans Basketball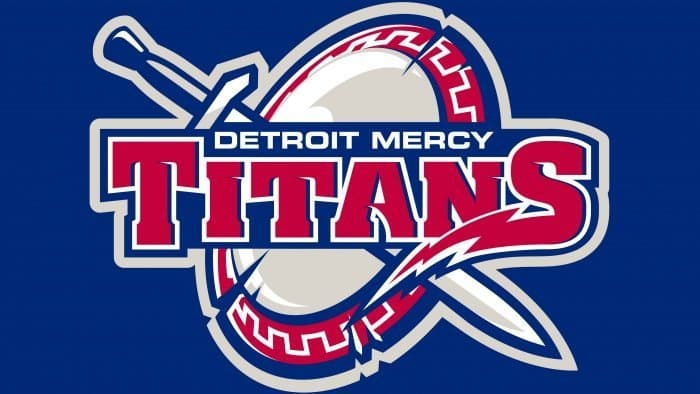 The University of Detroit Mercy sponsors two basketball teams: one for men and one for women. They compete in the Horizon League and compete at Division I level at the National Collegiate Athletic Association. Occasionally appear in NCAA tournaments, showing good results. The home baseball stadium is Calihan Hall. As of 2020, the men are coached by Mike Davis and the women by AnnMarie Gilbert.
Font and Colors
Detroit Titans color codes
Big Dip O'Ruby

Hex color:
#a6093d
RGB:
166 9 61
CMYK:
0 95 63 35
Pantone:
PMS 193 C
Catalina Blue

Hex color:
#002d72
RGB:
0 45 114
CMYK:
100 61 0 55
Pantone:
PMS 288 C
Light Gray

Hex color:
#d7d2cb
RGB:
63 194 204
CMYK:
60 0 23 0
Pantone:
PMS Warm Gray 1 C