Eastern Michigan Eagles Logo PNG
The logo of the Eastern Michigan Eagles, the teams of the sports division of Eastern Michigan University founded in 1929, is one of the most concise. Simplicity and conciseness demonstrate that the game speaks for itself, ensuring the popularity of the brand name and its success.
Eastern Michigan Eagles: Brand overview
| | |
| --- | --- |
| Founded: | 1929 |
| Headquarters: | Ypsilanti, Michigan, U.S. |
| Website: | emueagles.com |
Eastern Michigan Eagles is a successful sports program sponsored by Eastern Michigan University. Teams compete in the NCAA Division I, participate in the Mid-American Conference (women's rowing at the Colonial Athletic Association) and play at the Rynearson Stadium home stadium. Over the entire period of their existence, they several times won prizes in the national championships of the NCAA Division II and NAIA Division I and also received five Reese Trophy. The team only got the nickname Eagles in 1991. Before that, they were known as Men from Ypsi, Normality, and Hurons.
Meaning and History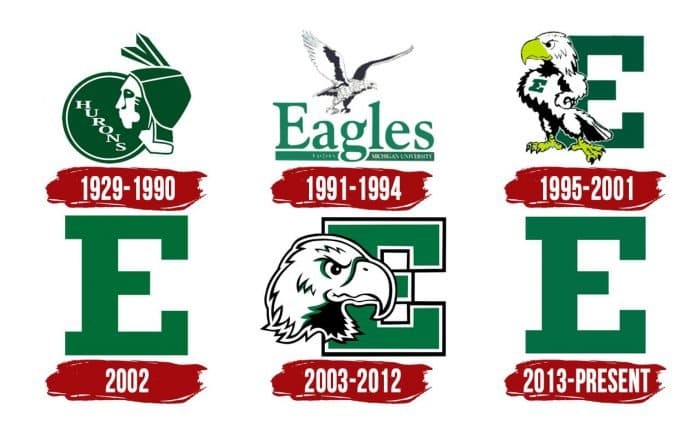 From 1929 to 1990, when the sports department was called Hurons, he had a logo with an Indian image. But it was removed at the request of the Michigan Department of Civil Rights because the use of symbols associated with the culture of Native Americans was considered the spread of racial stereotypes. In 1991, the EMU Board of Regents voted in favor of a new emblem – with an eagle above the inscription "Eagles." Then the artists changed their style and presented a cartoon bird icon on the background of the letter "E." This happened in 1995.
In the new millennium, logos have become more concise. The current version of 2002 is now: a large green "E" with serifs. But it was not continuously used: from 2003 to 2012, the head of an eagle was depicted in front of the letter. In 2013, it was again removed, leaving a brief emblem with an "E."
What is Eastern Michigan Eagles?

Eastern Michigan Eagles is a member of the Mid-American Conference, representing Eastern Michigan University (located in Ypsilanti) in NCAA Division I. The athletic department consists of 19 student teams. The women's rowing team is a member of the Colonial Athletic Association.
1929 – 1990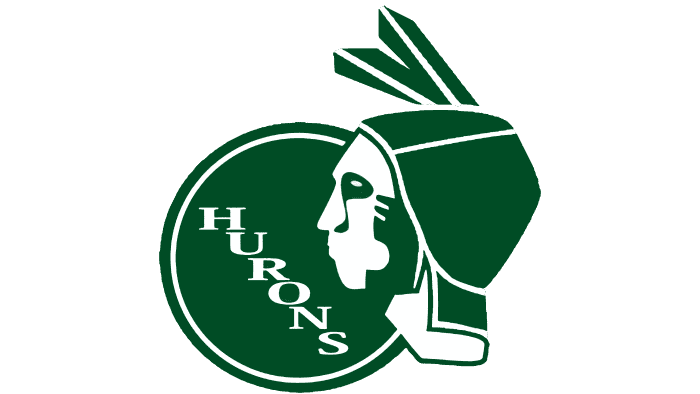 1991 – 1994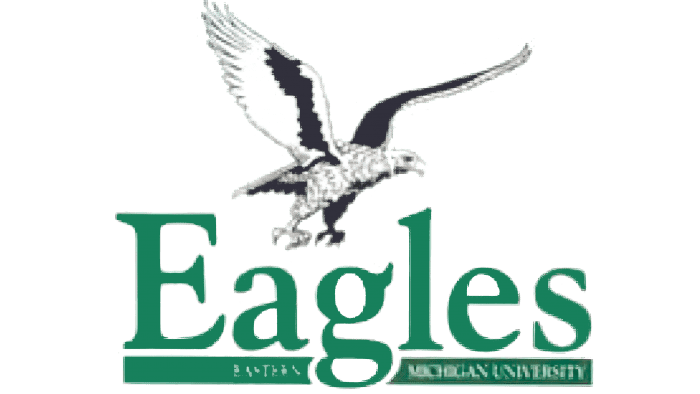 1995 – 2001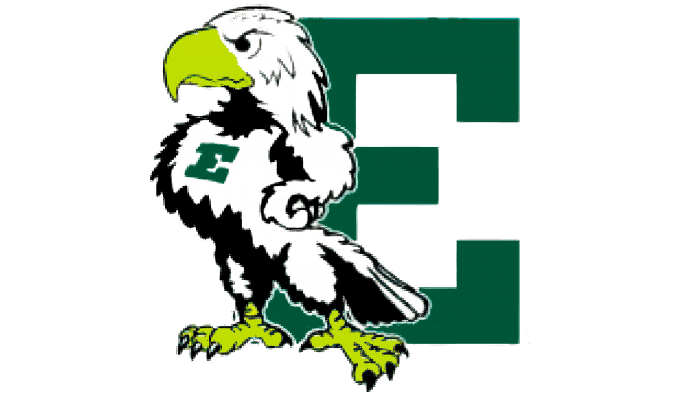 2002
2003 – 2012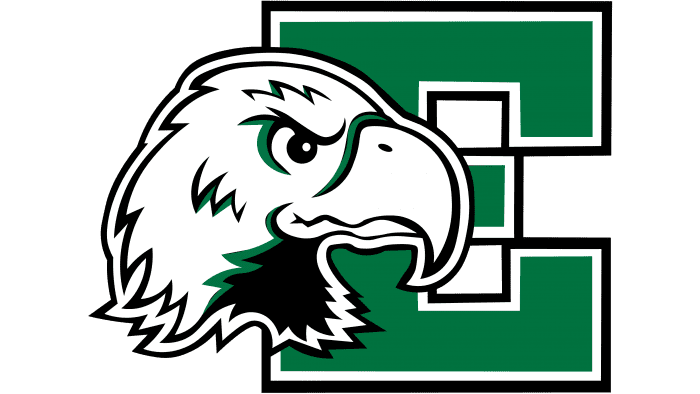 2013 – today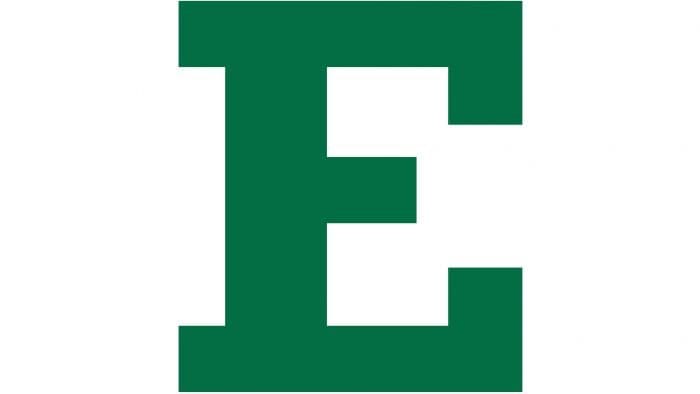 Eastern Michigan Eagles Basketball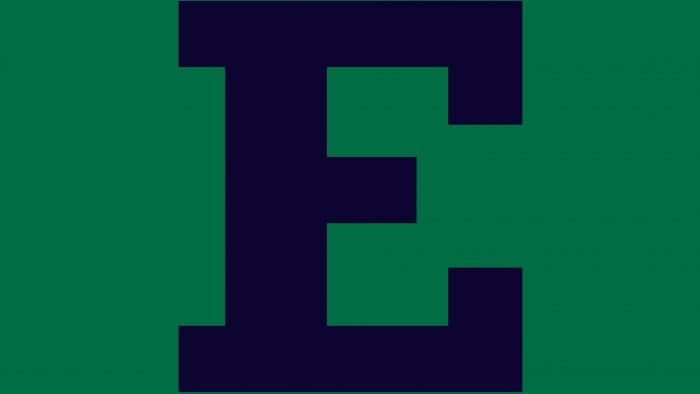 The women's basketball team debuted in 1977. It had no special sports achievements, except five victories in the West Division from the Mid-American conference and two MAC Tournament titles. The men's team, in turn, competed in four NCAA Division I tournaments and reached the Final Four at the NCAA College Division National Championship in 1972.
Eastern Michigan Eagles Football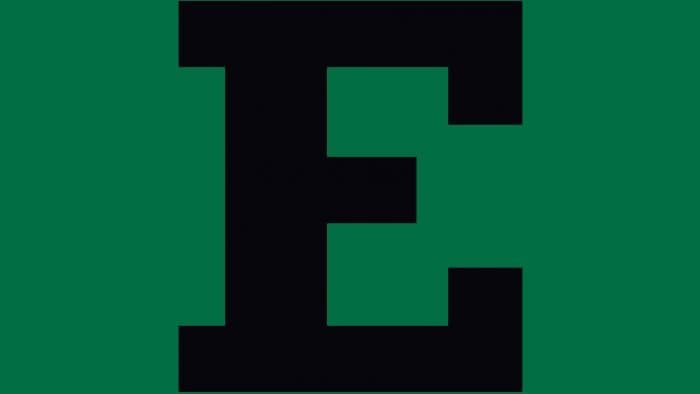 As for the football program, here, Eastern Michigan University became famous, not for the best. His first team was introduced in 1891 and received unofficial status as one of the worst among all members of the Division I Football Bowl Subdivision. However, she also had successes – the victorious period fell from 1925-1939.
Font and Colors
Eastern Michigan Eagles color codes
Cadmium Green

Hex color:
#006633
RGB:
0 102 51
CMYK:
100 0 50 60
Pantone:
PMS 7726 C