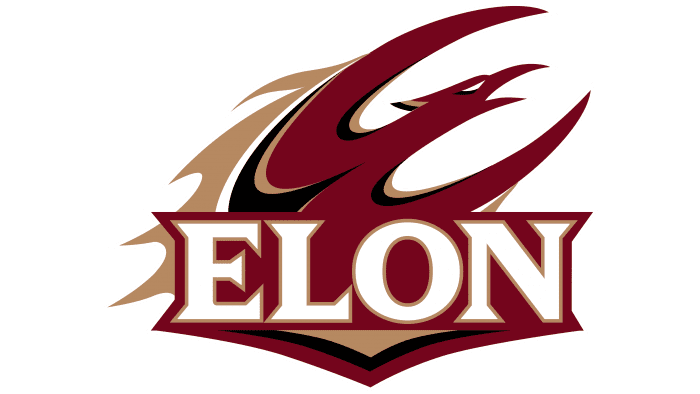 Elon Phoenix Logo PNG
Represents the Elon Phoenix team at inter-university competitions with a logo with a mythological creature, adopted back in 2000 as a mascot. Its stylized performance symbolizes eternal triumph, faith in one's invincibility, and constancy.
Elon Phoenix: Brand overview
| | |
| --- | --- |
| Founded: | 2000 |
| Headquarters: | Elon, North Carolina, U.S. |
| Website: | elonphoenix.com |
Elon University took part in the first inter-university sports competition in 1900. In 1921, his teams were nicknamed Fightin' Christians. Nine years after this event, they joined the North State Conference, where they stayed until 1989 until they moved to the South Atlantic Conference. Women's sports joined the program in the 1970s when the legendary Kay Yow was the trainer.
The current name of the department was Elon Phoenix in 2000. As you know, the Phoenix bird rises from the ashes. In the same way, the university's completely burnt campus was revived after the fire of 1923. Now the teams play in the NCAA Division I (FCS) and participate in the Colonial Athletic Association.
Meaning and History


The latest sports emblems of Elon University depict the phoenix – the way designers see it. From 2000 to 2015, the mythological creature had the shape of an ellipse. The head and the likeness of the wings were directed upwards. Behind stretched golden stripes that indicated the flames. The bottom of the logo was "Elon Phoenix." Both words were in italics: the first in large red letters and the second in small black letters.
The 2016 redesign did not make any unique changes to the logo. Artists darkened the shades and blocked a third of the phoenix with the white word "Elon." At the bottom, there is an inverted golden triangle with concave edges and two dark contours. This time the font is not italic, but in form, it is very similar to the previous version. Sharp serifs and strict geometric shapes characterize it.
What is Elon Phoenix?

Elon Phoenix is an athletic department that is part of Elon University in North Carolina. It consists of 17 student teams competing in NCAA Division I (FCS). They have been members of the Colonial Athletic Association since 2014.
2000 – 2015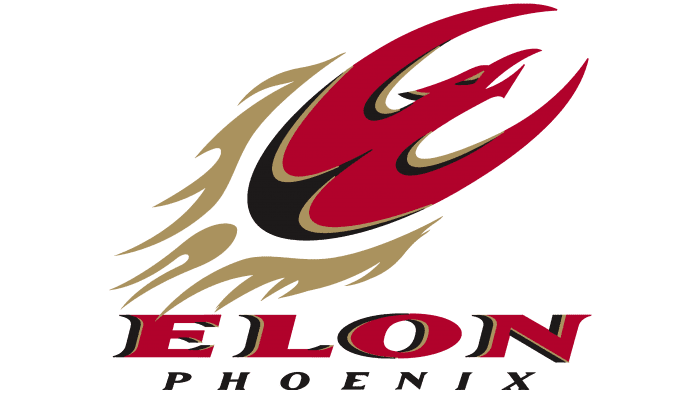 2016 – today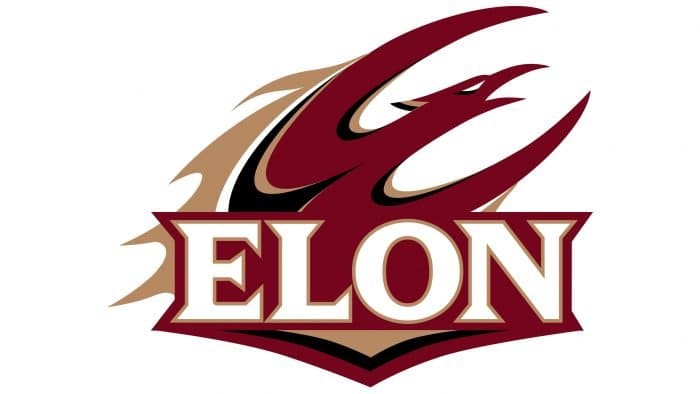 Elon Phoenix Basketball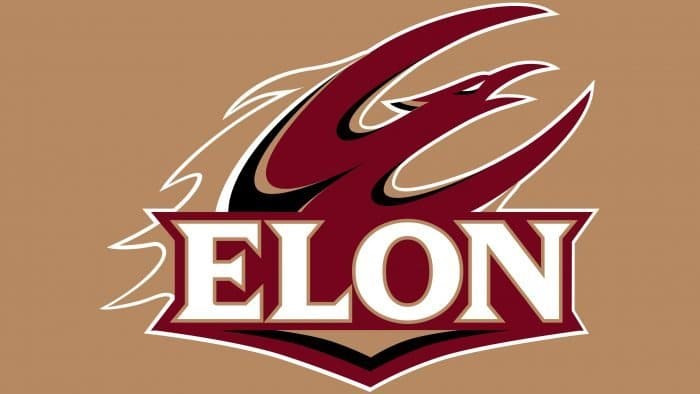 The university's basketball program was launched in 1911. A women's team appeared in the early 1970s. Since then, she has participated in several conference and district championships and two NCAA Tournaments. The men's team competed three times in the NAIA tournament and once in CollegeInsider.com and NCAA Division II.
Elon Phoenix Baseball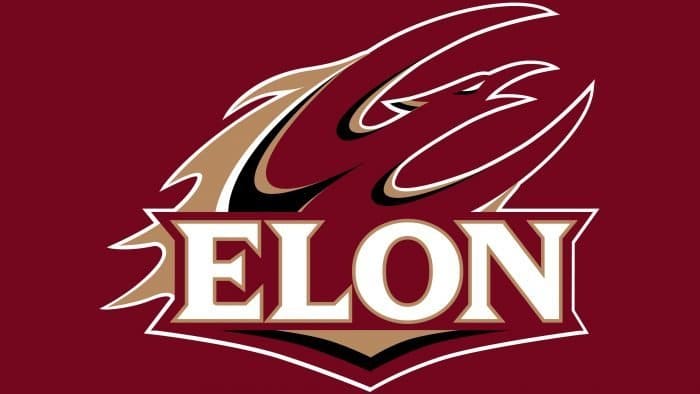 The first baseball game took place in 1900. Since 1997, Mike Kennedy has been the head coach. The home stadium is located at Walter C. Latham Park. The team competed in six NCAA Tournaments and five conference championships.
Font and Colors
Elon Phoenix color codes
Blood Red

Hex color:
#73000a
RGB:
115 0 10
CMYK:
0 100 91 55
Pantone:
PMS 484 C
Aztec Gold

Hex color:
#b59a57
RGB:
181 154 87
CMYK:
0 15 52 29
Pantone:
PMS 7407 C
Black

Hex color:
#000000
RGB:
0 0 0
CMYK:
0 0 0 100
Pantone:
PMS Process Black C