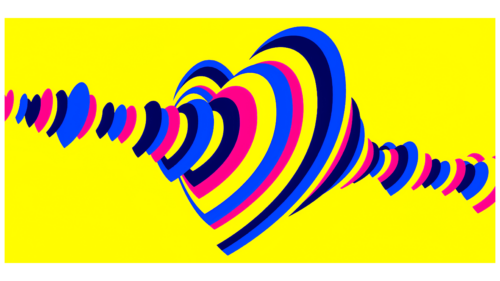 At the end of January this year, the Eurovision Song Contest 2023 published its new logo on the official page and on the BBC account. Also, the slogan was announced ahead of the draw: "United by Music."
St George's Hall from the British city of Liverpool, where the draw took place, has already received the appropriate symbolism. It was applied to the building from the outside. It can be seen that the organizers paid tribute to the winning country, which was supposed to host the festival but could not do so due to Russian aggression. To emphasize this idea, the designers used both colors of the national flag of Ukraine in the logo:
turned them into a basic background;
painted the main elements with them;
made the classic heart in the title yellow and blue.
The organizers paid another tribute to the legendary group The Beatles, the leader of the Liverpool musical heritage. The font chosen for the emblem of Eurovision 2023 is called Penny Lane. As Managing Director Martin Green noted, the identity of this year's song festival demonstrates an amazing partnership within the international competition. It highlights the power of music in uniting people from all over the world.
The festival's visual identity is filled with love for others, and the songs performed penetrate the heart of every person with goodwill and an open soul. This is shown by a string of multi-colored hearts of different sizes, arranged one after the other. They are colored in yellow, light blue, pink, and blue and form an abstract sound wave.
The traditional Eurovision symbol is placed in the upper left corner of the yellow field. The organizer of the event is listed at the bottom left. At the top right is the festival's slogan, rendered in a smooth, even sans-serif font. A colorful logo will accompany all performances and will be a worthy decoration of the Grand Final, which will be held on May 13, 2023.