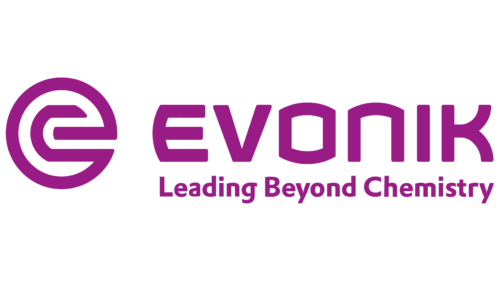 Evonik Logo PNG
The Evonik logo sports a stylized "E" that takes the form of a labyrinth without an exit. It is constructed from a curved purple stripe inscribed in a circle. This symbol exudes a futuristic vibe and attests to the aspiration of the company, once a producer of Zyklon B for the gas chambers of German concentration camps, to shed its past and present a contemporary face. Its name is set in a distinctive square-shaped font, while the phrase "Leading Beyond Chemistry" below is written in a bold grotesque typeface.
This emblem presents an intriguing design, where the "E" formed from the labyrinth-like curved purple stripe stands as a symbol of challenges and complex paths. The circular boundary in which it resides is the company's commitment to providing comprehensive solutions and innovative approaches, containing and managing complex problems within its capabilities.
Purple, associated with creativity and wisdom, emphasizes the company's pioneering spirit and strategic insights into the chemical industry. The choice of a square-shaped font for the brand's name suggests stability and reliability, attributes that a global specialty chemicals company like Evonik seeks to project.
The phrase "Leading Beyond Chemistry," written in bold grotesque letters, is not just a tagline but underscores the brand's aspiration and ambition. It communicates a clear message about the company's drive to push the boundaries of chemistry and deliver innovative solutions, thus reinforcing its image as a progressive and forward-thinking entity in the industry.
| | |
| --- | --- |
| Founded: | 2007 |
| Founder: | RAG Foundation |
| Headquarters: | Essen, Germany |
| Website: | corporate.evonik.com |
Located in Essen, North Rhine-Westphalia, Evonik Industries AG is a German firm specializing in producing unique chemical compounds. The genesis of this company, on September 12, 2007, was a byproduct of a structural transformation of the RAG mining and technology consortium. The remodeling involved transitioning to chemicals, energy, and real estate sectors, whereas RAG maintained its focus on mining activities. Evonik Industries is recognized as a trailblazer in the specialty chemicals sector.
The narrative of Evonik Industries is closely tied to Degussa, which was established in 1873. This avant-garde firm swiftly carved a niche in the chemical industry, manufacturing metals, chemicals, and pharmaceuticals, creating a sturdy foundation for Evonik's future success.
Another influential predecessor, Hüls AG, emerged in 1904. This company played a critical role in manufacturing plastics and synthetic materials and held significant sway in the agricultural chemicals industry.
In 2007, Evonik Industries emerged, formed by the amalgamation of these two firms and other related entities specializing in high-margin products. This fusion gave birth to an innovative powerhouse in the specialty chemicals industry, capable of delivering cost-effective and efficient solutions to customers.
Presently, Evonik Industries commands a leading position in the global specialty chemicals industry. The company operates in over 100 countries and offers many products, including plastics, catalysts, performance chemicals, and functional materials. Its continually expanding reach cements its lasting global influence.
Evonik Industries is an active proponent of sustainable development and is making concerted efforts to curtail its environmental impact. Boasting a global workforce of 30,000, the company is among the largest employers worldwide and strives to contribute positively to the communities it operates in.
The establishment of Degussa in Frankfurt am Main in 1873 marked the onset of a long, successful, and innovative journey.
In 1904, Hüls AG was founded in Marl, Germany.
The creation of Ruhrkohle AG in 1968, a collective of coal-mining companies in the Ruhr region, signified a new phase of growth and cooperation.
The emergence of Evonik Industries in 2007, following RAG's restructuring, transformed the landscape of the specialty chemicals industry.
A strategic shift in 2012, as Evonik Industries committed itself entirely to specialty chemicals, revolutionizing the industry and establishing new benchmarks.
Meaning and History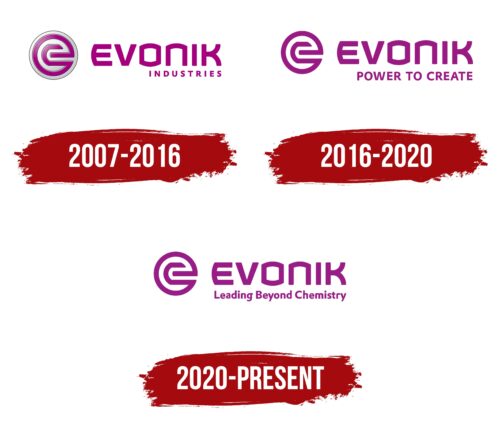 What is Evonik?

Since its formation in 2007 due to RAG's reorganization, Evonik Industries AG has made significant strides. The German specialty chemicals plant in Essen is currently one of the largest and most successful in its sector in the world. With a wide-ranging portfolio spanning from amino acids and cosmetics to high-grade polymers and coatings, its assortment of products is quite remarkable.
2007 – 2016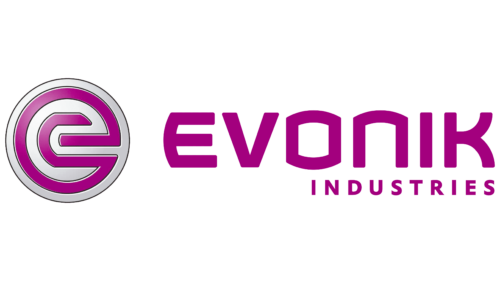 2016 – 2020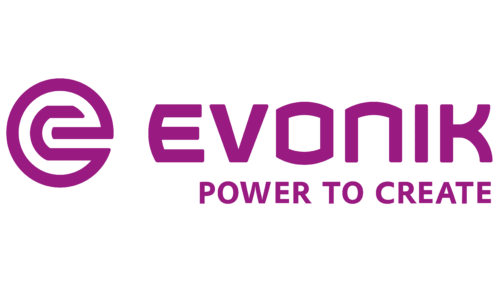 2020 – today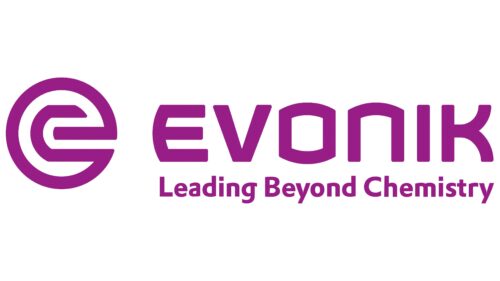 Evonik color codes
Dark Magenta

Hex color:
#991c86
RGB:
153 28 134
CMYK:
0 82 12 40
Pantone:
PMS 241 C