Fairleigh Dickinson Knights Logo PNG
Since 1996, the American University Fairleigh Dickinson sports direction has been represented by the Fairleigh Dickinson Knights branch, whose logo is a chess horse. It symbolizes perseverance and perseverance, diligence, and the ability to make difficult decisions.
Fairleigh Dickinson Knights: Brand overview
| | |
| --- | --- |
| Founded: | 1996 |
| Headquarters: | Teaneck, New Jersey, U.S. |
| Website: | fduknights.com |
Fairleigh Dickinson University competes in eleven NCAA Division I women's and eight men's competitions. Its seventeen teams are called Fairleigh Dickinson Knights. Sixteen of them are members of the Northeast Conference, and another one (in fencing) is in the National Intercollegiate Women's Fencing Association. What is noteworthy, in Division I, only the Metropolitan Campus is listed. The Florham campus competes in Division III and bears a completely different nickname – Devils. Thus, this university is one of the few in the United States to place teams immediately in the first and third divisions.
Meaning and History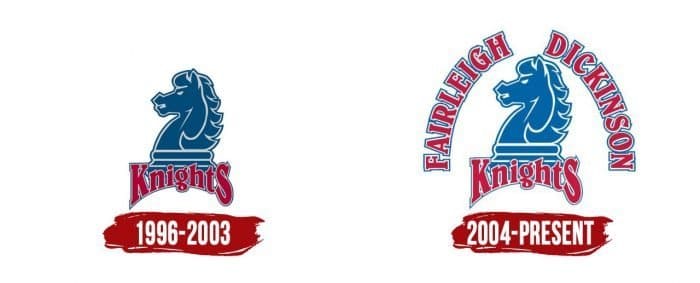 The Knights mascot is an original character named Nitro, also known as Knightro. But he did not find reflection on the sports logo. A horse is depicted on the brand name, not a knight's one, but a chess one. The figure is turned left and painted in blue with white contours. Its lower part is covered by the word "Knights," arched in the shape of a rainbow. In this case, the first and last letter is uppercase, and all the rest are lowercase.
In 1996-2003, this was the version of the emblem used. Then additional inscriptions appeared on it: "Fairleigh" and "Dickinson." They are located to the right and left of the horse's head. The dark blue color turned blue; everything else has not changed.
What is Fairleigh Dickinson Knights?

Fairleigh Dickinson Knights are the athletic department of Fairleigh Dickinson University, participating in intercollegiate programs and competing in NCAA Division I as a member of the Northeast Conference. It brings together 20 student teams from New Jersey. They have achieved the most success in basketball and women's bowling.
1996 – 2003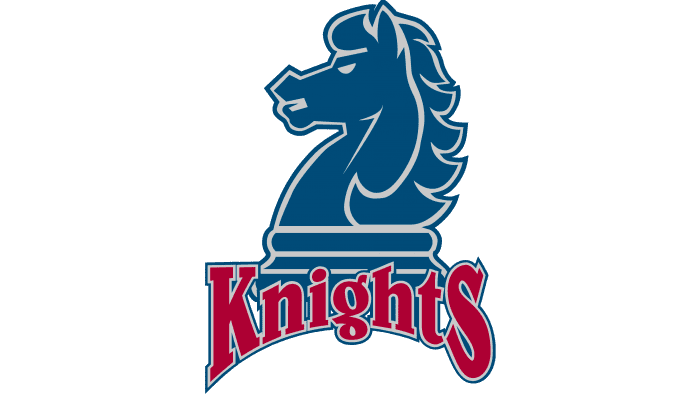 2004 – today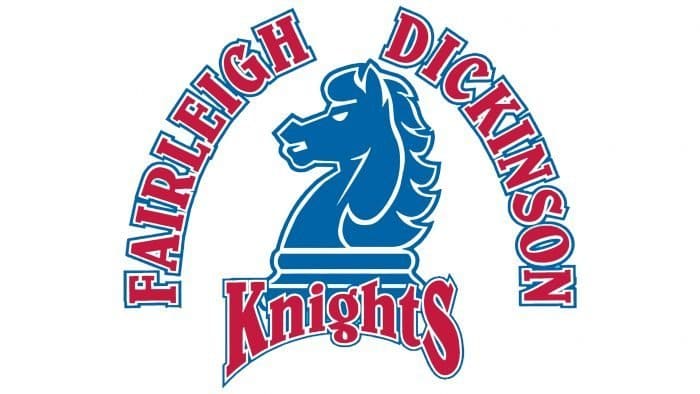 Fairleigh Dickinson Knights Basketball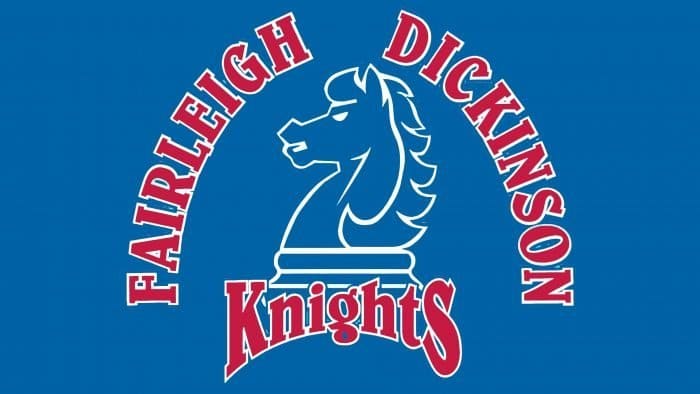 Basketball is considered one of the most successful disciplines in the sports program of Fairleigh Dickinson University. The men's team, representing the Metropolitan Campus in Division I, competed in six NCAA Tournaments from 1985 to 2019. Also, the team appeared in two rounds of NIT and three NAIA Tournaments. Now she is being trained by Greg Herenda. The women's team won two Northeast Conference Tournament titles. Her current trainer is Angelika Szumilo.
Font and Colors
Fairleigh Dickinson Knights color codes
Vivid Burgundy

Hex color:
#a32638
RGB:
163 38 56
CMYK:
0 77 66 36
Pantone:
PMS 193 C
Dark Cerulean

Hex color:
#003f87
RGB:
0 63 135
CMYK:
100 53 0 47
Pantone:
PMS 7687 C