Fashion Nova Logo PNG
The Fashion Nova logo originally contained not only the brand name but also a pink silhouette of a woman, which was located in the middle of the inscription. Recently, the company has been using a concise wordmark in black. There are no graphic symbols in it – only strict and clear letters without serifs.
Fashion Nova: Brand overview
| | |
| --- | --- |
| Founded: | 2006 |
| Founder: | Richard Saghian |
| Headquarters: | Los Angeles, California, U.S. |
| Website: | fashionnova.com |
Fashion Nova was established in 2006 thanks to the enthusiasm of Richard Saghian, who initially worked in his father's boutique. He realized the benefits of the retail clothing trade and opened his own store in the rented space of Panorama Mall. Seven years later, the entrepreneur decided to move online to expand his target audience. He aims to attract the attention of millennials since his potential consumers are women aged 18 to 25. However, in 2018, a men's clothing collection was created. The assortment includes both traditional sizes and outfits for plus-sized individuals.
Meaning and History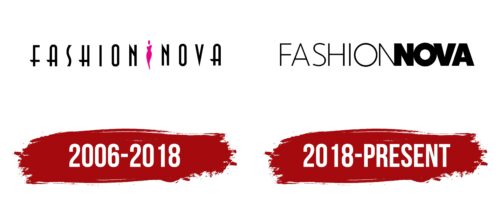 The founder and leader of Fashion Nova understood that the internet is now a priority and decided to use it as an advantage. Brand representatives follow fashion trends on social media so they can release their product samples literally within a day. Celebrities from Instagram, YouTube, and other online platforms that modern youth love are involved in advertising to win over the audience. This increases sales as online shopping grows every year.
The promotion of Fashion Nova would also have been impossible without a well-thought-out visual identity. Therefore, the trademark uses a clear and memorable logo where its name is displayed. As far as it is known, it was previously complemented by a pink female silhouette. But after the redesign, this symbol was removed, as the brand's target audience expanded to include men.
What is Fashion Nova?

Fashion Nova is a company that has been engaged in the retail clothing trade since 2006. It has a main office in Los Angeles and five branded stores in Southern California, but the primary sales are made through the internet. For this, business owner Richard Saghian uses an e-commerce website, launched in 2013, as well as popular social media platforms.
2006 – 2018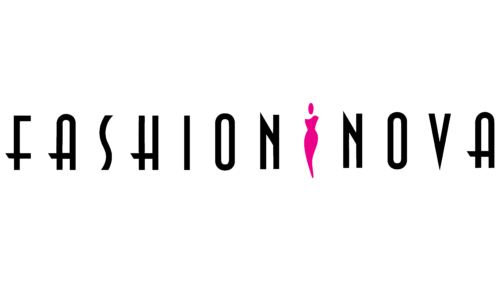 Before creating the men's clothing collection, Fashion Nova emphasized its focus on a female audience. Its logo contained an abstract pink female silhouette, resembling an elegant mannequin with wide hips and a thin waist. This graphic element was in the middle, dividing the black brand name into two parts. The inscription was made in a font with narrow angular letters, similar to DecoTech Regular by Justin Callaghan.
2018 – today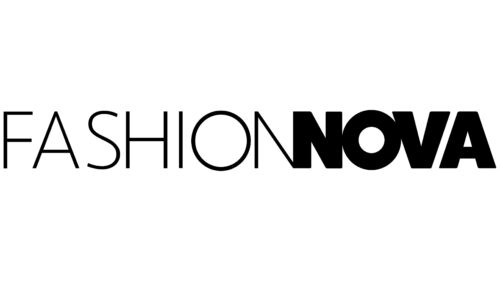 Now, the wordmark contains only a black inscription, in which two parts are highlighted with different font versions. Notably, the last letter "N" in "FASHION" merges with the first "N" in "NOVA" – they are connected by a common vertical line. To make this possible, developers converted all glyphs to uppercase.
Absolutely everything in the Fashion Nova brand is aimed at attracting consumer attention. The fact is that it is focused on online shopping, and competition on the internet is impossible without a recognizable design. At the same time, there are no bright elements in the clothing retailer's emblem: its creators have limited themselves to a simple black inscription that speaks of seriousness, honesty, and good taste. Since minimalism is fashionable now, such a design is very relevant. But even in a regular wordmark, there is an interesting detail: two "N" letters connected as one.
Font and Colors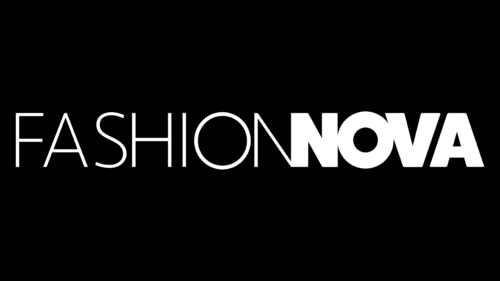 The designers of the Fashion Nova logo designed the company's name using two variations of a geometric sans-serif font: with thin and thick lines. All the glyphs on the right side are bold and, as a result, have very narrow intervals. The left side features thin letters, creating a visual contrast. At the same time, both parts of the inscription are presented in black and are placed on a blank white background. This is another manifestation of minimalism that the designers aimed for.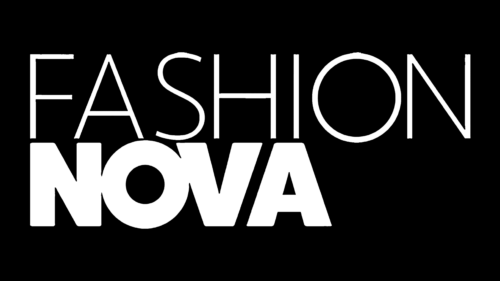 Fashion Nova color codes
Black

Hex color:
#000000
RGB:
0 0 0
CMYK:
0 0 0 100
Pantone:
PMS Process Black C