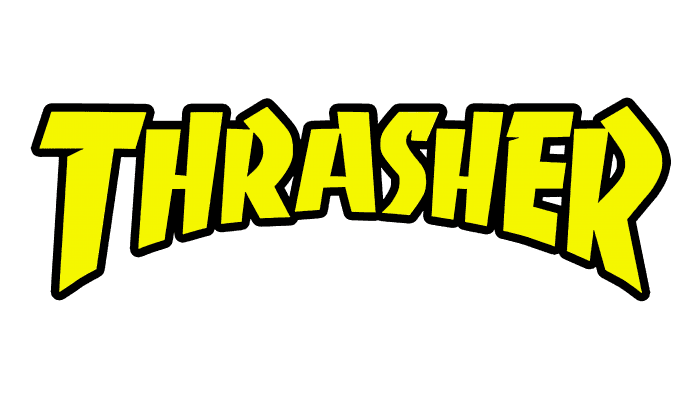 Thrasher Logo PNG
The emblem seems to highlight and surround the area for skateboarders. The Thrasher logo invites everyone to the world of this exciting hobby. The sign indicates the joy and pleasure that riding brings.
| | |
| --- | --- |
| Founded: | January 1981 |
| Founder: | Eric Swenson, Fausto Vitello |
| Headquarters: | San Francisco, California, U.S. |
| Website: | thrashermagazine.com |
Thrasher is the cult monthly skateboarding magazine. Its history began in 1981 when Fausto Vitello and Eric Swenson found a periodical advertising the Independent Truck Company. Over time, it acquired its website, an online store, indoor skateboarding areas, music compilations, and a video collection.
Meaning and History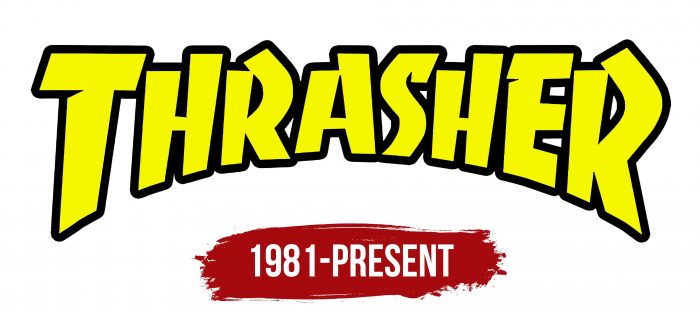 The iconic logo has transformed Thrasher into a fashion brand. But it also has a downside related to the Banco font. This typeface became mainstream back in 1974 when it appeared on the Natty Dread album covering Bob Marley's musical compositions. Over time, she began to be associated with the Rastafarian movement and reggae style, which in the 1970s limited the scope of its use.
The monthly Thrasher has breathed new life into Banco. At first, he linked skateboarding as a subculture and reggae culture with marijuana as a source of inspiration. A little later, the font was rethought and began to be perceived exclusively as a symbol of skateboarders.
Font and Colors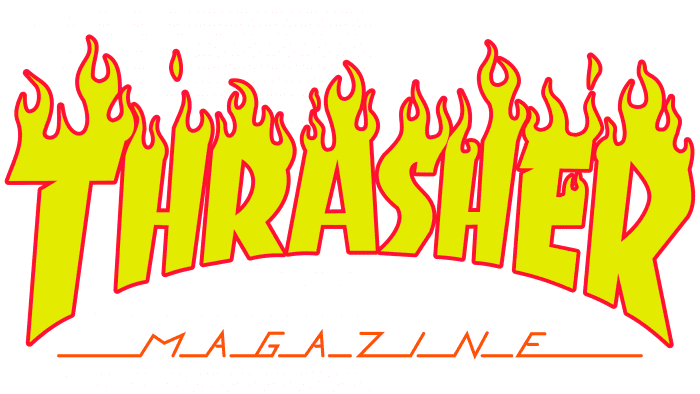 The magazine's logo is used on the cover instead of the title. This stylized inscription "THRASHER" forms an arch because the outer letters are longer than the central ones. It exists in several versions, and the most popular is with a fiery design. The flaming word graced the front page of the publication and branded T-shirts and many other souvenir items.
When the Thrasher emblem went mainstream, it lost its original connection to the skateboarding subculture. Many celebrities and people who have never stepped on a skateboard have made it part of their image. The magazine creators entered into a confrontation with the victims of fashion, harshly criticized Vogue, and drew cartoons of those who thoughtlessly follow the Thrasher style. But they were forced to admit defeat because the logo was no longer associated with authentic skate culture and moved into status symbols.
THRASHER is in Banco typeface, developed in 1951 by typographer, graphic designer, and illustrator Roger Excoffon. This typeface was used by the Fonderie Olive foundry to produce metal letters for bookstores, butchers' shops, and other "out of fashion" places. Then musician Bob Marley made Banco part of the reggae style until Thrasher magazine picked up the baton and took the font for itself – and then only for a short while.
The classic emblem is presented in a yellow and black palette. The fiery version contains many more colors: in addition to yellow and black, it also contains shades of red and orange.
Thrasher color codes
Cadmium Yellow

Hex color:
#f5f600
RGB:
245 246
CMYK:
0 0 100 4
Pantone:
PMS 396 C
Black

Hex color:
#000000
RGB:
0 0 0
CMYK:
0 0 0 100
Pantone:
PMS Process Black C