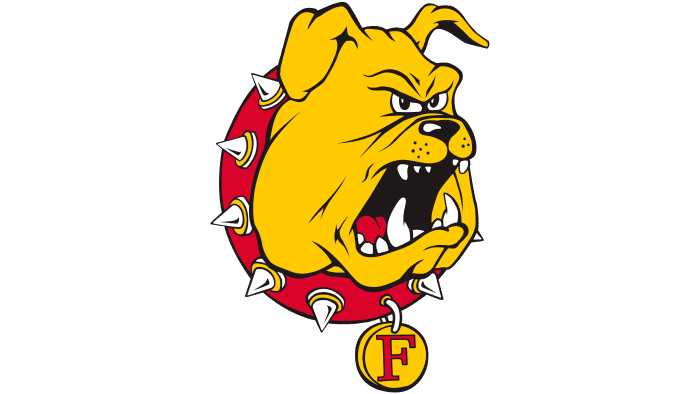 Ferris State Bulldogs Logo PNG
The Ferris University Athletic Department has represented the English Bulldog since 1993. The Ferris State Bulldogs logo warns of a constant readiness to fight for the club's honor, symbolizing perseverance, bulldog grip, and firmness of will.
Ferris State Bulldogs: Brand overview
| | |
| --- | --- |
| Founded: | 1993 |
| Headquarters: | Big Rapids, Michigan, U.S. |
| Website: | ferrisstatebulldogs.com |
Ferris State Bulldogs is a sports division owned by Ferris State University. It consists of fifteen teams, fourteen of which participate in the Great Lakes Intercollegiate Athletic Conference and are part of the NCAA Division II. The only exception is the men's hockey team playing in the Western Collegiate Hockey Association at Division I.
Meaning and History


The Ferris State Bulldogs department logo matches its name. Since 1993, the logo shows the head of an aggressively barking bulldog. There is a studded collar with a round pendant on which the letter "F" is written on the dog's neck. At first, it was black, but then (in 2011) the designers made it red in the color of a collar. This is one of the major changes that have taken place since the emblem has been improved.
Other innovations touched on minor details, such as the color of the spikes and the shade of the bulldog's head. The general artistic concept has not changed: the drawing is still cartoonish, the dog has large fangs and a menacing look.
What is Ferris State Bulldogs?

Ferris State Bulldogs consists of 15 student teams that make up the athletic department of Ferris State University, located in Big Rapids, Michigan. They are members of the Great Lakes Intercollegiate Athletic Conference and compete in NCAA Division II. However, their hockey team plays in Division I and is part of the Central Collegiate Hockey Association. The football team has twice won the national title in Division II: in 2021 and 2022. The basketball team had notable success in 2018.
1993 – 2010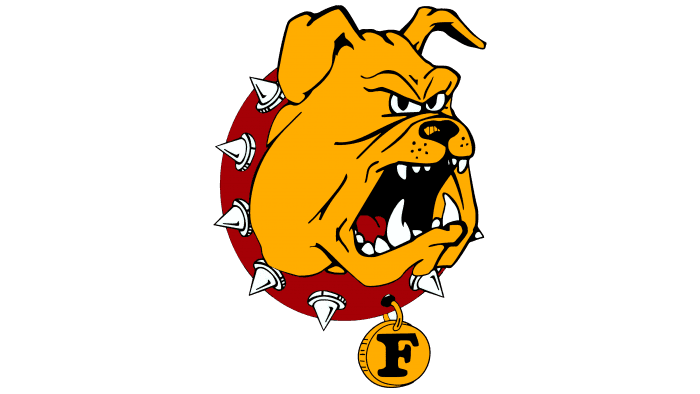 2011 – today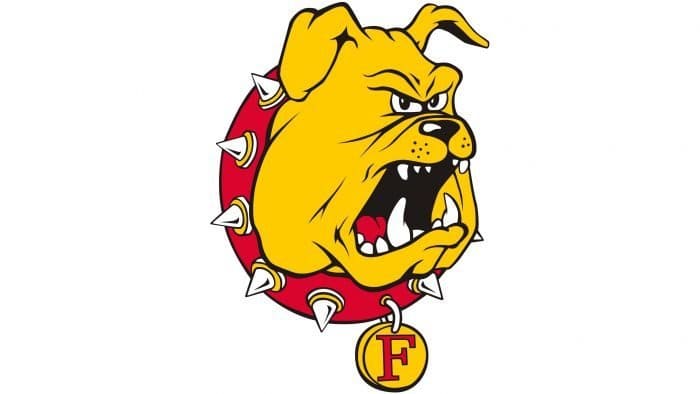 Ferris State Bulldogs Ice Hockey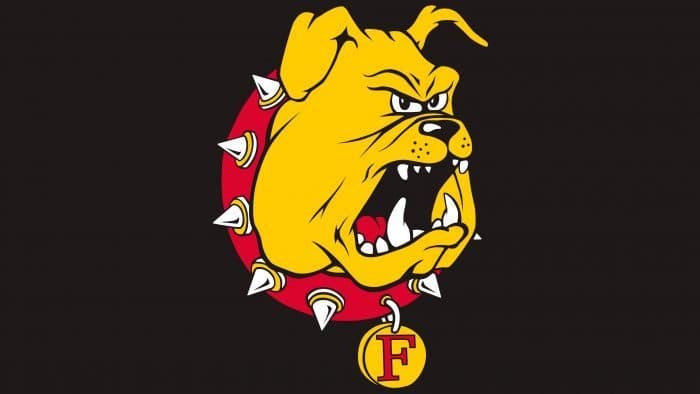 In 1994, the men's team won the national title of the American Collegiate Hockey Association Division II. Some university graduates participate in the NHL.
Ferris State Bulldogs Football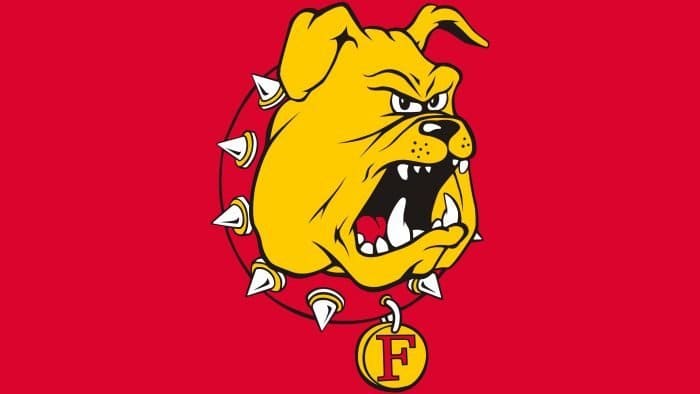 Football players from Ferris State Bulldogs rarely won. Among their few successes is a victory in several GLIAC championships and an exit to the 2016 National Semifinals.
Font and Colors
Ferris State Bulldogs color codes
Crimson Glory

Hex color:
#ba0c2f
RGB:
186 12 47
CMYK:
0 94 75 27
Pantone:
PMS 199 C
Sonoran Sand

Hex color:
#fcc917
RGB:
252 201 23
CMYK:
0 20 91 1
Pantone:
PMS 116 C
Black

Hex color:
#000000
RGB:
0 0 0
CMYK:
0 0 0 100
Pantone:
PMS Process Black C