Find My Device Logo PNG
The thematic logo of Find My Device immediately suggests what the service it represents is intended for. The mark communicates this directly – without any allusions or hints. Lost devices are under reliable protection and will hint at their location. Therefore, the emblem is filled with calmness and confidence: it demonstrates the high capabilities of the application. The main thing is to stay persistent in your search!
Find My Device: Brand overview
| | |
| --- | --- |
| Founded: | December 11, 2013 |
| Founder: | Google |
| Website: | www.google.com/android/find |
Find My Device is an American service designed for remotely tracking missing, forgotten, stolen, or lost electronic devices. These include laptops, tablets, smartphones, smartwatches, and earphones. The service helps not only to find them but also to keep them fully under control: to loudly emit a 5-minute sound signal, to set up a connection with the owner, to force logouts, and if necessary, to wipe them to prevent leakage of confidential data completely. Another purpose is to pinpoint the location of loved ones. The program is compatible with Android and web systems. It was launched in 2013. The developer and owner is Google.
Meaning and History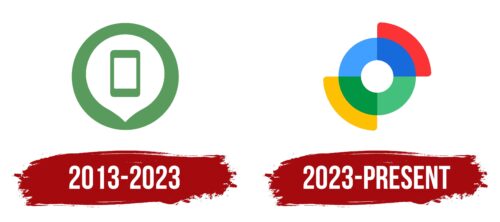 No one is immune to losing personal mobile devices that users must carry. That's what Google's employees thought when they created a special service to help get out of a tough situation with minimal damage: if you can't find your smartphone, you can erase all data to eliminate third-party access. As a result, a convenient service appeared. It got an appropriate name in English – Find My Device. This, in essence, is a phrase indicating the capabilities and purpose of the program.
The name serves as the basis for the corporate logo, which also directly speaks about the purpose of the app development. That is, it is as clear as possible so that users can quickly find it in the list. This is very important when a personal device is stolen, forgotten in a public place, or has just disappeared somewhere, as in moments of panic, a person's attention is scattered. However, looking at such an icon immediately makes its purpose and the algorithm of further actions clear.
What is Find My Device?

Find My Device is a special service for controlling mobile devices, including tablets, laptops, smartphones, smartwatches, and headphones. It helps track them remotely when lost and then loudly turns on a siren for five minutes. If it is impossible to retrieve the device, it completely wipes all data from it so that confidential information does not fall into the hands of strangers. The application also allows you to pinpoint the location of loved ones. It works with devices based on Android and Wear OS. Its launch time was in 2013. The developer and owner is Google.
2013 – 2023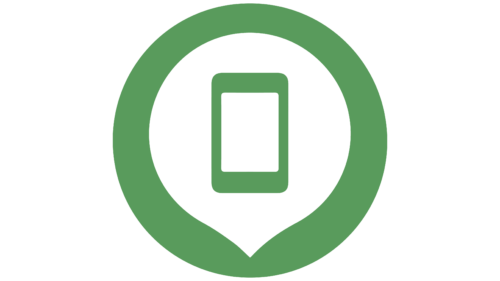 The Find My Device logo has a rounded shape. The background is a green disc. The content is a white pin. The center is a smartphone or any other assumed mobile personal use device. All elements are placed within each other, forming a whole. Such a structure directly and without hints indicates the purpose of the service, so the icon matches its conceptual requirements as accurately as possible. The emblem is painted in two colors: pastel green and neutral white. There is no text accompaniment. This is because the symbol serves as an icon for the mobile application, so it adheres to the standards of compactness and minimalism.
2023 – today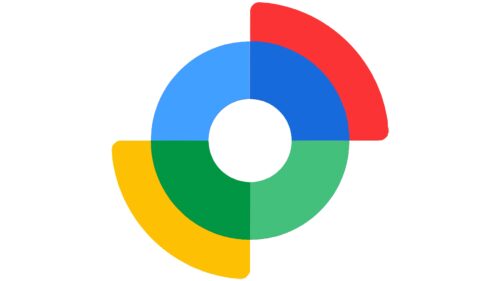 The modernized logo is modern and thematic. At one glance, it belongs to the family of Google products. This is evident by the characteristically bright colors: red, yellow, green (two shades), blue, and light blue. They are harmoniously combined: in some places – they alternate; in others – they are superimposed on each other, thus forming derivative shades.
The emblem looks like a radar, where the white center represents the user of this service. Then follows a certain area of action – essentially, the diameter of the signal's coverage area. It appears as broadband and is colored in cool tones. Beyond that, there are two bright areas in the form of colorful trapezoids with a rounded outer edge.
Font and Colors
The Find My Device logo has no inscriptions, typical of Google products. This is because the developer has focused on the graphical aspect of perception, not textual, for ease of placing the icon on the display.
As for colors, they are given heightened attention. They include a rich palette of both calm and exciting shades. In particular, red, blue, yellow, mint, light blue, and green. Some symbolize alarm, others – tranquility. They contrast with neutral white, located at the very heart of the sign.