Flair Airlines Logo PNG
The Flair Airlines logo is like a breath of fresh Canadian air, like a walk in the woods in Alberta, where everything is simple and real. The logo conveys this atmosphere, just like the airline it stands for. There's nothing flashy or obscure about it. It's like your buddy who tells it straight and yet doesn't forget to have fun. The logo is like a conversation around a campfire where everything is casual, and you can enjoy the moment. It suggests that this is not some bad experience with the company but a good, honest, and, most importantly, easy-on-your-wallet invitation to explore Canada without fuss.
Flair Airlines: Brand overview
Flair Airlines, headquartered in Edmonton, Alberta, has transformed the Canadian airline industry since its inception. Operating a fleet of Boeing 737 aircraft, Flair Airlines offers Canadians affordable and convenient travel options across the country.
Founded in 2005, Flair Airlines was a budget option for travel packages. However, in 2017, the airline underwent a strategic transformation to become an ultra-low-cost carrier, expanding its reach with more affordable fares and improving accessibility to destinations in Canada and the United States.
As Canada's first and only independent ULCC, Flair Airlines is a true pioneer in the country's aviation industry.
Flair Airlines prioritizes the safety and comfort of its passengers, which is why it operates a modern fleet of reliable and comfortable Boeing 737 aircraft.
By expanding its route network and increasing the number of customers, Flair Airlines continues to grow rapidly and strengthen its position as a prominent player in the Canadian aviation industry.
Meaning and History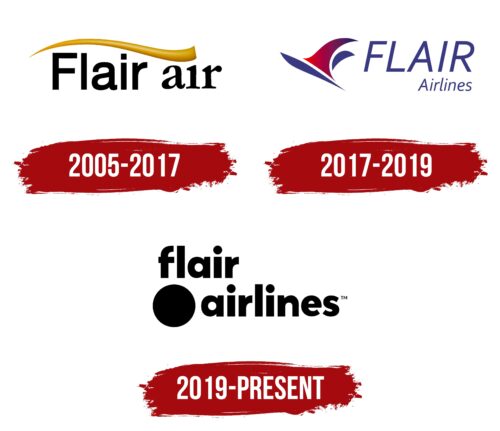 What is Flair Airlines?

Flair Airlines is a Canadian budget airline based in Edmonton, Alberta. It operates scheduled passenger and charter flights and utilizes its fleet of Boeing 737 aircraft to provide a robust service network. The airline is distinguished by the slogan "Airplanes and Simplicity." This simple yet succinct phrase reflects the organization's commitment to simple and affordable travel. Known as Canada's first and only independent ULCC, the airline is committed to making air transportation affordable to the general public, demonstrating that low price does not mean low quality.
2005 – 2017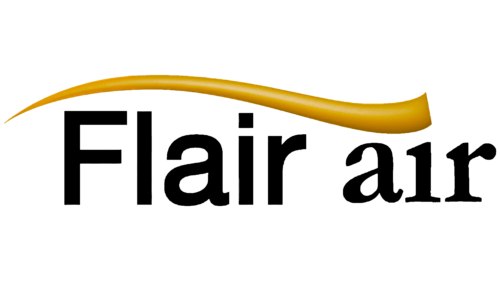 2017 – 2019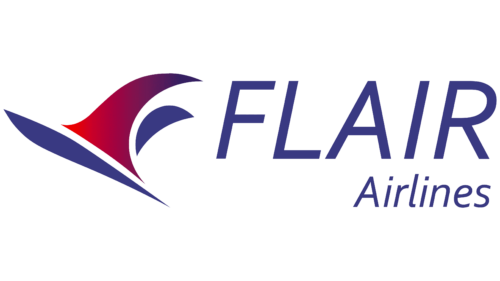 2019 – today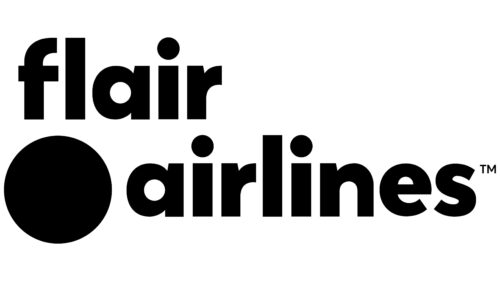 The Flair Airlines logo differs from the symbolism of most other airlines in that there is no sky, no birds, and no airplanes. This is an example of minimalist design, in which standard imagery is relegated to the background. There is indeed a dot, but in the emblem, it is represented in the form of a large black circle. This geometric figure is located in the lower left corner and is visually balanced by the text. The logo creators divided the brand name into two lines and used a slightly modified Rozanova family font.
The minimalistic design of the Flair Airlines logo makes it memorable and stands out in the crowded airline industry. The large black circle and adapted Rozanova font create a sense of modernity and efficiency. By eschewing traditional elements often found in airline logos, such as wings or a globe, Flair Airlines sets itself apart as a brand willing to move away from tradition. This bold simplicity speaks to a focus on paramount, unprincipled service, which is in line with the airline's ethos and market positioning.