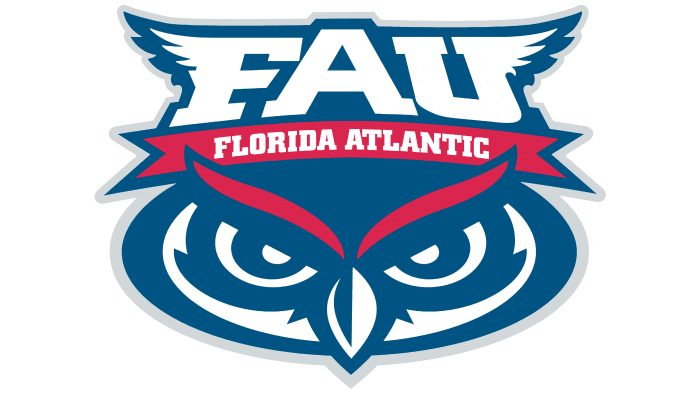 Florida Atlantic Owls Logo PNG
Despite the menacing appearance of the Florida Atlantic Owls mascot, the Atlantic University department's logo reflects a close relationship with the owls living on the territory. It symbolizes the mind, prudence, and endurance.
Florida Atlantic Owls: Brand overview
| | |
| --- | --- |
| Founded: | 1994 |
| Headquarters: | Boca Raton, Florida, U.S. |
| Website: | fausports.com |
Florida Atlantic Owls are ten women's and eight men's teams representing Florida Atlantic University at the NCAA Division I (FBS) competitions and participate in Conference USA. The sports program appeared in 1979. The owl mascot was adopted much earlier, even when the university was opened. The fact is that these birds have always been found on the educational institution's territory, and the construction of new campuses could harm their natural habitat. Therefore, the National Audubon Society recognized the university grounds as the official "sanctuary" of the owl to prevent buildings' erection.
Meaning and History


The logo, adopted in 1994, depicts a flying owl. She spread her wings wide and put forward her paws. Across is the inscription "FAU" – a reference to the name of the university. Red slanted letters have small serifs and a white outline with dark blue shadows. The latter gives them a barely noticeable 3D effect.
The redesign led to the fact that in 2005 sports teams had a completely new emblem, not similar to the previous one. This is a sketchy head of an owl, consisting of a horizontal ellipse, semicircles, and other geometric shapes in white and blue. It is supplemented by a small inscription "Florida Atlantic" on a red ribbon and large letters "FAU." An interesting solution was the wings on the sides of the "F" and "U." They indicate a close relationship between the university and the owls.
What is Florida Atlantic Owls?

Florida Atlantic Owls is the athletic department of Florida Atlantic University, a member of Conference USA, and a participant in NCAA Division I. Starting in 2023, they will also join the American Athletic Conference. Out of 19 student teams, the basketball team has achieved the most success, making it to the National Collegiate Athletic Association finals in 2023.
1994 – 2004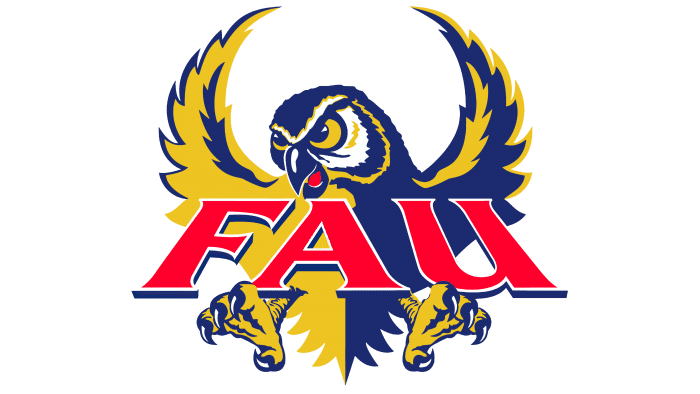 2005 – today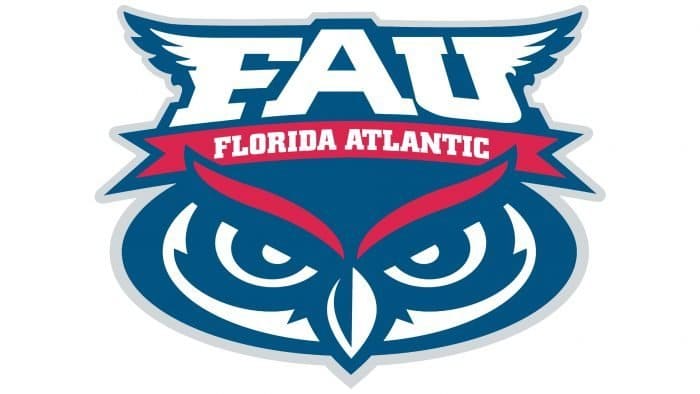 Florida Atlantic Owls Football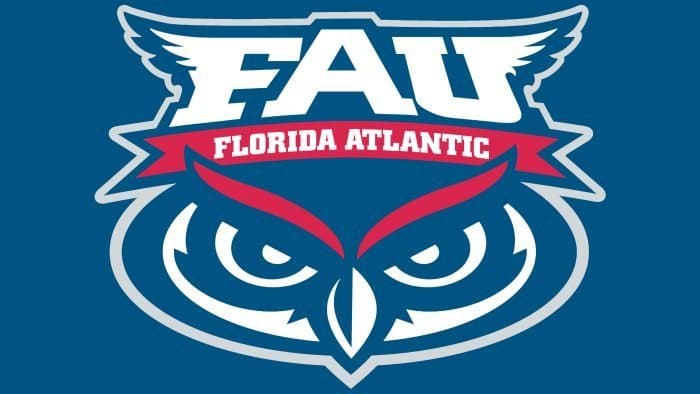 The university acquired an American football team in 2001. It turned out to be very successful and, after four seasons, moved from FCS to FBS, joining the Sun Belt Conference. Currently, the players are coached by Willie Taggart.
Florida Atlantic Owls Baseball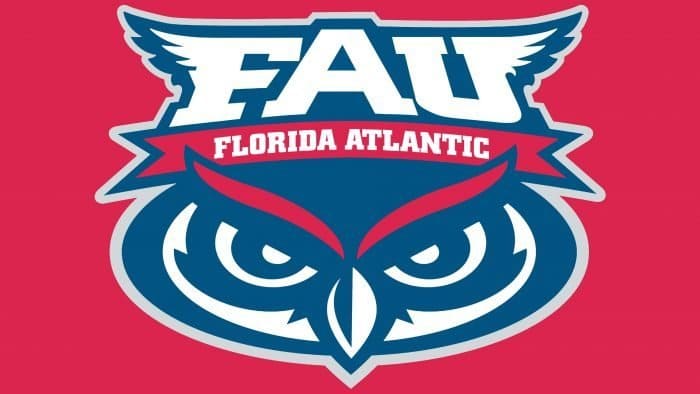 In 2006-2007 The Florida Atlantic University baseball team was recognized as one of the best at the Sun Belt Conference. Also, the team entered the top 10 NCAA in five categories. Shortly before that, in 2002, basketball players won their first victory at Super Regional.
Font and Colors
Florida Atlantic Owls color codes
Dark Midnight Blue

Hex color:
#003366
RGB:
0 51 102
CMYK:
100 50 0 60
Pantone:
PMS 294 C
Rosso Corsa

Hex color:
#cc0000
RGB:
204 0 0
CMYK:
0 100 100 20
Pantone:
PMS Bright Red C
Neon Silver

Hex color:
#c4c7cc
RGB:
196 199 204
CMYK:
4 2 0 20
Pantone:
PMS 428 C